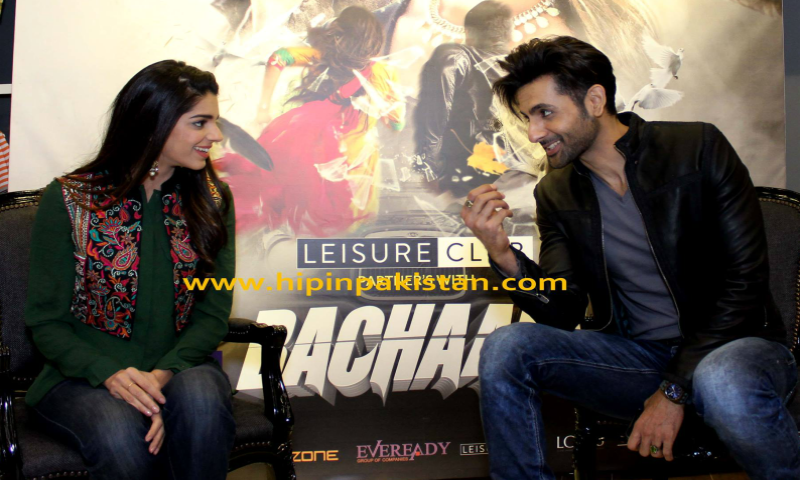 "'Bachaana' is a feel-good, upbeat, lighthearted, romantic comedy which we don't get to see often," says Sanam Saeed.

Team Bachaana appeared in a bloggers meet up at Dolmen City Mall, Karachi where Sanam Saeed, Mohib Mirza, and producer, Rizwan Saeed came to the event to have an interactive session with all the bloggers and social media people to promote their film.
Read: 'Bachaana' promotions creating a buzz
HIP caught up with them and had a small chit chat about the movie. Read on to see what they had to say.
Sanam Saeed about her role in the movie:
"Bachaana brings Sanam Saeed in a completely new avatar. You have never seen such side of mine on a silver screen as it brings my character Aalia, in a completely different form. You will see me doing comic and light hearted scenes which I have never done before."
Some unforgettable moments during the making of Bachaana:
"There was a time when I had to act for serious and emotional scenes. I was so carried away of all the madness and comedy moments that I was not able to perform those (Saeed laughs). I was thinking that this is something which I am really good at… like all rona dhona comes easily out of me, but then I managed to do it eventually (smiles)."
Her take on the film:
"Bachaana is a feel-good, upbeat, lighthearted, romantic comedy which we don't get to see often. It is a film filled with fun, entertainment, and something you will be happy to bring your elders and children to. There are no songs and dances as the movie is of less than 2 hours so you won't feel bored or restless because it has a good pace too."
Mohib Mirza about his role in the movie:
"I am playing Vicky, who is a Pakistani, living in Mauritius, and is a taxi driver. He is a struggling guy who meets a crazy girl on his way and that is where the movie picks up its pace."
Mirza further said that:
"Nobody has seen me in such a lighthearted and comic role. I have always been portrayed in a serious character in my other appearances."
Some unforgettable moments during the making of Bachaana:
"There were a lot of moments which I can never forget, but one of the things which will keep striking my mind is the beautiful waterfall of Maurritius (Sigh)."
On what Bachaana holds for the Pakistani audience:
"The movie holds entertainment, laughter, amazing dialogues, romance, a bit of action, good music, beautiful locations, aur ticket kay paison main Mauritius ka trip (Mirza laughs)."
Bachaana from the eyes of Rizwan Saeed:
"So much effort went into pulling this movie off well. We really had to work hard on the technical side of Bachaana as it was not easy to bring all the stuff to Mauritius and work with all that hassle. We expect this project to do good and become successful."
On casting Sanam Saeed and Mohib Mirza:
"I was working with Sanam in a 2007 sit-com. I knew her from there and she appeared to be an efficient and professional actor. On the other hand we all know about Mohib Mirza who is an astounding name of our industry. They both had done a play together before that's why they were quite comfortable with each other. However we also took several auditions before finalizing the cast."
About the music:
"There are three songs in all. The title track has been sung by Benny Dayal (Indian singer who sang Badtameez Dil from the Movie, Yeh Jawani Hai Deewani), another track has been sung by Shafqat Amanat Ali, while the third song is composed by a band from Lahore called SYMT who also once created Koi Labda for Coke Studio season 5."
Rizwan Saeed onBachaana as a whole:
"The best part about it is the fun element. The movie is only an hour and 50 minutes long with a good pace and interesting scene line up."
Must say that we are definitely looking forward to seeing the movie!