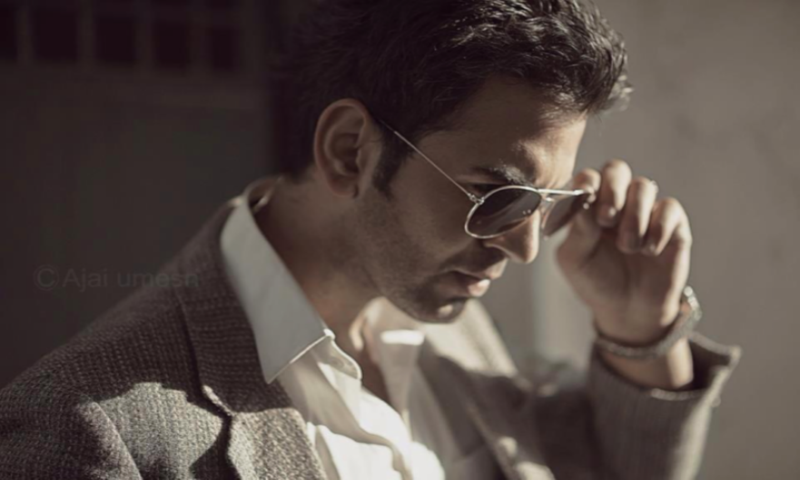 "Pakistan should be proud of such a movie as they actually awarded Neerja for her bravery back in the day" says Zahoor
After being part of India's leading fashion weeks and campaigns, Abrar Zahoor is all set to make his Bollywood debut with Neerja. A story based on the life of Neerja Bhanot, who was shot dead by terrorists who hijacked Pan Am Flight 73 in Karachi on the 5th of September in 1986.
Playing the role of Safrini, the main antagonist and a terrorist to be precise, Abrar Zahoor stops by from the promotions of his film to speak to HIP about how he landed this project, his take on the trade of talent, and the film being banned in Pakistan.
How did you start your career as a model?
Well I started modeling quite early. From Kashmir, I shifted to Chennai and started studying there. And when I was 16, I was part of my school's fashion team and one of the jury members asked me to do his next show. That's how it started rolling!
How was your experience with Neerja and what sort of character will we see you portraying?
Neerja is a dream come true. I never expected to have worked with artists such as Ram Madwani, Saiwyn Quadras, Sonam Kapoor, Samyukta, Sandeep Modi, and Sabhoo Sir in my first movie! I mean they are whales of our industry. Even than, everybody made me feel like star, on and off sets. Which was obviously a thrilling experience in itself. And nothing will replace Neerja for me. More than my role, I'm so proud of the kind of story I'm part of. This story had to be told, I just hope people appreciate the effort we have put in.
To be honest. It was one of the toughest roles that anyone can get for there debut. I learnt Arabic in 5 months and the body language of my character was incredibly tough. And more than these things, the toughest part was to be so brutal. I'm completely opposite to the character I'm playing. It was challenging mentally, physically, and emotionally!
Also Read: Pakistan's Ministry of Commerce says no to 'Neerja'
Neerja will not be releasing in Pakistan. What are your thoughts on the topic?
I really didn't understand why they banned such an amazing movie in Pakistan. In fact, Pakistan helped a lot in rescuing people in this hijack. Pakistan should have been proud of such a movie as they actually awarded Neerja for her bravery back in the day. And this movie is all about humanity. Yes, I just wish it wasn't banned there. At least Pakistanis should know Neerja and what she did without even knowing who is a Pakistani, an Indian, or a Muslim or Hindu!
After this film, what are your current lineup of projects; should we expect any more films?
Well I have signed another film which is again, a brilliant script. I won't be playing a negative character this time. There are many offers coming in, but I'm taking it slow and will only take up the scripts which make sense and can send out an inspiring message. I'm not here to get popular, but to earn respect as an artist!
Have you gotten a chance to watch any of the Pakistani talent crossing borders?
Of course, I'm huge fan of Pakistani music. The language is very similar to ours, which makes it very intriguing to have the cultural exchange. I'm a huge fan of Farhan Saeed, Qurtulain Baloch, Mustafa Zahid, Faiza Mujahid, Atif Aslam, and the list goes on. According to me, talent needs to be showcased and presented; doesn't matter where they are from!
What qualities according to you are needed to be a supermodel?
Well I have been modelling for more than 8 years now. In my opinion, a good model should have a great physique, aa unique face, which is valued, and tons of patience (laughs).
Tell us a bit about how your journey with Neerja began?
My friend Amir Munchi got a call for the audition, but he wasn't able to make it so he referred me there, I went, gave the audition, it went well, and the rest is history! I couldn't believe when they called me and told me that I'll be playing the negative lead. I literally took a walk in the rain; went almost 14km walking and crying. Everything just came like flashes; my struggle, my parents, my life. I still can't believe it, but I thank Allah every second of this!
Also Read: Sonam Kapoor stands up for Pakistani artistes
On the ending note what would your message for the readers?
A few years back when I used to read an article on somebody else, I used to imagine if I was in their shoes. But with time I've realised that nothing will happen with that. You need to read, get motivated, and than chase your own dreams. Be on that cover as yourself!