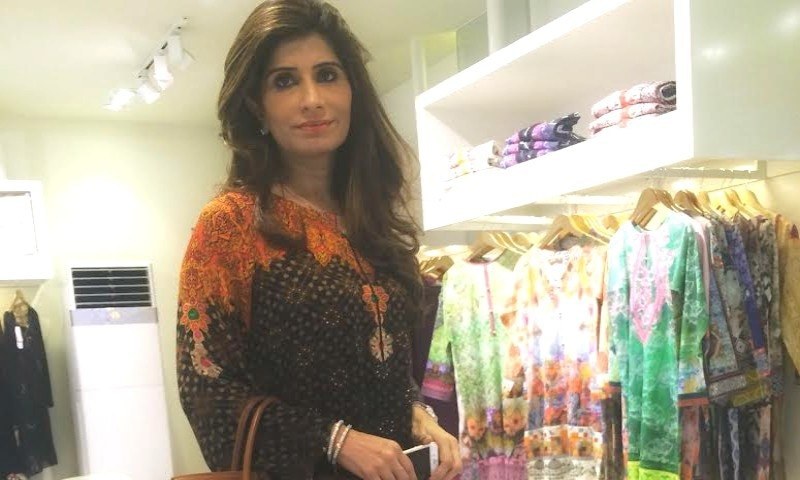 The single piece stitched digital kurtas cost Rs. 1,400 and the ones with embroidery are priced at Rs, 1600

Just as the PSL is making waves with high-octane performances, we have Pakistan's favorite product; lawn making a beeline in grabbing maximum attention. Revered to be a billion rupee industry, the last decade has seen a rapid expansion of the business in this cutthroat competition. The shoot of the various lawn campaigns are going on in full swing and some take an opportunity to cash in on the market that has not yet registered the first signs of changing weather.
So Kamal grabs the opportunity by introducing their three piece premium summer collection for this season in a preview held in an intimate, yet exclusive gathering at their flagship store in Lahore. So Kamal is an enterprising brand and they have been in the business of textiles for a number of successful years. From niche, to casual wear, the brand is counted on to deliver and maintain exceptional features of its quality, fineness, and inventive approach. The racks brim with zesty designs in a vivacious color palette from deep oranges, to midnight blues, and chirpy pinks. The premium collection boasts of pure chiffon dupattas and the fabric for pants to match with the shirt pieces.
"This time we have not collaborated with any designer. Realistically speaking, the prices of the 3-piece lawn suits have come down to RS. 4,500 from 7,000 without having a so called 'big' designer on board," said CEO So Kamal, Erum Kamal.
She has lead the in house design team with great aplomb and came up with a fresh palette and design aesthetics that has an instant chic appeal.
"It is also about an affordability factor that lure the customers to a certain product," she t.old us
"Our single piece stitched digital kurtas cost Rs. 1,400 and the ones with embroidery are priced at Rs, 1600 which is a great bargain at the end. While our lawn dupatta, three-piece collection is priced at Rs, 2,500," says Noor-e-Batool of the design department,
The coveted collection is an amalgamation of floral and Islamic art inspired motifs, hence one observes a wide variety of mehrabs or arches widely created during Muslim rule. The reinvention of heritage in the contemporary look through an effortless blend of historical richness is a perfect start of the long, yet dreaded summer season. The lineup is for the young who prefer designs that are distinctive and a perfect fusion of sophistication and style.