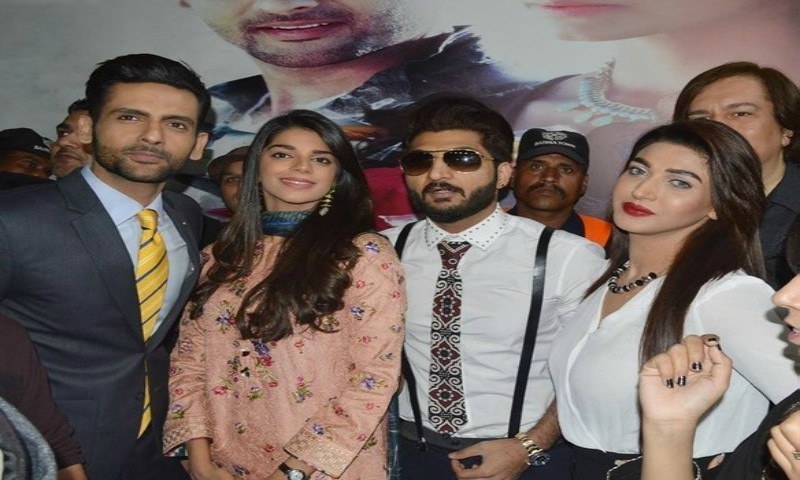 The promotional tour was a high flying affair, followed by a concert!

Nasir Khan's directional debut, Bachaana has had its promotions frenzy going strong. With cinema and college visits, to promoting the film at various morning/talk shows and film festivals. The storm has now (finally) diverted itself to the dull and 'not so old' city of Islamabad!
Also Read: 'Bachana' promotions creating a buzz
Co-producer Rizwan Saeed, the lead pair, Mohib Mirza and Sanam Saeed, and the crew of the film were there to share experiences with the press and meet their fans from Isloo at The Arena. Sanam Saeed looked as elegant as ever in an ethereal southern ensemble by Sania Maskatiya. Mohib Mirza on the other hand was as well dressed as he usually is, wearing a gray suit and yellow tie.
Also Read: The bloggers meet up with Team 'Bachaana'
The celeb attraction didn't end there. Veteran actor, Jamal Shah lends his support to the film as he showed up at the event. The red carpet was hosted by film-star, Sana Fakhar and was followed by a live performance by the ever HIP, Bilal Saeed. Local socialites such as Tony Navaid Rashid were also spotted cheering for the film and Pakistani Cinema's revival!
Also Read: Mad house at the music launch of 'Bachaana'
The following day the team visited Islamabad's multiplexes and colleges to promote their film. Here are some exciting pictures!