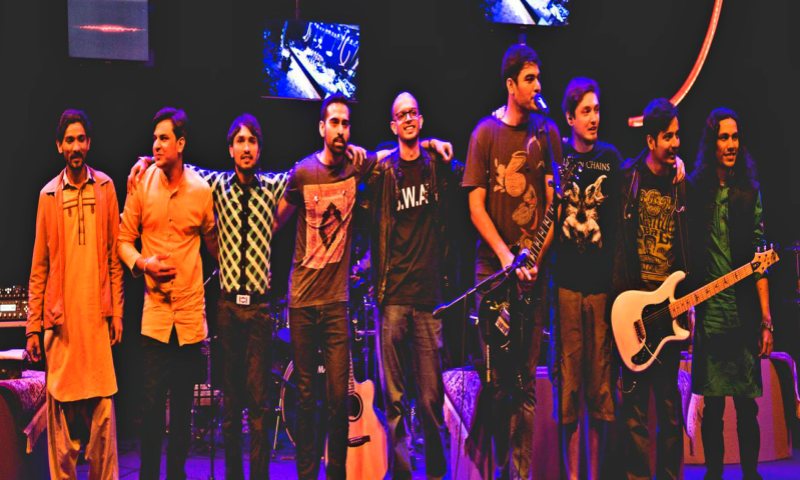 There is a plethora of talent in these people and all that is needed is a little bit of support and push!

Karachi is one of the most happening cities; from grand Turkish festivals to concerts and gigs. From 'Eat Food Festivals' to Fashion shows – there is something for everyone.
The new trend of promoting the local underground bands is immense and encouraging. While some bands focus on hard rock, there are a number of them who focus on progressive rock. Last week, 'Aikman Road Studio' organized an event which was promoted by 'Salt Arts' and featured D/A Method live along with Ali Suhail and his band.
The evening kicked off with Ali Suhail who performed his original tracks for about a good 45 minutes. Keeping the audience occupied with his witty sense of humor, his set included songs like Attic, Celebrity and Return which is a nostalgic song and basically talks about accepting yourself the way you are. he also plays for Sikandar Ka Mandar (one of our favorite bands) and for Natasha Humera Ejaz (oh did you know she is performing at 'All Stars Performance' tonight)?
It was interesting as to how the lovers and followers of art and music had come together that evening. From families, to singers from the music industry like Zoe Vicajji, Loius J Pinto (aka Gumby), and Nadir with his friends from Sikandar ka Mandar were some of the few people I stopped by to say hi to!
D/A Method comprises of Umair Dar and Talha Alvie (lead guitar + backing vocals), Usama Siddiq (rhythm/ acoustic guitar + lead vocal), and Istvan Csabai (drums). With a versatile set list and mesmerizing instrumentals and combinations, they performed on their singles Angels and Djinns followed by the instrumentals like Transcendence and A Night in September.
With Danny P on the bass performing and guess appearance by the members of Sounds of Kolachi (Gul on sarangi, Waqas, on sitaar, and Zohaib on the tabla), the band performed on Darvaish and Alvida.
Every rendition and collaboration made was beautiful. While there was a technical glitch, which is very common in a live performance, the performers did not let the crowd get bored even for a minute. They continued and kept the audience immersed in the music, glued to where they were sitting, and standing. The entire set was something that gave you a happy feeling.
As the evening continued, the music got better and better with perfect creation of music and every layer intertwining in the other seamlessly. With Ali Suhail and Iman Shahid as guest vocalists for Janissaries and Hope Lives, D/A Method - Live finally performed on Desert Journey and wrapped up the perfect evening.
We need more bands like these and more platforms where they can come and perform. There is a plethora of talent in these people and all that is needed is a little bit of support and push!