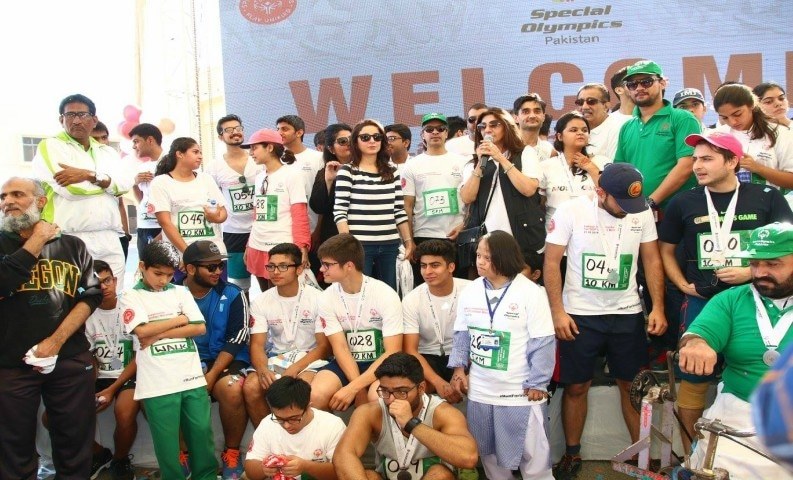 Sarwat Gillani, as the brand ambassador for SOP was very encouraging and also awarded the winners with medals.

Special Olympics Pakistan held its first unified marathon 2016 on Sunday, February 21 in all four provinces of Pakistan. This marathon was for children and adults with disabilities of all kinds.
Special Olympics Pakistan has a vision for a healthy world where everyone is united and has a unified marathon. In this regard, they organized the 'First Unified Marathon' which was open to people of all ages, gender, and abilities and the could choose to walk, run, or complete the marathon on a wheelchair.
The marathon were attended by people from different walks of life participating in the 5 and 10 KM rounds where a total of 100 winners were selected and will be sent to the Olympics. Each round had 50 winners on the basis of being top 50 in the quantity of people participating.
Sarwat Gillani is the brand ambassador for Special Olympics Pakistan and was very energetically encouraging the people and also awarded the winners with medals. Other celebrities like Behroz Subzwari, Zhalay Sarhadi, and her husband Amir Anees, along with Naeem Haque, and Sarwat Gillani's husband Fahad Mirza were actively participating in the marathon and supporting Special Olympics Pakistan.
Read: Special Olympics Pakistan arranges a marathon to raise funds
Ronak Lakhani is the force behind SOP and very enthusiastically was present at the event to look after all the arrangements and make this event a memorable one. Having McDonald's, Espresso, Collectibles, Tribune, City FM 89, and many more as their sponsors, the 'First Unified Marathon 2016' was a success with key opinion leaders, like, Rameez Sattar, CEO of Collectible and CEO Nueplex being present.
Read: Sarwat Gilani talks Special Olympics and its importance!
This marathon also served as fundraising for Special Olympics Pakistan and it also created awareness about people with disabilities and opened up avenues for everyone by making people run together despite their differences. It is said that this 'Unified Marathon' will be conducted every year and it promises to become bigger and better every time.