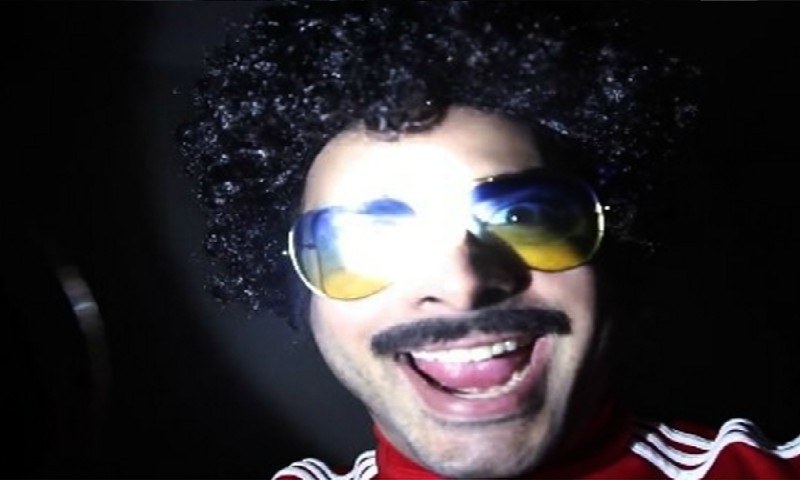 The video featuring Khan in a new image seems to be an awesome technique of attaining more attention towards 'Oye Hoye'.

Seems that Khan is bored with a classy image, or maybe it's a way of promoting himself or the product in a completely funky, or we can say 'Oochi Way'.
The actor has geared up to hit the minds with his new-flamboyant image as 'Oochi' who kidnaps the real Fawad Khan and brings himself on the forefront. The recent Oye Hoye chips' video features Khan in two forms; one as the real FK and another one as Oochi, a stalker/psychopath with crazy curly hair and thick mustache.
Read: Fawad Khan at the 'Oye Hoye' Launch Event
The quirky Oye Hoye's video clip shows Fawad Khan in the beginning, who gets kidnapped by Oochi. Oochi hates Khan because of his over hyped image among people as he quotes. He expresses his hatred towards Fawad Khan's fame by stating anywhere he goes, he finds Khan's picture, even if he goes out to buy a shampoo. Oochi, dressed in a red track suit also tells how much he is annoyed with his mother who watches Khan's dramas all the time and never lets him get his hands on the play-station.
Read: Fawad Khan to play Alamgir in 'Albela Rahi'
The video seems to be an awesome technique of attaining more public attention towards the product through Fawad Khan's innovative appearance. Oye Hoye's such marketing tactic is surely a good way of showing the other interesting side of the actor to his fans, and at the same time it brings the product in limelight.