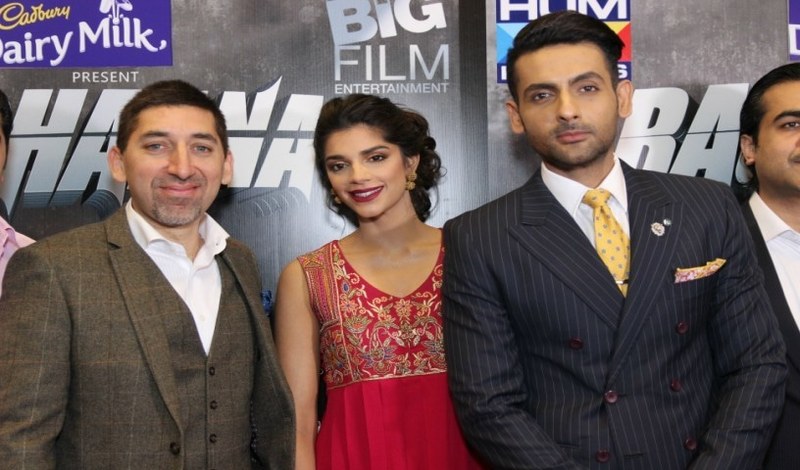 The movie is a journey of a sweet Indian girl, Aalia (Sanam Saeed), who undergoes a series of unfortunate events

BIG Film, Hum Films and LALA hosted star studded premieres of Bachaana, presented by Cadbury Dairy Milk, in Lahore on 23rd February 2016 at Super Cinema and in Karachi on the 25th of February 2016 at Nueplex Cinemas. Featuring Sanam Saeed, Mohib Mirza, and Adeel Hashmi, Bachaana releases nationwide on 26th February 2016.
The full-house premieres, hosted by LALA, were well attended by a diversity of film enthusiasts, media and film personalities, actors, actresses, artists, fashion industry leaders, and esteemed members of the press alike in both cities including Bachaana's lead actors Sanam Saeed, Mohib Mirza, and Adeel Hashmi, Director Nasir Khan, Producer Rizwan Saeed, Parvez Lala and Danish Lala of LALA, Aamina Sheikh, Nadia Afghan, Junaid Khan, Irfan Khoosat, Sarmad Khoosat, Jawad Bashir, Goher Mumtaz, Jimmy Khan, Mr. & Mrs. Mansha, Ahmed Ali Butt, Ayesha Sana, Salman Shahid, Sarwat Gillani, Fahad Mirza, Wajahat Rauf, Saba Qamar, Yasir Hussain, Shahzad Sheikh, Zoe Viccaji, Syed Yorguc Tipu Sharif, Mohsin Ali, Huma Adnan, Farhan Ali Agha, Mansha Pasha, Sohail Javaid, Ahsan Rahim, Hira Hashmi, Adnan Hussain, Khalid Malik, Feroze Khan, Waqar Zaka, Danish Nawaz, Irfan Motiwala, Tara Mahmood, Fia, Emraan Rajput, Munib Nawaz, Vasay Chaudhry, Ali Sher, Farhan Ali, Asifa from Asifa Nabeel, Qasim Yar Tiwana, Cybil Choudhry, Hira Tareen, Zara Tareen, and Kanwal Ilyas, among many others.
Read: Bachaana: A must watch and a complete family entertainer
Bachaana is the first feature film of Nasir Khan as a director, who has gained prominence for his work presented at the Mumbai International Film Festival for his documentary Made in Pakistan. With cast and crew from both Pakistan and India, making acquaintance with each other for the first time on the set, the film has truly captures cross-boundary relations on and off screen. Filmed in Mauritius, the production team conducted the largest talent hunt to find actors in the neutral landscape. With eye-catching scenery, music composed by top Pakistani talent, and a new-take on Indo-Pak relations, the movie is set to cause a stir.
Released yesterday, celebrating love and friendship, Bachaana is a romantic comedy that is full of action and the story is based on cross cultural relationship and how love transcends boundaries.
The movie is a journey of a sweet and bubbly Indian girl, Aalia, who undergoes a series of unfortunate events and is forced to place her faith in a man she hardly knows. That man, Vicky, is a Pakistani taxi driver in Mauritius. Bachaana follows the couple's adventurous journey of love.
The romantic comedy features award winning actress and model Sanam Saeed (Aalia), who is a house hold name in Pakistani drama industry and across borders due to her acting skills in dramas like Zindagi Gulzar Hai. Alongside Sanam Saeed, Mohib Mirza (Vicky) plays the leading role who has worked as a host, producer and actor in leading Pakistani dramas and telefilms. The film also features one of Pakistan's leading comic talent Adeel Hashmi.
Read: The driving force behind 'Bachaana': Nasir Khan!
Produced by Rizwan Saeed, well-known locally and internationally for his technical achievements in film production, Bachaana is one of the most promising films coming out in 2016.
The movie's soundtrack features 3 original compositions; Yaari, Koi Labda and Bachaana - Title Track'; and a special Bachaana mashup, a first of its kind in Pakistan.
Read: Mad house at the music launch of 'Bachaana'
'Yaari' has been composed by Bollywood music director, Prasad Sashte and features one of Pakistan's most iconic fusion music artist, Shafqat Amanat Ali with lyrics by Shakeel Sohail. Audio for the song has been produced at Prasad Sashte Studios with mastering by Shadab Rayeen.
The films' title track has been composed by Pakistani musician Ali Sher and features ace Bollywood vocalist Benny Dayal and Komal Ghazanfar from Pakistan. Produced at Ali Sher Studios, the lyrics have been penned by Shakeel Sohail with mastering by Shadab Rayeen.
The third original song is titled Koi Labda, an original by one of Pakistan's leading pop-rock band, SYMT. With vocals by Haroon Shahid, who has also composed and penned Koi Labda, the song has been recorded at True Brew Records in Lahore with song arrangement by Farhan Ali and mastering and audio production by Sheraz Siddiq.
The fourth and final track features Pakistan's first feature film soundtrack Mashup. Composed and produced by leading Bollywood DJ, Kiran Kamath, the mashup remixes Bachaana's title track as sung by Benny Dayal and Komal Ghazanfar, and Yaari as sung by Shafqat Amanat Ali and Usman Qureshi.
The videos for all four songs have been directed by Nasir Khan with Asrad Khan as the director of photography and edit/post work by Sagheer Ahmed and Ahsan Sardar.
With Bachaana, Big Film aims to explore an entire new genre with an approach which will deviate from the mainstream cinema and will be equally be a visual treat with strong acting and script. Presented by Cadbury Dairy Milk, Bachaana official distributors are Hum Films and Eveready Pictures with Leisure Club as the official wardrobe partner [male] and LALA as the official wardrobe partner [female], TREET Corporation Limited as the official grooming partner, Hardees as the official partner, and Content Creatorz as the official digital partners.