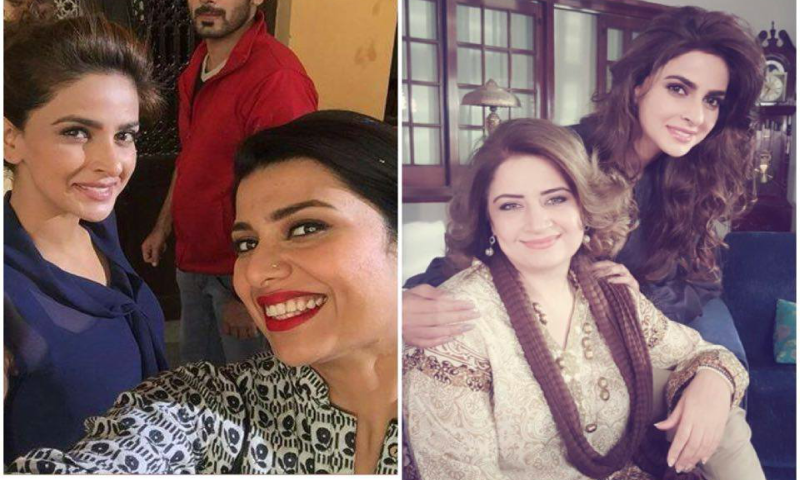 With a trio of mother and her two daughters of different ideals in life, Besharam caters to a new insight coming to you.

Besharam is an up-coming drama serial written by Sarwat Nazir and directed by Farooq Rind. It is a tale of three women; Sara (Atiqa Odho), Mashal (Saba Qamar) and Sofia (Fia Khan), and apart from them the serial also has Malik Raza and Zahid Ahmed as the male figures of the story.
As mentioned above, plot of Besharam revolves around the two daughters and their mother. It is a realistic account of how an upper class family faces their inner differences and makes life difficult for each other.
HIP caught up the ladies in order to find what the drama is all about. They also talked about their experiences with the director Farooq Rind who is a highly capable and creative person as they put it.
Atiqa Odho:
"Besharam is a story about a glamorous, upper class family, and its struggles. It is an entertaining serial with many twists and turns."
When HIP asked Odho about her role in Besharam, she replied:
" I am playing one of the main characters (Sara) in the drama. My two daughters (Qamar as Mashal and Khan as Sofia) are giving me a difficult time which is causing major family conflicts."
Read: Atiqa Odho returns to silver screen with Mehreen Jabbar's film
According to Odho, Farooq Rind is one of her favorite television directors that is why this project is quite close to her.
Fia Khan:
"Besharam is a very realistic story about mother-daughter bonds. The mother is modern and she has married twice. She has a very different nature from her daughters which becomes as one of the main reasons of their clash with each other."
Khan further told:
"It is a story about how these women take steps for their survival in the family and in the world as a whole. The plot majorly revolves around Mashal and Sara, while I am playing the role of Mashal's sister who is equally having a tough time with her mother."
Khan's take on working with Farooq Rind, the director:
"As a first timer, it was amazing to work with him as he is someone who gives an actor complete space to perform and explore him or herself even more."
Read: HIP for Each Other: Fia Khan and Qasim Ali Mureed
Saba Qamar:
"The serial primarily portrays the life of a super model, Mashal (me) who is very quick, ambitious, and daring. However, there is a void in her life as she has a miserable background that makes her all broken at heart. Apparently she has a happening life and she is always ready to take up challenges, but still she feels incomplete. She is so challenging that she approves the proposal of a guy in a live TV show."
Qamar furher told HIP about her role and stated:
"For Mashal's part I had to undergo a lot of hard work as I wanted to bring originality in her character. I dyed my hair, worked on my wardrobe, and used top notch branded attires to make Mashal look like an actual super model."
About Rind Qamar said:
"He is a nice, creative, and a very collaborative director. I really liked his work and thoroughly enjoyed working for my character which is different from my previous roles and viewers will definitely like me in that."
Read: Saba Qamar's wish list included films with SRK and Ranbir
Besharam is a Six Sigma Production and will on air in April 2016 on ARY Digital.