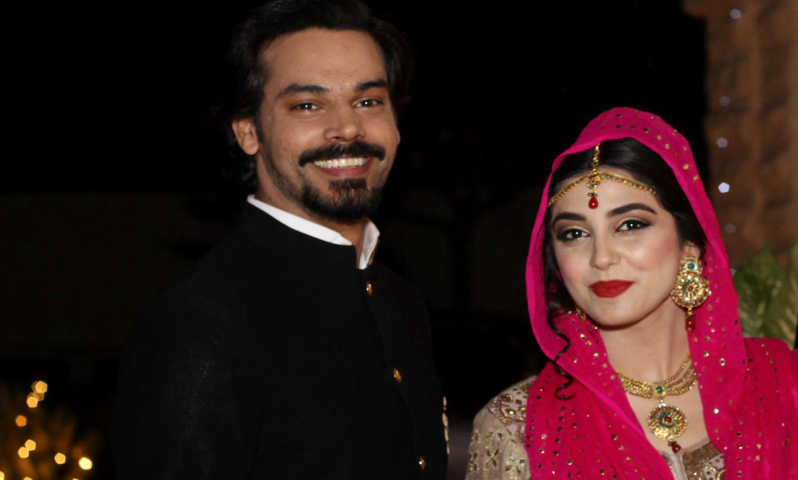 Haseeb Hasan has taken an average script and wrapped it up fabulously with the help of the entire cast

There was literally nothing new in episode 6 that the audience hasn't seen numerous times before. It seemed like this episode was a mixture of a lot of other dramas put together in a hurry.
Salahuddin left for Karachi and his father has forbidden the family to ever see him again. Mannu has been shown to do a complete 180 degrees turn (yes, it's 180, not 360) and has unhappily and unwillingly adjusted to her role as a 'wife.' Something that seems to be completely out of character for a girl like Mannu. By the way, what was up with her putting a dupatta on her head as soon as Meekail came home? She was shown numerous times hanging out with Salahuddin with an uncovered head, yet when her husband comes into the room, she quickly puts a dupatta on saying she is used to that? What, where and when?
Read: Mannu shown as selfish and irresponsible in 'Mann Mayal' episode 5
Again, a lack of consistency in her character. Meekail is now shown to be a spoiled brat who has no room for a wife in his life. He is really a grownup version of a spoiled toddler who can't share his closet or room with anyone else. Mannu's mother knows about this, but couldn't care less (yes, that is exactly how all of this was portrayed). She actually tells her mother she can't live like this and mummy dearest doesn't care about what is happening with her daughter. The parents were in such a hurry to get Mannu married off that it seems like for them she was a burden and now whatever happens to her isn't their concern.
Salahuddin goes to Karachi to work for his friend Ifti (Vasay Chaudhery). For some odd reason he is shown to be a 'gaon ka larka' completely oblivious of the world around him. He was giving his CSS exams, is highly intelligent, and even though he has a computer at home, he didn't bother to do any research about salaries in Karachi? This lack of consistency in the characters is thoroughly disappointing in this drama.
Read: Gohar Rasheed outshines everyone in Episode 4 of 'Mann Mayal'
Ifti and Kukki are the typical selfish couple; Ifti, the spineless husband and Kukki, the overpowering wife held hostage by the help; both care only about money. The cook is a manipulative jerk and and Kukki's life line apparently. I thought Salahuddin had a lot of integrity so why is he staying here. Fazool mein itni beizzati. The only reason Ifti wants Salahuddin to stay here is so he doesn't get out and find out how much others like him are getting paid in KHI. I will say that Arjumand Raheem and Vasay Chaudhery were fantastic, especially Arjumand Rahim. It was actually fun to watch.
These two are great additions to the drama and looks like Talat Hussain plays Vasay Chaudhery's father, which I'm really looking forward to.
Back into the lives of M&M (Mannu and Meekail). Mannu is bored alone and Meekail can't take her anywhere because of her desi clothes and mum-in-law, as nice as she is, can't take her with due to some odd reason. I'm guessing its because of an environment that Mannu isn't used to. What I don't understand is the dynamic in that house. How is it that after a few days, Mannu still hasn't met the house staff and has never seen the kitchen? I'm not sure how many days have passed since the wedding, but it definitely isn't day 2 since she complains to her mother about Meekail coming late all the time. Again, lack of consistency in the script.
Mannu is scared, helpless, and clearly depressed; not the best combination of emotions as she, in a moment of weakness, ends up giving Salahuddin a call, which is where the episode ends.
Read: Episode 3 of 'Mann Mayal' was completely owned by Maya Ali!
Maya Ali really is outstanding in this episode and the drama over all. She made me furious as the selfish and arrogant Mannu in the last few episodes, but still made me feel for her as the helpless Mannu. So kudos to her for portraying such a confused character so brilliantly. Same with Gohar Rasheed...the real Meekail is now coming out and he too does wonders with his character. The two also have really good chemistry which Maya Ali and Hamza Ali Abbasi haven't yet been able to achieve.
As to Hamza Ali Abbasi, he was average in this episode; seemed tired and bored.
For a drama that had so much hype before its release, Mann Mayal so far hasn't been 'that' script. Two episodes were outstanding, and the rest, blah. It's getting high ratings thanks to the direction and the performances of the cast. Haseeb Hasan has taken an average script and wrapped it up fabulously with the casts' help who is outstanding (95% of the time).