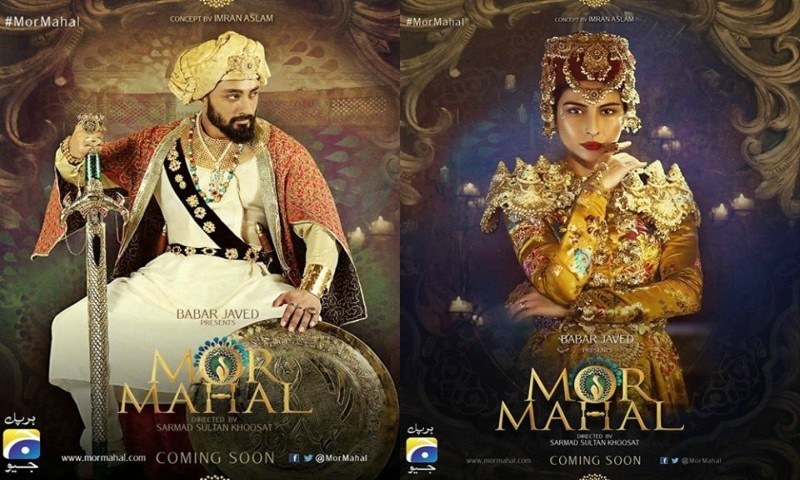 The teasers show almost the entire cast of Mor Mahal casting a magnificent spell on you with powerful dialogues & acting

The wait is over as Mor Mahal is all set to bring its magic to you with the larger than life teasers! The drama is written by Sarmad Sehbai and directed by the showman of the silver screens, Sarmad Khoosat. In the lead roles there is Umair Jaswal and that for the very first time. Apart from him Hina Bayat is playing Jaswal's mother, Meesha Shafi as his first wife, Fizza Ali as the second wife, and Jana Malik as Kaneez-e-Khaas. We see Sania Saeed playing a very different part in Mor Mahal, preserving her versatility she is widely known for!
Read: 'Mor Mahal' looks like yet another Sarmad Khoosat masterpiece
Here are some introductory teasers giving a complete account of the characters and the play of power among them.
Meet Begum Sarwat Jahan (Hina Bayat) whose prowess makes people in the Mor Mahal all thrilled.
Great warrior and a man with brains, Nawaab Asif Jahan (Umair Jaswal):
The charismatic and fiercely powerful, Farrukh Zaad (Meesha Shafi).
Read: Team 'Mor Mahal' speaks to HIP!
Mor Mahal is an A&B Productions and will be on air in the mid of March, so stay tuned to HIP for more details related to this.