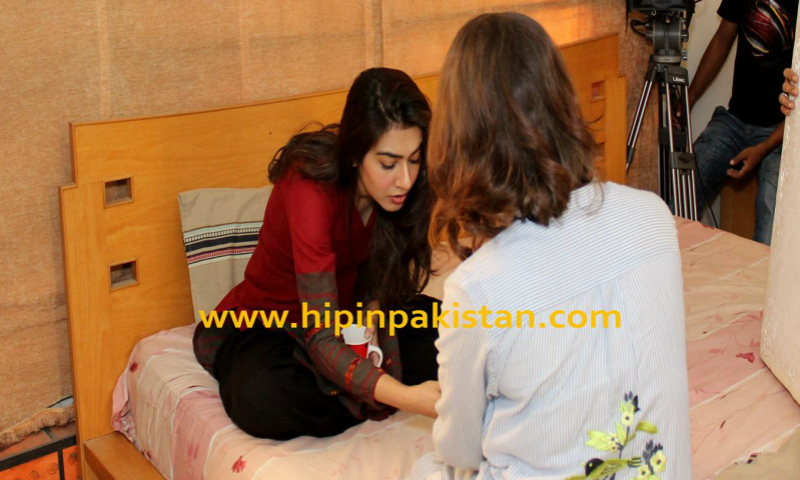 Babar Ali is making a comeback in 'Wafa' which also stars Mansha Pasha, Nausheen Shah, and Wahaj Ali

Wafa, written by Shamim Baazil and directed by Furqan T. Siddiqui, is a mega project in terms of stars associated with it.
HIP decided to visit the sets of Wafa and spoke with the actors and the mastermind behind the project, Furqan T. Siddiqui.
Read: Naeem Haque and Kiran Haque's 'Sangdil' starts today on Geo TV-
I first spoke to man of the moment, Babar Ali, who's reappearing on TV after ages. He spoke about his role, the overall plot, and his experiences related to the project.
Babar Ali as Daniyal:
How do you feel about reappearing in a drama serial after so long?
Every day is my first day on the sets. Its been 25 years since I have been working and I still intend to take challenges and work with the same enthusiasm that I had in the very first project. I am very excited and hopeful because I have a good team and we all have worked together to bring the best.
Tell us about your role in the drama.
Such roles are written once in a lifetime! My role in Wafa of Daniyal is very powerful and critical too. I'm sure people will understand Daniyal's situation with two wives (Ali laughed). The role was challenging in a way because the character of Daniyal has different shades. But as a matter of fact I did it with ease as I was enjoying my part a lot.
Read: 'Mor Mahal' maintains its extravaganza feel in the teasers!
What made you sign this project?
When I read the initial lines of the script, I found it very interesting and challenging. Daniyal has two sides to his personality and those come out in front of his two wives. To one, he is a very calm and polite person while for the other wife, he is very dominating.
After Geo's Ek Nazar Meri Taraf, I found this project very captivating.
What are the main features of Wafa which make it stand apart from the competition?
The message is basically for a patriarchal society like ours, where men suppress women. The message is that a woman doesn't deserve to be treated like a slave. She deserves respect and should be treated well.
A woman is a daughter, a mother, a sister and she plays lots of characters in a man's life; so men should realize that and they should do justice to the women around them. This is a very strong message that this series will convey.
Read: Geo aspires to reach the 'top' again with structural changes
How was your experience working with Furqan T. Siddiqui?
I had an amazing experience working with him. He is a wonderful director, a wonderful person and a very good friend of mine. He is creative and has the courage of experimenting things at the moment.
He even once turned on some music to create the right kind of atmosphere while I was acting (Ali laughed). So he is quite unconventional and innovative as compared to other directors.
This is the only man who could've worked wonders withWafa. I believe Furqan T. Siddiqui should definitely try his hands on movies as well because he is immensely talented and has a good head on his shoulders.
Tell us a bit about your co-stars?
Everyone is really good! Mansha Pasha is talented and has done justice to her role and on the other hand Nausheen Shah has also worked in a very nice manner. Wahaj Ali, has done good work too. Now its up to the audience how they appreciate the team's efforts and how much they admire our work.
What are your expectations?
My expectations are not from the world but form the Almighty. I believe that all the actors should contribute to diversity. Every actor and every Pakistani should contribute and bring something new to the audience. Then and only then will we be able to portray a good and productive image of our society. I am hoping for good as I have a lot of prayers with me, so lets see what happens next.
Mansha Pasha as Wafa:
Tell us about your role in Wafa.
Siddiqui told me about this role during the little gap that I had from work. It is a very interesting character called Wafa. A woman who is empowered in a certain way. She is very dedicated and a true hard worker, and strives to support her family.
When her father dies, she takes over the responsibility and runs the family. What I love most about this character is that she is not a weak person. She is an intelligent woman and the steps she takes to save her family are very independent. Wafa takes initiatives and shows courage in every walk of life.
What message does this character give?
Our society has defined the roles of a woman in a very limited and definite form. People are always ready to dictate what a woman has to do in life and how she should live and act around people.
My character makes the point that a woman needs to be treated as an individual who has her own choices and who should be free enough to act according to her desires and wishes. Wafa has all the right to say no whenever she wants. There were a lot of scenes in which Wafa fights the norms and shows what an ideal woman should be like.
Also, women in our society cant hold an opinion as there is a lot of social pressure on them, so Wafa is a personification of courage specially for those women who are being suppressed and who choose not to be vocal about their thoughts and individuality.
How is this different from your other projects?
Its definitely different from the other works I have done! My last role for Tumharay Siwa, was of a girl who was very different from Wafa as she was the kind of girl who relied on her husband to make decisions in life. She was weak and very dependent. But Wafa is a very dignified and confident woman.
Read: Update: Reorg due to disagreement between Baber Javed and Yousaf Baig
A word on your co-stars?
My co-stars are too cool (Pasha Laughed). We don't have the typical kind of discussions on sets. Our discussions are intellectual and we talk about stuff which nobody usually does these days. There is no negative energy so the whole journey of making Wafa was smooth.
Nausheen Shah as Saira (the first wife):
Who are you playing in the series?
My character's name is Saira, who is in love wih Daniyal. Daniyal is almost adopted by my father in the serial and lives with my family. He is very much under pressure and thinks that since the family has given him a lot, he needs to pay back. In a bid to do that, he even succumbs to things that make him uncomfortable.
Saira is humble and very nice, but at the same time she is demanding as well. She is a rich daddy's girl and lives in a bubble, believing that Daniyal loves her. But that's not her fault because Daniyal also acts as if he's madly in love with her.
The bubble is burst when another girl enters whose name I am not going to reveal (Shah smiled). After that a huge turn comes in everyone's life. So precisely it's a good and positive character that goes through different phases like every human being.
In the beginning people will see Saira under a different light but later on their perspective about her might be totally changed. It will be a surprising turn I must say...
What made you go for this project?
After one and a half year gap, the director and the A&B Productions' team approached me for the role of Saira. Honestly speaking, I was excited about the fact that its going to be an A&B project which made me go for it but above all, I loved my character which is very positive and good.
Read: Geo TV's 'Heer' is the story of an independent village girl
Tell us about your experiences with your co-actors?
Most of my scenes are with Babar Ali and Manzoor Qureshi, who is playing my dad in the serial. So I spent a lot of time with these guys and my director which was a really delightful experience. We used to have a lot of fun on the sets as well.
I have very few scenes with Mansha, but I must say she is an amazing actor. What I require from my co-workers is a good collaboration. If they are good and someone to have a good chemistry with, then naturally a good performance comes from me and I enjoy a lot then (Shah smiled).
What does this serial hold for the audience?
Umm… a lot of emotions. It's a decent, family oriented serial. It is a story of a woman and a man who is going through a lot. These days, we mostly see women-oriented dramas, but in this drama we see a man who is dealing with a lot of things.
Read: Nausheen Shah's Aitebaar to air soon
Your expectations?
I am expecting a lot! I have worked really hard and have put my soul, heart, and blood in it. I have given my 100 percent to this role that's why it means a lot to me. So when you work hard then naturally expectations do get high.
Wahaj Ali as Hashir:
What is your part which you are playing in Wafa?
It is a love triangle between Hashir (the character I am playing), Wafa and Daniyal. He is a sweet boy and loves Wafa and Wafa loves him too but due to her family problems; she sacrifices her love and marries a business tycoon named Daniyal.
Hashir works in Daniyal's office who is his boss as well and he doesn't know that Wafa is his wife. Wafa disappears suddenly after marriage and while Hashir tries to find her; he isn't able.
At this moment Hashir thinks that Wafa has betrayed him and when he comes to know about her marriage with Daniyal, then you can imagine how my character reacts. However, later on he realizes that he is wrong and starts supporting Wafa's family after her.
Later on, Hashir also helps Wafa when she undergoes some post-marriage issues.So my role in the drama is of a very kind and good at heart person who can do anything for his love.
How was your experience of working with Furqan T. Siddiqui?
Siddiqui has a very jolly and comforting nature. He has the quality of maintaining the quality of a content throughout the project, whenever he works. I had an astounding experience working with him.
Read: Atiqa Odho talks about her upcoming drama 'Is Khamoshi Ka Matlab'
What does Wafa has for the audience?
Wafa has many emotional elements for the public. Today people love to see heart touching and sentimental stories which this drama offers to a great extent (Ali laughed). We have shot two ends and we are intending to leave it up to the audience to decide which end is suitable. So this will provide an interactive space for the people as well to give their suggestions and collaborate with us.
What were your feelings about working with the co-stars you had?
Babar Ali and Mansha Pasha both are too good to work with. Mansha and I had an amazing bonding and we used to fight all the time on the set (Ali laughed). She is a very nice and humble person. Babar Ali is also very skillful and a gentle man. I enjoyed a lot working with them.
Read: Marina Khan joins A&B productions
What are your expectations from the serial?
I have huge expectations with this as it offers diversity, emotions like courage to sacrifice love, and many other things which the audience can relate with easily. So I believe it will do well on the screens and audience will surely love it.
The director himself- Furqan T. Siddiqui
How did you decide the cast? What kind of theme and concept did you have while developing this project?
There were few things in my mind while developing the script of Wafa. The concept is by A&B and Shamim Baazil has written the script.
When we read the story, there were different interesting characters. Daniyal, who is the main lead, is a business tycoon. Wafa is a beautiful character and then there is Saira who is demanding, but honest and right in her own way. Also, there was one main character of Hashir (Wahaj Ali) which also has his special characteristics.
For Daniyal we had a lot of options, but suddenly A&B came up with the idea of Babar Ali. The role of Daniyal perfectly fits Ali's persona. Daniyal is someone who has achieved a lot in life, but still there is a void in his life which needs to be filled. Ali has done total justice with this amazing comeback. This role is very important for both of us as Babar Ali is a big name and to do complete justice to the character (Daniyal) and the actor (Ali) was a very delicate task.
For the role of Wafa, Mansha Pasha was my first choice and I was pretty confident about casting her as she is a phenomenal actress. She has performed very well in the drama and through her character, we intend to change the face of women in our society.
Same goes for Nausheen Shah's character who is a rich man's daughter and her father is played by Manzoor Qureshi who is a very experienced actor.
On the other hand, we hooked up Wahaj Ali who is an adorable guy and he has played Hashir's character very well.
I feel very honored to work with all of them. I am really grateful to my team and people who put their efforts in this project. Mr. Babar Javed who accommodated me in every possible manner and who provided me with all the comfort that I needed.
On Wafa's OST:
I am very excited about it as the OST has been sung by non other than Asrar who is a very enthusiastic singer with a powerful voice. We had a lot of singers in mind, but I decided to stick with Asrar's vocals for the title track of Wafa. He has everything in his voice which we were looking for. Also, the OST is composed by Waqar Ali who is yet another talented person in the industry. He was a perfect choice I must say.
---
The director of photography for Wafa is Babar Akbar, the producer is Babar Javed, and it's a Geo A&B Production. Wafa has many great names associated with it including Asif Raza Mir as the Executive Producer, Adeel Suri as the Head of Productions, and Marina Khan as the Business Unit Head.