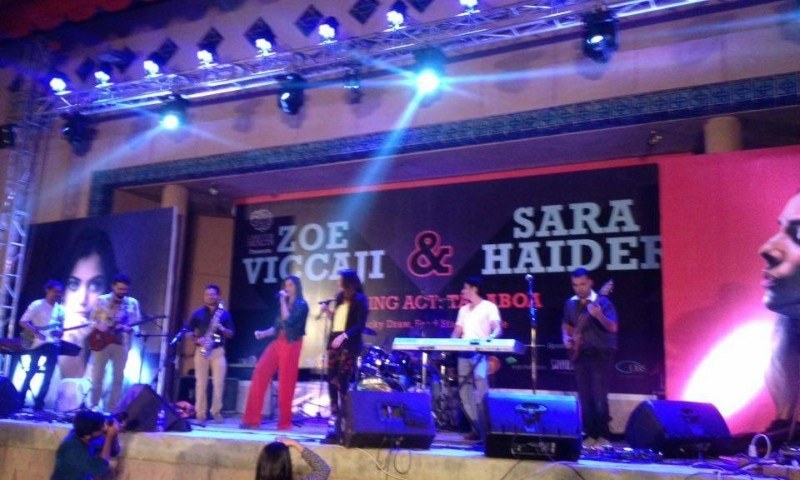 CFH is working towards making the topic of mental health easy to talk about.

CareForHealth hosted a concert last week on a pleasant evening in Karachi. While most of the concerts/gigs held these days are to promote local talent – what set this concert apart was the fact that they had two mainstream performers, Sara Haider and Zoe Viccaji!
The setup was done in the amphi theatre at the Arts Council. Other than the corporate organizations who had come on board as sponsors for the awareness of mental illness, there were food stalls of Wingg It and Chai Wala among others.
Read: Zoe Viccaji and Sara Haider sing for CareForHealth's first fundraiser
The opening act was by Taraboa, where they kicked off by Bon Jovi's Keep the Faith and Chris Cornell's version of Billie Jean and closed it with The Weekends can't feel my face.
Along with Omran Shafique and Sanam Saeed, who had come to support the singers, HIP also got a chance to meet and speak with Sabina Khatri, a renowned name.
Khatri runs the Kiran Foundation and when we asked her what she thought of this cause, she was all praises.
"CareForHealth is working towards making the topic of mental health easy to talk about. The soft spoken little girl I knew has grown into a nothing else but what she should have been. Alizeh was meant to be where she is today. She has worked with the mothers and children of Kiran Foundation and leaves a positivity behind which is just too contagious. I wish her all the best and many blessings for being the person she is."
Meanwhile, Sara Haider took the stage and started with the cover of Locked out of Heaven. She sang two of her original songs, Sapnon ka Shehr and Wo Bola. Other than this, she sang covers of Dil Se, Anjaney Kyun of Strings, Bill Withers' You and I.
The cutest moment was when Sara Haider's mom requested her to sing Aaj kal tere mere pyaar ke charchay which brought the entire audience to their toes. She closed her set by singing the cover of Adele's Hello, which was her own version of it along with Rumor has it and Noori's Yaara. (Seems like Haider is a huge Adele fan. We might have to personally interview her to find out.)
But this doesn't mean that Haider's performance was over, she invited Omran Shafique to join her as the lead guitarist and they both beautifully performed on Dikhadey Rang Apna - a song that she wrote with Omran and Ae Dil Kisi Ki Yaad Mein which was one the songs Haider had performed for the current season of Coke Studio.
Read: Video of Levi's 'Dikha De Rung Apna' will awaken your soul
But that was not over, before leaving the stage, she called over Zoe Viccaji to perform on Uptown Funk and that was indeed one of the best performances of the evening.
When Zoe Viccaji took over, after her duet with Sara Haider, she sang Ishq Kinara from Coke Studio Season 6 followed by her cover of the song Paheli. One of her originals that she sang was Jisney bhi ana hai from her first album!
Read: Zoe Viccaji speaks about her association with 'CareForHealth'
Zoe Viccaji confessed that she didn't used to sing Urdu songs first and the one of her first songs, Mera Bichra Yaar, was written by Anwar Maqsood. To lighten up the mood and create an energetic atmosphere, Zoe changed the lyrics of her songs and sang more happening songs like Aap Jaisa Koi, Elvis Presley's Jail House Rock, and Don't Stop Believing , Disco Deewane, and the popular sufi songdhamal Damadam Mast Qalandar.
We all saw Zoe Viccaji's new video, Aashiqui Angaar, featuring Irfan Ali Taj.
The entire audience sitting there that evening were lucky to see the two of them (Taj and Viccaji) perform live with Irfan on Rabaab too along with vocals with Karim on percussion.
Lalarukh Haris, co Founder of CareForHealth, said on the occasion that, CFH is currently working with a variety of public and private hospitals and organisations within Karachi.
"Our practitioners work with the doctors and patients in order to carry out counselling and rehabilitation before aiding in employment."
She further added that,
"CareForHealth's first fundraiser was carried out at the Arts Council last week to support patients that go through our program. We were very pleased by the support we have got from individuals, private donors and partner organisations for the event, namely Shan, Engro foundation, Soorty Enterprise, Elahi Group, Medora and AQ power yoga. We were especially touched by the two powerful and yet incredibly humble women, Sara Haider and Zoe Viccaji, who gave the evening their all as they sang so beautifully to fight the stigma against mental health as part of CareForHealth."