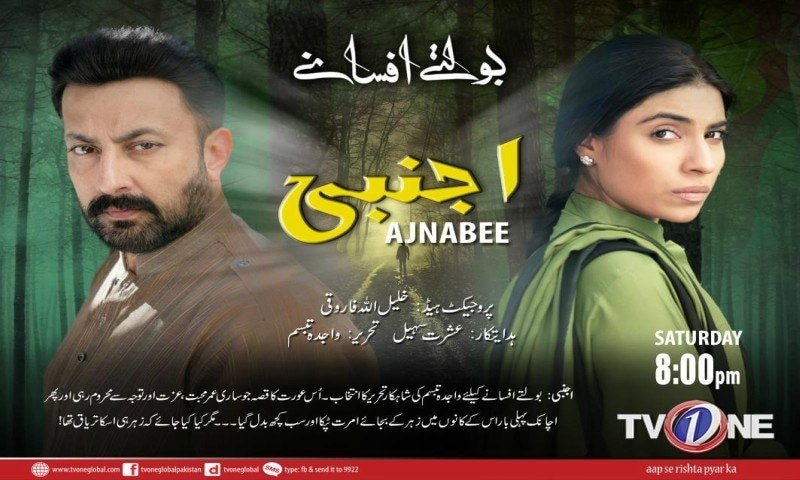 "Ajnabee gives you mysterious thrills and a surreal plot which is appealing and very captivating," says Falak Sheikh.

Ajnabee is an up-coming telefilm based on Wajida Tabassum's book who is a renown writer and author of various Urdu novels. The telefilm features Babar Ali and Falak Sheikh in the main lead and apart from them, it also has Khawaja Saleem as Chirimar, whose entry serves as the main twist of the plot. This telefilm is directed by Ishrat Sohail and its a TV One presentation.
Read: HIP goes behind the scenes of upcoming drama serial 'Wafa'
Before the telefilm hits the screen this weekend, HIP spoke to the main lead of Ajnabee to get an idea of what is it about.
While talking to Babar Ali, who is currently working on drama serial Wafa, we came to know about his role in the telefilm. Ali stated:
"Ajnabee is based on Wajida Tabassum's novel and is a story of a girl whose husband is an ajnabee to her while living in the same house. The man mistreats his wife and he is full of himself. When time passes and he realizes his mistakes, he finds that it is too late to do anything."
Falak Sheikh while talking to HIP told:
"Its a very old story based in the 1800s' era. It depicts the story of a woman who is married to a man (Babar Ali) who had two wives before she came in his life. She is an ordinary looking person which is why her husband doesn't give much attention to her. His previous wives were really beautiful and are dead now. The girl is very religious and puts all her efforts to maintain a good marital relation, but unfortunately, she ends up with empty hands and nothing else."
Read: Vulgarity and low standard of films behind cinema's downfall: Resham
Sheikh further told:
"The story takes a huge turn with the arrival of another character Chirimar (Khawaja Saleem) who attracts the girl with his enchanting words; as a result of which she is totally lured towards him and gets involved with Chirimar. The story then continues and it gives you mysterious thrills. It has a surreal plot yet its very much appealing and captivating."
Ajnabee is going on air this Saturday at 8:00 pm only on TV One, so don't miss it as it has many more interesting twist and turns to reveal.