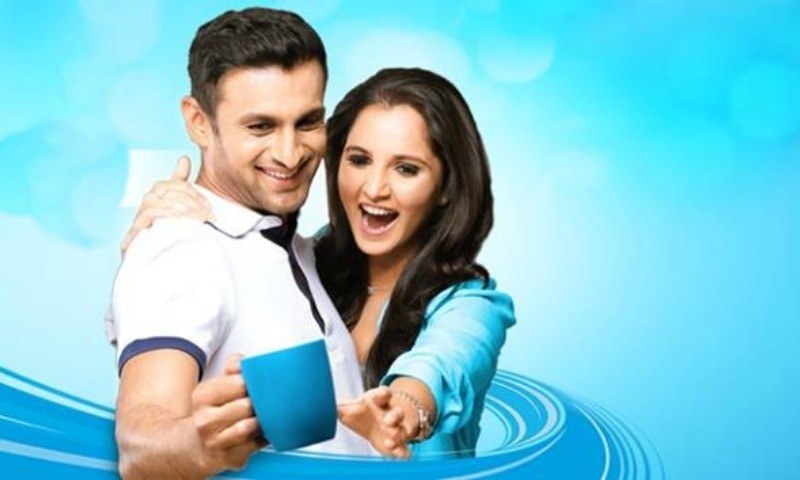 Shoaib Malik cannot act to save his life, but the couple looks cute & will create buzz for Nestle EveryDay
The 'it' couple, Sania Mirza and Shoaib Malik, come under (a high voltage) spotlight especially when an India-Pakistan cricket match is close by. Sometimes it's their banter on Twitter and other times their views are featured in cricket shows.
But this time Nestle EveryDay has persuaded the pair to feature in their latest TVC.
The advertisement isn't related to the upcoming T20 world cup directly, but we're smart enough to take a hint. Since cricket is going to be the topic of discussion come March 15; it's smart of EveryDay's marketing team to get hold of the sports couple.
Read: As Shoaib Mailk steps down, Ravi Bopara is handed captaincy of 'Karachi Kings'
The TVC shows the couple comparing India and Pakistan; and all this time they don't agree on a single thing. In comes tea made by the nosy third guy (who btw is present in each and every frame) with Everyday and Sania Mirza is left speechless. The brand wins the challenge.
As far as the TVC itself is concerned, the concept maybe simple, but is effective so gets full marks. The execution (in terms of production) is also spot on. Sania Mirza delivers her dialogues and expressions like a pro. Shoaib Malik and the 'other guy' fail miserably.
Read: Fawad Khan, Shoaib Malik launch Samsung Galaxy S6 and S6 Edge
Maybe the director thought they could cover up Malik's flaws by placing a tab in his hands...at all times, but unfortunately that also couldn't mask his monotone. Since, Shoaib Malik isn't an actor or a model; we can't really blame him for his lack of acting skills. The only thought that comes to mind is, then how can Indian cricketers, MS Dhoni, Virat Kohli, or Yuvraj Singh look so comfortable on screen?
Let's just hope our cricketers are comfortable on the cricket pitch because in the end that's all that matters.