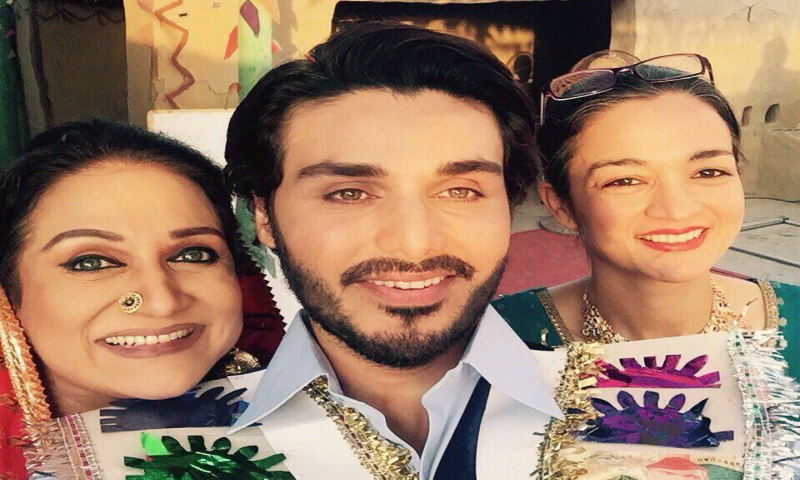 'Udaari' is a musical, yet dark play, which would see Khan playing a strange, yet diversified character.
The latest addition to the ensemble cast of Udaari, is none other than the busy as a bee, Ahsan Khan. Khan is all set to spread awareness with his projects now. From the sets of his upcoming serial, Ahsan Khan chats with HIP about what he has in store this time!
Also Read: Farhat Ishtiaq's 'Bin Roye' to air as a drama in the coming months
Giving us some major hints to what Udaari is basically all about, and how he landed this project:
"I won't be able to reveal the synopsis, but it's a first timer for Pakistan. It's a very dark topic of child abuse. The law has just been passed and it's very relevant in today's light. Such initiatives are very risky, and kudos to Momina Duarid for taking such a bold step. I also believe that such projects are educational, people try to undercover and ignore such subjects, but it actually is a harsh reality of our society. So, it's an eye opener that way. Besides that, it has at least 10 to 15 original tracks, and has a Punjabi background; which makes it a lot of fun, and challenging for me at the same time!" said the actor.
Also Read: Television, Films, and Personal Life: Urwa Hocane gets HIP!
Shedding some light on his character in the play and how he took a turn towards being the 'bad guy' from his back-to-back good guy roles, this is what the renowned actor had to say:
"There's no typical 'hero' or 'heroine in Udaari, the play has pivotal roles in general. My character is obviously a negative one, who's very strange, very dark, yet very diversified. Honestly, I am doing several projects which portray me being the ultimate 'dreamboat', I'm sure the audience won't expect me playing such a character. The only reason I took up the project, is that the understanding needs to be there and it's our responsibility as artists to highlight such issues."
Also Read: Ahsan Khan is all set to produce two films!
Udaari stars Urwa Hocane, Farhan Saeed, Bushra Ansari, Samiya Mumtaz and Rehan Sheikh, besides Khan. Penned by Farhat Ishtiaq, and directed by Ehtesham Uddin, this 'MD Productions' serial will air on HUM TV in mid-April!
The actor just finished shooting for Saya-e-Deewar opposite Naveen Waqar and for his own production series Kahaani Ghoomti Hay, wrapped up the first spell of his comedy-thriller film, Chupan Chupai and is now moving towards another serial next month. With his schedule fully booked for this year, we look forward to seeing Khan in various avatars!