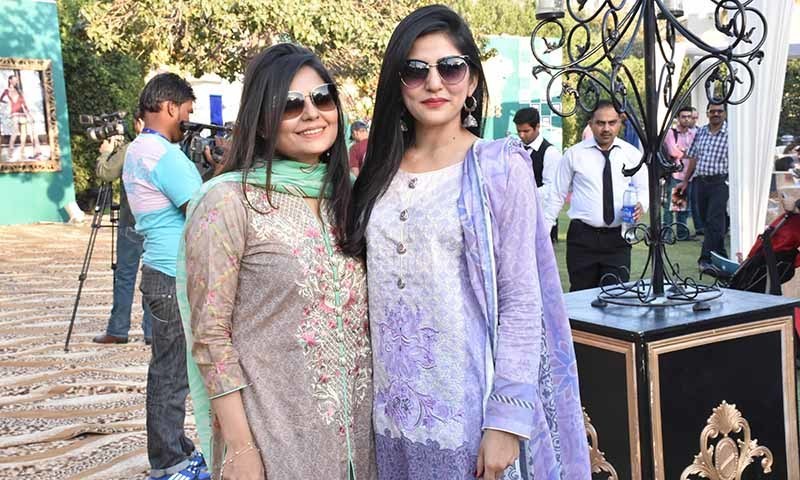 From Iman Ali, Sanam Baloch, Sarwat Gillani, Ayesha Khan, to Ayesha Omer and more; Chottani's preview was a celeb-fest

Acclaimed fashion designer Zainab Chottani is all set to launch her Spring/Summer 2016 Collection across Pakistan, under the banner of Lakhany Silk Mills (LSM Fabrics).
This is the second year of Zainab Chottani's collaboration with Lakhany Silk Mills. The Collection, featuring 10 designs in two colors each, is premium quality jacquard and cotton lawn with pure silk and chiffon dupattas with each outfit. Add to it some intricate embroidery and embellishments and you have the most complete ensemble.
Read: Bollywood celebs and their lawn brands
The preview was attended by Karachi's socialites and personalities from the media and fashion fraternity including TV personalities like Ayesha Omar, Aisha Khan, Sanam Jung, Sanam Baloch, Sarwat Gillani, Zhalay Sarhadi, Hasan Rizvi, socialites, Lal Majid, Nighat Misbah,Wajid Khan, Nazneen Tariq, designers Nomi Ansari, Wardha Saleem, Umer Sayeed, Mahin Hussain and models Iman Ali, Areeba Habib, Fia Khan, Omer Shahzad, Sadaf Kanwal, along with many renowned names from the industry.
"It is the second year of my collaboration with Lakhany Silk Mills, and the partnership works because we share the same brand ethos and values as LSM," remarked the designer Zainab Chottani about working with the textile giant.
"Keeping the latest trends and our weather in mind, we have designed the Collection in such a way that Pakistani women from all walks of life can wear it on a host of events & occasions – be it casual, professional or social," Chottani said while speaking about the collection.
Commenting on the collaboration, Mr. Rizwan Lakhany, Director Lakhany Silk Mills said,
"Zainab Chottani, with each collection we have worked on, has managed to bring the luxury of her formal wear, into the daily wear and lawn – which is something that the Lakhany Silk Mills has had the legacy of bringing to the Pakistani market for years – and we are proud to be carrying it forward so successfully into 2016!"
Zainab Chottani Collection by LSM Fabrics will be available at all leading outlets and online on from 17th March 2016 within the price range of Rs. 5,850 to Rs. 6,350.
Read: Sanam Saeed turns brand ambassador for Farah Talib Aziz's lawn
Established well over half a century ago, Lakhany Silk Mills Private Limited (LSM) is one of Pakistan's leading manufacturers of textiles. It has built a strong, steady and long-standing reputation as being a pioneer in Pakistan's fashion industry.
Read: Zainab Chottani launches her first flagship store in Karachi
Zainab Chottani is a brand that speaks volume. Her approach toward business is simple and straightforward, and her design aesthetic is minimal and clean – a combination that has made her successful. Zainab Chottani Studio is located in Karachi, and the renowned designer has showcased her designs locally and internationally numerous times to massive acclaim.
Here are a few more pictures of celebrities who were spotted at the launch.