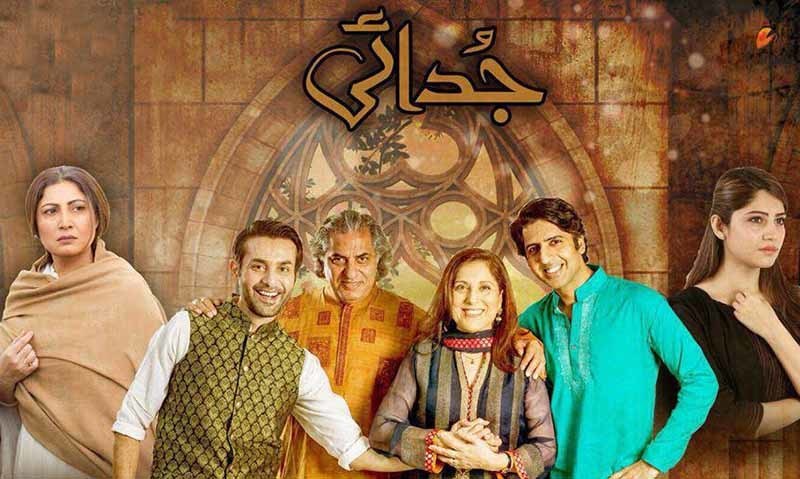 ARY Digital's drama serial 'Judaai' is still in its initial phase; let's see if it manages to retain audience's interest
First thing which attracted me towards Judaai was its huge star cast; it's not every day that you get to see so many greats in one frame. It looked like a family saga, with Saima at one end and Usman Peerzada with his wife and sons on the other. This in itself was a blatant hint that the man is involved with two women.
In search of understanding the mystery, I started watching this play. So far we have no clue what exactly is Saima's connection with Usman Peerzada's character, but we do know that Hassan (Usman Peerzada) has hidden some sort of a secret all these years from his wife Mehr (Samina Peerzada).
Hassan and Mehr are a middle aged, happy go lucky kind of a couple, who are very friendly, love taking family selfies and simply adore each other. They have two grown up sons, Haidar (Khalid Malik) who is to marry Alia (Sana Askari).
Initially Alia is very sweet with Mehr (her saas to be); but once married she is a changed person altogether and is under too much of influence of her mother. On the wedding night she clearly tells Haidar that she cannot deal with the traditional stuff like wearing his mother's shadi ka dupatta or even going to post-wedding dinners and meeting his extended family. She clarifies that she'd rather go for a honeymoon quickly and relax with him.
Haidar (whom I don't really like) being an obedient husband grants Alia's wishes like a genie. Mehr is a very modern woman and firmly believes to let the kids be. She doesn't believe in forcing her decisions on them so it is a bit of a shocker (for her and for the audience) when Haidar accuses her of being too demanding on bechari Alia, but best part is she doesn't react and calmly deals with her sons accusations.
The other son is Hamza (Affan Waheed) who studies in Lahore. The plus point is that through him we get a chance to watch the beautiful city of Lahore. Hamza is smitten by Zaina (Neelam Muneer). He is a rich, fun loving type of a guy whereas Zaina is serious, studious and not very well off but since Hamza is such a easy guy they both get along well and Zaina is often seen teaching Hamza.
She is completely unaware of his feelings for her. How romantic.
While Hamza has a stable family life Zaina does not. Here enters her mother (Saima) who after her husband's death is in severe depression and is mostly seen in a dazed state. Zaina has a brother (Imran Aslam) who is the binding force between Zaina and the mother.
He too studies and hopes to find a job soon so he can easily look after them. He is also a very loving bhai, when he sees Zaina in Hamza's car he doesn't jump the gun, nor does he shouts and accuse her. He simply tells her to be careful of her actions.
Hassan has a lawyer friend Junaid (Firdous Jamal) whose wife Saman (Huma Nawab) is very fond of Hamza. And fondness leads to her pairing up Hamza with her daughter, Minhail.
Once Hamza is back in Karachi and the wedding is over; Hassan suffers a heart attack, jolted by the attack we get to know that all is not well. Guess what? Hassan has been hiding a secret from Mehar and only Junaid knows what it is.
Read: iDreams' 'Khali Aasman' is about finding solace in 'unwanted relationships'
Zaina's mother (whose name hasn't been disclosed yet) mentions if a cheque has arrived and in the next scene we see Hassan signing a cheque!
Is the cheque for Zaina's family? Is Zaina, Hamza's half sister? Before we are able to solve the mystery Hassan dies! Come to think of it!
Alia (who is under the influence of her not-so-wise mother) and Saman (who is always bitter) try to console Mehar on Hassan's death. What an odd combination to calm a person in mourning. Now, I hope you guys remember that Junaid had the task of revealing Hassan's secret to Meher. The issue is that he cannot gather the strength to do so and two months pass by and everyone seems to have moved ahead with their lives.
Will Junaid finally gather the courage and reveal what Hassan was hiding? Let's wait for the next episode.
Verdict
A lot of characters are involved in this drama serial which is interesting. I really like how the writer, Parisa Siddiqui, gives each character its own identity, and the director, Roomi Insha, manages it brilliantly.
As soon as Affan Waheed and Neelam Munir come on screen; you are eager to see more of them. Initially I thought them to be an odd pair, but I was mistaken and the chemistry between them is working well.
One thing which really struck me was how stunning the three leading ladies (Samina Peerzada, Saima and Neelam Munir) look even with minimum makeup! I am in awe of these ladies to say the least.
Read: Affan Waheed starring in 'Bhai' and 'Judaai'
The only issue I had with Judaai was that too much screen time was given to Alia and her mother and Saima was barely seen! She is a fine actress and I honestly wish to see more of her.
The soundtrack is sung by Quratulain Baloch and let's just say it's not one of her best numbers.
Overall I think it's a good effort put in by iDream Productions. With names like Saima and Samina Peerzada; the audience (especially their fans) will definitely want to follow the serial. On the story front, only time will tell whether it is a unique story or a normal run of the mill one.
I am going to be watching it to simply see more of Saima. If you're a fan too then watch Judaai every Wednesdays at 9 pm on ARY Digital.