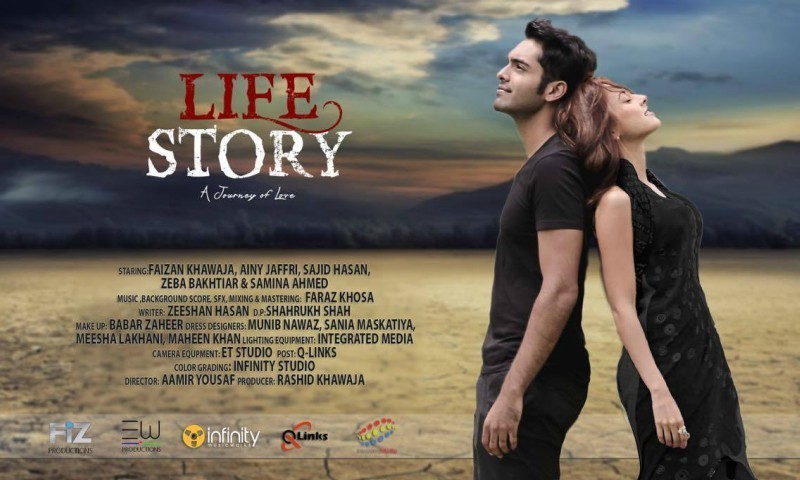 You might have seen lots of love stories; now it's time for a 'Life Story' and the telefilm might just be a game-changer

You guys might remember him from Ek Nayi Cinderalla, Ru Baru and Mizaaji Khuda. Yes, we're talking about the actor who essayed the roles of shady Sarman, the oh-so-strong Roman, and the psychopath Ahmer to perfection.
Trained filmmaker-turned-actor, Faizan Khawaja of Ru Baru turns producer with his upcoming television film, Life Story. Starring Khawaja himself opposite his Mazaaji Khuda co star Ainy Jaffri.
Whereas legendary actors, Sajid Hasan and Zeba Bakhtiar will be seen in supporting roles. Here we present to you all that you need to know about the upcoming extravaganza!
Also Read: HIP in 2015: Celebs who were desperately missed this year
Speaking to HIP, Faizan Khawaja described how the film will raise the bars of ordinary telefilms, as he will present the industry with an unfamiliar style of tele-film-making!
"It's a film for television, a totally new concept. It has a budget of more than what telefilms cost in Pakistan. So, it's categorised as a 'film for television'. Somewhat like the HBO Films, that premiere on television and don't have a theatrical release. Besides, it's my own production, so go easy on me (laughs)," said Khawaja.
Further elaborating upon what the film will revolve around and what one may expect, Faizan Khawaja said,
"It's basically a love story, and the complications a couple has to face after they get married, and how they overcome them. I don't want to reveal anything else, but it's a simple story, and a fun watch. It has three songs, I've sung and performed in one as well. We went up north to shoot it! So, fingers crossed!"
Also Read: Osman Khalid Butt and Ainy Jaffri to star in the movie 'Balu Mahi'
The drama-romance genre film has been directed by Aamir Yousaf and written by Zee Hasan. The music has been composed by Naveed Nashad, whereas the wardrobe is done by renowned designers such as Sania Maskatiya, Maheen Khan, Munib Nawaz, and Misha Lakhani! Bought by PTV, the TV film is expected to air later this month.
We look forward to seeing something zaraa hatt ke and wish the team all the luck!