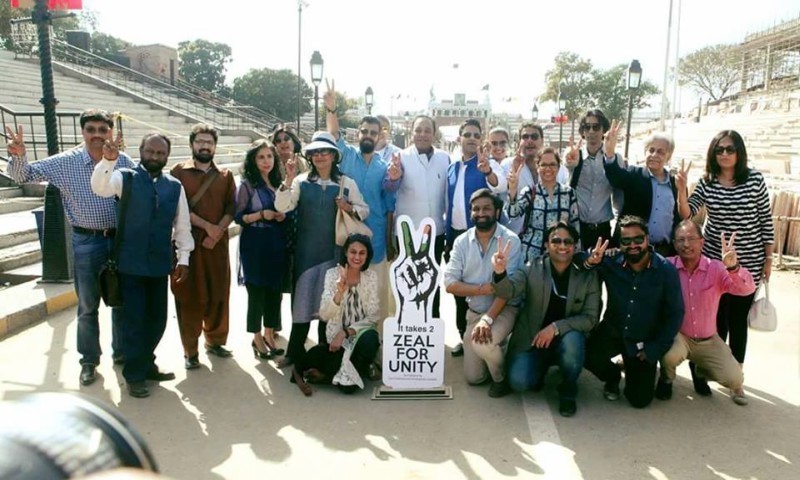 12 filmmakers unite to celebrate art, without paying any heed to the borders separating them

Zeal For Unity is that one initiative by Zee Zindagi that will encourage peace and freedom of literature in films. Six leading filmmakers from both sides of the border get together to celebrate art, without any border stopping them to do so!
Let's introduce you to the twelve film that have us waiting like crazy!
Khaemae Mein Matt Jhankain by Shahbaz Sumar
A circus accidentally lands in a barren village which is cut off from the urban world. Not prepared for what the circus may be like; the villagers tell tales of reality and myths sitting around a fire.
Also Read: Shahbaz Sumar's short film for Zee Network looks fascinating
Featuring the newest sensation on the block, Sara Haider and Hassan Abbas in leading roles, HIP eagerly looks forward to the film!
Also Read: Najaf Bilgrami - no more the director of Ishq 2020, but still has his plate full!
Lalool.com by Khalid Ahmed
It is a suspense extravaganza starring our very own Faysal Quraishi and internationally acclaimed actress, Natasha Portress. The synopsis seems catchy, with a foreigner woman ending up in a village to look for her missing husband, and the case being assigned to Lalool.
It looks like a journey of twists and turns, and we certainly can't hold our horses here!
Chotay Shah by Sabiha Sumar
Chotay Shah comes from the same person (Sumar) who was the mastermind behind Khamosh Pani and Good Morning Karachi.
Also Read: Adnan Jaffar talks about 'Jeevan Haathi' and 'Chotay Shah'
The film revolves around a 'once' wealthy family, who ends up making rash decisions with even more astonishing outcomes. Starring Adnan Jaffar, Maira Khan, and Khalid Malik; we can't wait to see the perfect blend of fantasy and reality in Sumar's next!
Lala Begum by Mehreen Jabbar!
Two sisters meet face-to-face after 20 years and this is what Lala Begum is all about. Odd and emotional, their first confrontation after ages will be presented in this upcoming film.
Also Read: Mehreen Jabbar's 'Lala Begum' is part of Zee TV's 'unity project'
From the maker of masterpieces like Daam, Neeyat, Rehaai and Jackson Heights, we just can't wait for this Marina Khan, Sonia Rehman Qureshi, and Humayun Saeed starrer.
Also Read: In conversation with the amazingly gorgeous Marina Khan
Mohabbat Ki Aakhri Kahaani by Siraj-Ul-Haque!
It is a film that exposes the harsh reality of honour killing in our society with a contrast of modern-day Laila Majnu, of hopeless love tales and childhood association. Starring superstars, Saba Qamar and Ahsan Khan in the lead cast,Mehram's director strikes with a dark story this time.
Jeevan Haathi by Meenu & Farjad
Presenting the reality of media and the complex with trying to top the charts with ratings, showcased in a comical manner. The black comedy is based on the daily controversies highlighted (created by) in media.
Also Read: Meenu Gaur and Farjad Nabi on Zee's unity project and 'Jeevan Haathi'
Starring Hina Dilpazir, Naseeruddin Shah, Adnan Jaffar, and Samiya Mumtaz in prominent roles, just like Zinda Bhaag, the makers are ready to tackle comedy and dark issues simultaneously.
Baarish Aur Chawmein by Tigmashu Dhulia!
The Taapsee Pannu and Amith Sadh starrer, Baarish Aur Chawmein, is a simple love story by the man behind Bullet Raja, Gangs Of Wasseypur's and Saheb Biwi Aur Gangster's. It revolves around a couple, who have maintained their relationship on the basis of a lie. There's a lot of drama to expect, since Dhulia is the master of that!
Dobaara by Bejoy Nambiar
When a free spirited 22-year old gal ties the knot, her life surely turns upside down. And after resorting to putting up matrimonial ads; she decides to take a bold step. The Manav Kaul and Parvathy Omanakuttan starrer film will prove to be nothing short of a triumph for the Wazir fame director, as he experiments with a bit of commercialism for the very first time!
Silvat by Tanuja Chandra
Starring Kartik Tiwari and Meher Mistry, the film deals with a topic that is mostly brushed under the carpet, but has strong roots in the subcontinent for sure.
With Noor's married life suffering, as her husband resides abroad due to work commitments, she falls for a much younger man. As Chandra get's his evil side up, we are eager to see what he has in store for us this time!
Also Read: Hina Dilpazeer on Meenu and Farjad's 'Jeevan Haathi'
Toba Tek Singh by Ketan Mehta!
Based on one of the most famous stories of Saadat Hasan Manto, Toba Tek Singh; the film is based on the events that took place during partition in Lahore, where patients were left behind by families.
Presenting the pain abnormal people have to go through, the Pankaj Kapur and Vinay Pathak starrer film, is surely one of the most anticipated films of the Zeal For Unity project.
Guddu Engineer by Nikhil Advani
One simple decision between love and hate will change everything in the life of an upcoming engineer called Guddu as he decides between friends, love and more. The Katti Batti, Salaam-E-Ishq and Kal Ho Naa Ho fame director is all set for a simple story that lands itself into complications and choices of life!
Saari Raat by Aparna Sen
A couple lands themselves in a 'seemingly' haunted warehouse, in a bid to find shelter on a stormy night. How the couple spends that one unforgettable night, is being showcased in this intriguing film. From the filmmaker of India's best Bengali films, we are really looking forward to this one.
---
While we wait for these movies to make it to the theatres near us; let's watch the video featuring the 12 filmmakers.