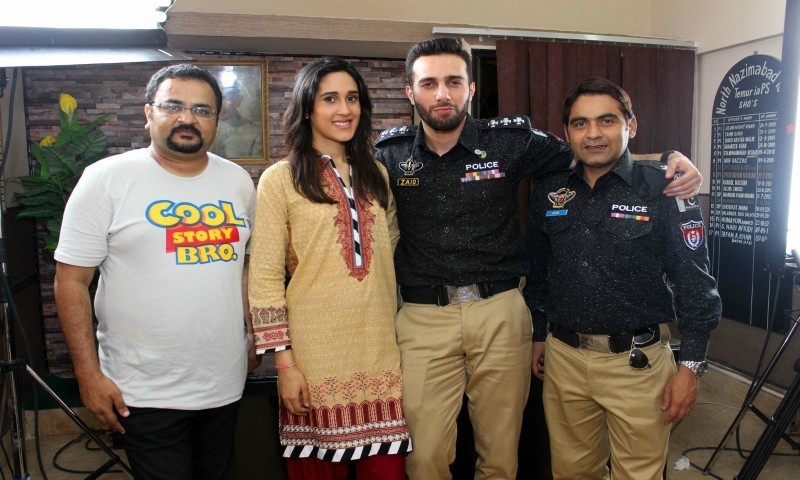 Tujhse Naam Hamara is an up-coming telefilm starring Emmad Erfani, Mira Sethi, Behroz Sabzwari, Tabassum Arif, and Irfan Motiwala. It is a special telefilm for Pakistan Day and will air on Urdu 1 on March 23rd.
Read: Urdu 1 to air 'Fashion Pakistan Week' for the first time!
Tujhse Naam Hamara is written by Syed Zain Raza and Furqan T. Siddiqui is directing it. It is produced by Kanwal Wali and Huma Furqan from Fuma Films Poduction. It has romance, comedy, and a unique plot as compared to other dramas and tele-films being made today.
First up, HIP spoke to Emmad Erfani who is playing the lead role in Tujhse Naam Hamara. Erfani talked about his role, his experience of working with Sethi, and the plot as a whole.
Emmad Erfani
Tell us about your role in the tele-film, Tujhse Naam Hamara.
I am playing the role of a police inspector, Zaid, whose personality has different shades. He is corrupt yet compassionate. I've never played such a multi dimensional role before so it's pretty challenging. I think it will be very conducive to my career's growth.
How is it different from your other roles?
It was challenging because I have never played a comic role ever before. Since the telefilm is a romantic comedy, I have tried my best to come out of my comfort zone and explore the talent within me. For me, an actor should explore his or her diversity and break free from the bonds that stagnate them.
Do you have any message for the audience or to the police inspectors as you are playing a policeman yourself?
You see there are people who like my work or hate my work. I just want to say that I don't take it personally. If anyone likes my work, I would like to thank them and if they don't like it, then I will try to improve. That's my message.
Read: Urdu 1 is the official media partner for 'Kapoor and Sons'
Is there anything special you'd wish to share? Anything related to your character or plot?
Umm… Yeah, actually for this role I had to interact with different SHOs and inspectors. It was a very interesting journey and they've inspired me. They have a very exciting job which is at the same time very dangerous. These are the people who work for our safety and play an important role in our society.
How was your experience working with Mira?
I share a great camaraderie with Mira; and got great support from her side. It was an amazing experience working with her.
How was your experience working with Furqan?
It's been good. It's just that it was a short shoot so we didn't spend much time together, but yes, its been amazing.
Mira Sethi
Tell us about your character?
I am playing a girl called Soniya who has lived in the US, but is patriotic thanks to her Pakistani parents. She is a nerd and a news and politics junky; which I am in my real life and may be this is the reason why they selected me for this role. She has come to Pakistan to do her thesis and her thesis is based on the law and order situation in Pakistan. Then she meets this SHO who is corrupt, but as the story proceeds she falls in love with him and tries to change him.
Read: Urdu 1 ventures into film distribution with 'Actor in Law'
How can you say that this role is different as compare to your previous roles?
It's actually a very very positive character. I wouldn't say that I have played negative characters in the past, but they've had shades of grey. Moreover, this girl is extremely patriotic. She is full of 'can do' spirit and wants to instill positive change in others.
On the other side, she is also very witty and confident. With her positive spirit, she manages to win over officer Zaid.
As a journalist do you really feel that these kind of things (bribing and corruption) actually happen in Pakistan? Have you ever seen it happening in front of you?
Yes it happens… It certainly does happen on every level. And I believe that this tele-film will surely help deliver the message that to change the system we first need to change the people's thought process.
Since it's a telefilm of one and a half or two hours; I don't know how many people would actually end up watching it, but I believe, our dramas/films should strive to change minds and hearts.
As an artist, my aim is to inspire. When you try to combine art and morality, things get a bit murky and complicated, but as long as you aim to inspire AND entertain, it's all good.
Read: Teasers of Urdu 1's 'An Exclusive Interview with Adnan Malik'
What would you say about working with Furqan T. Siddiqui?
It was great! He is very relaxed and has confidence in his actors. He makes sure that they give their best. Whenever an actor wants to adjust the lines or something, he allows that and says, "okay let's discuss this". He is very open-minded.
How was your experience working with Emmad Erfani?
I just want to say that Emmad Erfani is a big fat nerd (Sethi Laughed). I mean, imagine, he comes to me with the script when I am using my phone or sitting and chatting; he takes my phone, and asks to do rehearsals. He did that so many times that I have started calling him aunty and he gets very upset (Sethi and Erfani giggled).
Furqan T. Siddiqui - the director,
What is so special about this project?
This is special because it is part of the Pakistan Day transmission and such special projects are very close to me. So whether it is Eid play, Valentine's Day ones or whatever else; I feel as if I should do such plays more often.
Since it will air on 23rd March, it is primarily a patriotic play, but it has been treated differently. It is miles apart from the serious stuff that we've seen in the past.
Read: Urdu 1 to air two new dramas from Monday
What message does this tele-film give?
The writer and the producers have tried to give the message that policemen can do with more honesty and less corruption. This also gives the message that corrupt people can also evolve into better people.
How was your experience with the cast?
It's a good question! This is the first time that I am working with Emmad Erfani and Mira Sethi. I always wanted to cast Erfani, but I couldn't get a chance. I love his acting and his professionalism.
Even while casting him for this play, we were having issues with the dates. Emmad had gone to Lahore after a tiring shooting schedule, but then we talked on phone and I discussed the script with him and he managed to come back and shoot for Tujhse Naam Hamara.
Similarly, Sethi was also in Lahore and finally I had both of them on board. They are marvelous actors and I am really happy to be working with them. The cast also includes Behroz Sabzwari, Tabbasum Arif, and Irfan Motiwala whom I have worked with before. These actors are of course amazing hands down, and are suitable for the subject.
Who selected the cast?
Deciding the cast was a mutual decision by Urdu 1 and me. Nina Kashif from Urdu 1 helped a lot in deciding the cast.
Read: Urdu 1 partners with PFDC for PSFW16
What do you want to say about the writer Syed Zain Raza?
I have worked with Zain before also for various Eid plays. I love his writing and I believe that with such kind of subjects (lighthearted) he does really well.
---
Let's keep an eye out for the 23rd March special telefilm, especially when it promises to be entertaining and informative at the same time. On a side note, Mira Sethi, made us very happy when she appreciated our efforts:
"I want to say that I love HIP in Pakistan. I love your yellow icon and whenever I see it, I think that I should read the story," (Sethi smiled).