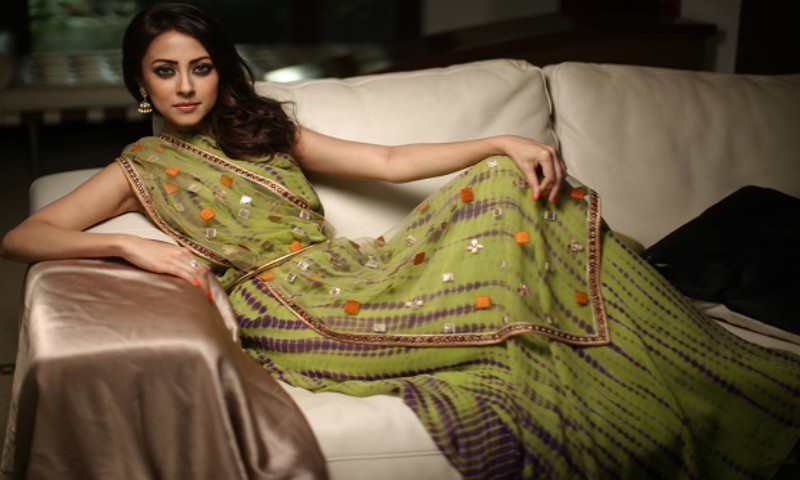 "Balu Mahi will be super fun, and hopefully my character can be a role model for all the women!" says the actress

How can we ever forget the Aseerzaadi and Meri Behan Maya fame starlet? After getting married and moving to London, the young actress vanished from the fraternity. But don't get your hopes too low Ainy Jaffri fans, because she's back with a bang! Shooting for her film Balu Mahi in Lahore, the actress stopped by to chat with HIP about her new film, her personal life, and a lot more!
Also Read: Faizan Khawaja & Ainy Jaffri come together for telefilm 'Life Story'
What is your current line up of local and international projects?
Right now I'm concentrating on the film, Balu Mahi. We've been shooting it for a couple of months now. I've also done a telefilm by Amir Yousaf called Life Story. Besides me, it stars Faizan Khwaja, Zeba Bakhtiar, and Sajid Hasan. It's being made on a larger scale than most telefilms; a higher quality camera is used and more money is spent. We went up north to shoot a song as well. Besides that, I completed a serial called Silah last year, opposite Farhan Saeed, so I guess it should air some time this year as well.
Also Read: Silah: A story of a man getting intimidated by wife's success
What has been your weirdest fan encounter till date?
Well, an Aunty didn't know much about me and she thought I was sweet and all, so she asked me to marry his son. She kept in touch with me on Facebook and Whatsapp. So that was weird (laughs). Also, there was this one time when I was at the airport and a guy came up to ask me for an autograph on his shaved head (laughs).
Also Read: Burka Avenger series to turn into an animated movie
What is the future of Burka Avenger? Will you continue playing the feminist?
Of course! I've completed four seasons in Urdu and one in English. I hope Haroon (the creator of the show), finds the right producer, as there are some plans of a film as well. I think he has gotten offers for a real feature film instead of an animated one. Nothing has been confirmed as yet though. I think he should be the one to have control so that the essence of the show doesn't get away. But whatever is finalized, I would love to be a part of it.
Tell us how you're managing your personal life. How does your husband take to you being in the limelight?
Being out of the industry and not even living in Pakistan, he takes it as well as one possibly can. But it's not like he hasn't been exposed to the glam of the industry, so he's very cool and he handles it all in a very mature way. We have a great understanding and he knows I'm a solid person who is responsible. I know that my parents or anyone close to me won't be exploited by what I do because it all depends on me. Besides, I've worked with only the best people, so I know the environment I work in is safe. I am a good judge of character too!
Last year there were very short trips of maximum 20 days, but every two months I would be in Pakistan. But as I said those were short bursts, I would be back on and off. This is the first time I've been off-screen for so long. But we both are happy that I got the right project. Then lots of my projects didn't work out, Haisam (director of Balu Mahi) and I were about to start off on a movie, but then we had issues from the production side. I was supposed to do another film in India, but my visa is still not with me. So Faris knows it all and he knows it might turn out as a game changer!
Also Read: Osman Khalid Butt and Ainy Jaffri to star in the movie 'Balu Mahi'
The news of you working opposite Osman Khalid Butt in a film took the world by storm. Tell us a bit about the project and your character in it.
It's basically a rom-com adventure film with a lot of movement. It will be shot here in Pakistan. It centers around Balu, which is being portrayed by Osman. And my character is Mahi, who is a strong and empowered character which represents the Pakistani women of today. She wants to be in charge of her destiny. I watched Ho Mann Jahaan recently and it gave a great message that people should be allowed to live their passion. Though our movie is completely different, it's still about trying to find yourself. And it's a bit of a coming of age film as well. It'll be super fun and hopefully my character can be a role model for all women.
Osman and I did a screen test like we were actually shooting a scene a couple of months before we were roped in. And something must have worked out (laughs). I have been a fan of his since he used to do these parodies. I thought they were amazing and he seemed pretty intelligent as well. I have seen his work in dramas and I think he's very talented. And clearly people love him, which is why I'm even more excited to work with him.
After Maya aired on Zee Zindagi in India, you got a lot of love from across the border as well. Are there any plans of working there?
I have some good relationships with casting directors there and they keep sending in stuff. It's not about Hollywood or Bollywood or even here. I have certain self-placed limitations. I've grown up here and I'm close to people here, so I don't want to embarrass or disappoint anyone. An actor has to do what he has to, but my decisions are part of my craft. Some things are very normal for them, even for the west as well; so I won't understand all of that. They believe in a more realistic approach and they obviously want to reflect their own culture. My agents in London send me the auditions only for films which do not demand any intimate scenes. It's tough, but not impossible.
The script, again, has to be worthwhile. That's something I can never compromise on. If that means I won't be able to make it big or would have to do less work, so be it. After living for two years in London, I know how it works. We recently shot a trailer and waited for the funding to come, but then it was illogical for it to not have a lip lock scene between the couple because it was supposed to be a British film. Unfortunately, they had to re-cast for the film. I'm well aware of all the aspects, but I don't regret a thing!
Also Read: Ainy Jaffri looks fabulous in Farah Talib Aziz's new shoot
Tell us a bit about yourself. What is that one thing nobody knows about you?
I'm extremely sensitive and over sensitive at times. Faris is a rational minded person and reacts accordingly. The kind of perspective he brings helps me overcome my shortcomings and I'm really trying to improve on them on my own as well.
I am a fun loving person and live in the moment. I live each day like it's my last. I have a great sense of humor and I'm very protective about the people I love. I love laughing. Sometimes I think life is like one big adventure. I'm a Gemini and I really do have two faces. The challenge is to find the perfect harmony and balance. I can be a complete kid at times. I might be grounded but at the same time I want to fly.
What offends Ainy Jaffri?
People who treat others unfairly, unjustly, and people who are rude. Whether it's your driver or your boss, I think there's a basic level of decency which we need to show to every human being. And the people who fail to do so really offend me. Also people who are racists, I have no respect for them.
If you could go back in time and correct one mistake of yours, what would it be?
As humans we tend to make a lot of mistakes. I think that's what grooms us and makes us who we are. We learn from those mistakes and we hope to become better human beings. I've made lots of mistakes as well, some that I'm okay with, some with which I'm not. But all of those mistakes made me who I am today and Mashallah, I'm very happy and content with wherever I am. I might not be where I am today if it weren't for my mistakes. I've learned from them and I've turned them to my advantage. I like to think that they become tools for improvement as time passes by.
Also Read: Ainy Jaffery looks ethereal in 'The Timeless Bride' collection
What would be your message for the HIP readers on an ending note?
Stay healthy and happy. Respect everybody and show generosity wherever you can; It doesn't always have to be in the financial sense. Lastly, follow your dreams. Nothing is impossible if you work hard!