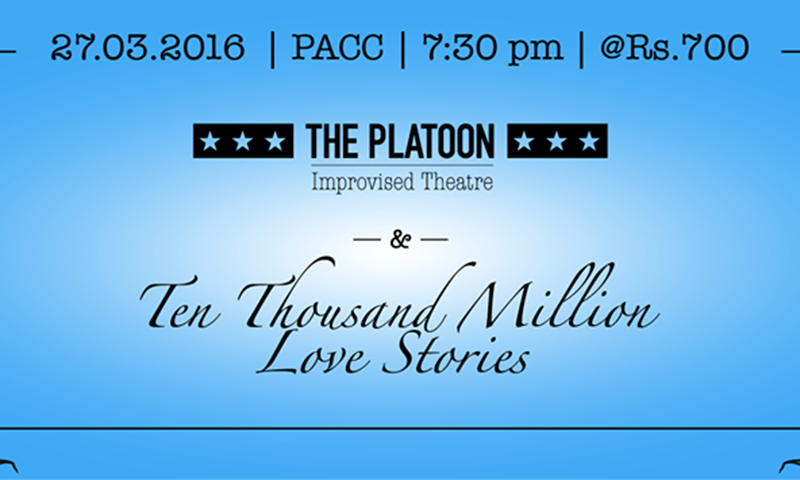 The show will be performed at PACC on March 27th from 7:30 to 9pm

The Platoon - Pakistan's first long form improvisational theater troupe - and Ten Thousand Million Love Stories is all set to put up a show at PACC on March 27th from 7:30 to 9pm. We are super excited for the show featuring the likes of Rachel Viccaji; I'm sure you will be too after reading what it's all about.
The show takes stories from the audience and weaves the characters, situations and ideas behind them into an improvised play that changes nightly, states their official Facebook page.
The tickets for the show can be purchased via Delivery Chacha.
"The name of the show is simply the name of the two entities performing together. The Platoon comprises of 9 of us and TTMS is basically Jules Munns and Heather Urquhrat. Jules was my musical improv teacher in England and I just pitched him doing a show with us, and he got Heather on board and now the 'The Platoon and Ten Thousand Million Love Stories' is happening," Hassaan Bin Shaheen told HIP.
Read: Ayub Khosa and Sajid Hasan come together for 'Chiragh Bali'
Hassaan Bin Shaheen further added that he, Munns and Urquhrat had been together for two years and have done a lot of experimentation.
"We have dabbled in short-form improv, comedic improv, musical comedy and narrative long-form improv. We have performed at all major universities in Karachi, and have done quite a lot of corporate events - I think no two projects have been similar, just like no two shows have been similar. We have done around 20 shows and hopefully want to do a lot more on a bigger stage and PACC is just that."
Read: 'Haseen' will make you laugh, cry, and think
When asked why people should come and watch the show, Hassaan Bin Shaheen gave us quite a few reasons:
We are doing something that has never been done in Pakistan before. For starters we have two of the best and most notable performers from the UK flying in for this show.

Secondly, for an entire week we will be training with them and bringing our collective experience of having performed in the last two years and the training to create an experience.

Everything that they will see on stage will be improvised. EVERYTHING made right in the instant and you will see entire plot points appear from a single word. Also, what we are doing is not going to be a play but bits and pieces of multiple plays and with various characters. We don't have scripts, just our zaniness. So people coming to the show should expect many stories, many characters and many things happening at the same time.

There's also music. It's just magical seeing things being created within seconds and we want the audience to experience that.
The Platoon is planning to do one show a month at the PACC, so expect a lot more.