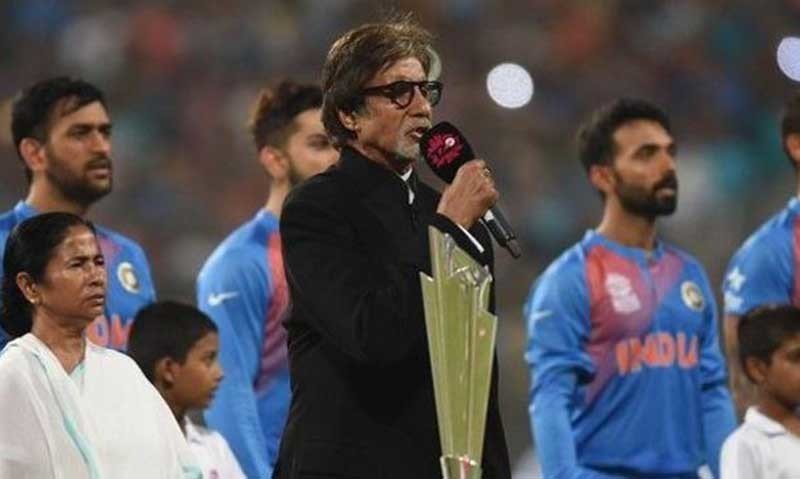 Looks like Shafqat Amanat Ali wasn't the only one who messed up the national anthem.

First things first, why was a normal group match between India and Pakistan being treated as if it was the delay final? Singers, actors coming in to sing the anthem and watch the match. Felicitations taking place before the match. Why create hype when it was already a high-voltage match or has it lost its sparks with time?
If you thought Shafqat Amanat Ali was the only one who landed himself into trouble after singing the national anthem, then read on.
Read: Shafqat Amanat Ali (also) messes it up at India vs Pakistan match
Amitabh Bachchan, yes you read that right, Bollywood's most popular actor was also accused of singing the Indian anthem incorrectly. A short-film-maker, Ulhas PR, filed a case against the most celebrated Indian actor at the Ashok Nagar Police station, Times of India reported.
Read: Shafqat Amanat Ali's apology for the national anthem blunder
The complaint states "that Big B took 1 min 22 seconds to sing the anthem as against the 52 seconds as per the guidelines set by Ministry of Home Affairs."
Ullhas also said that Bachchan used the word "Sindhu" in place of "Sindh" while singing the anthem.
Earlier as well, Ex Indian cricket captain, Saurav Ganguly, had come to the rescue and assured that Bachchan hadn't the super star had sung the anthem for free.
Read: Getting Ready for India Vs Pakistan T20 clash
Really? Now the duration is also an issue? Common sense suggests that Bachchan has deep baritone voice and he prefers to sing the anthem at a slow pace. There you have the reason. At least, his performance wasn't lack luster like our Ali's.