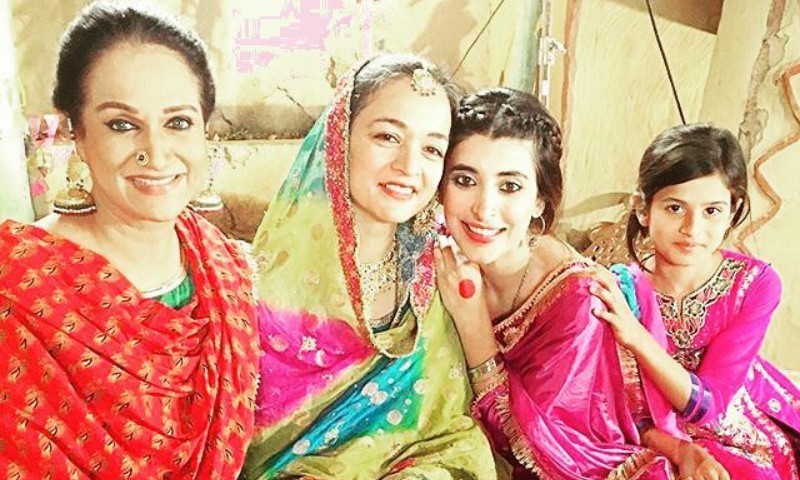 Since Farhat Ishtiaq's 'Udaari' is based on child abuse, I expected it to be dark and dreary

Momina Duraid and Farhat Ishtiaq have come together for yet another brilliant project. But this time round, it isn't a perfect romantic fairy tale, but a dark one focusing on child abuse and rape.
Udaari is a collaboration between Kashf Foundation and MD productions and the serial has been produced with the support from the Government of Canada. Bear in mind that Kashf foundation and MD productions had earlier came together for Rehaai - a serial that highlighted yet another sensitive topic of child marriage.
The first teaser for Udaari just came out and it's not at all, dark, dramatic, and depressing. As a matter of fact it's easy on the eyes with Bushra Ansari playing the role of a Meeraas (singer) with poise.
The first teaser doesn't hint towards the intense story line.
All it shows us is a singer/dancer (Bushra Ansari) doing her job with dignity, as her husband (Rehan Sheikh) plays the tabla and daughter (Urwa Hocane) tags along. The conflict, in the teaser, is that people tend to judge such professions. Bushra Ansari has a perfect reply to such people, "Ussi meeraas aan. Apni awaaz wechde aan; apni izzat nahi."
But as we reported earlier, Ishtiaq's Udaari has more to it then just the issue of professional stereotyping.
Read: Ahsan Khan to play the antagonist in Farhat Ishtiaq's 'Udaari'
Udaari is directed by Mohammed Ehtasham Uddin and its cast includes Urwa Hocane, Farhan Saeed, Bushra Ansari, Samiya Mumtaz, Ahsan Khan, and Rehan Sheikh.
We hope Udaari presents a solution instead of just highlighting the issue, because in the past (with plays like Chup Raho, Majazi Khuda); we've only seen the problem and not the solution.
The message that most dramas (based on sensitive issues like rape) give is that you can either live with it quietly or run away to a faraway place. We're hoping that Udaari would present a more realistic option.
Read: Farhat Ishtiaq's 'Bin Roye' to air as a drama in the coming months
Kashf foundation has been working to change social and cultural biases that prevent the ability of women and girls to participate fully in the society. It is laudable that the foundation has yet again brought a script that breaks taboos and stereotypes.