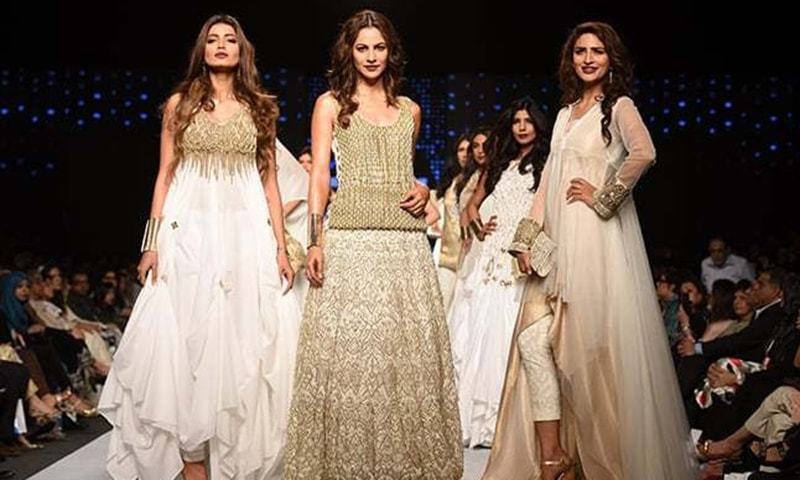 FPW will be held April 7th-9th with Urdu 1 as the official event and media partner

Last year, one of the biggest events held was FPW, sponsored by Urdu1. Fashion Pakistan, the country's leading platform for fashion designers, is pleased to announce the dates for the 'Fashion Pakistan Week S/S 2016' and again, they are partnering with Urdu1.
The event will be held in Karachi on 7th, 8th & 9th of April 2016. The 3 day event will be taking place in collaboration with Urdu1 as the official event and media partner. Around 27 of the country's best fashion designers and retail brands will be showcasing their latest Spring/Summer collections through this platform.
While announcing the dates, Sanam Chaudhri, Chairperson of Fashion Pakistan Council, said,
"We are excited for yet another ground breaking event. We want to demonstrate the latest trends and innovation across the broad range of fashion in Pakistan. Fashion Pakistan is committed to developing fashion as an industry and will continue to highlight its growth and success."
Also read: Who were the showstoppers for Day 3 of FPW15?
While talking in terms of partnership with 'FPW', Urdu 1's CEO Faraz Ansari said,
"Urdu1 is delighted to be supporting Fashion Pakistan for its second consecutive season. We are extremely pleased to be partnering with the Council on what is sure to be a fantastic event. With amazing talent on show, we are excited to help introduce Pakistani fashion to new international markets and expand our latest commitment to fashion"
This season will also mark Fashion Pakistan's ground breaking partnership with Trade Development Authority of Pakistan (TDAP) as the main sponsor for 'FPW S/S2016'.
TDAP Secretary Rabia Javeri stated,
"It is time Pakistan moved to high value exports, such as Gems & Jewelry, and both pret and couture fashion apparel. Fashion Pakistan Week is a non-profit organization working to develop fashion in the Pakistan and is an excellent forum to present the spectrum of fashion and design in the country. It allows for the showcase of established designers, production houses, and the entry of new and young fashion aspirants. Pakistan's fashion industry has fueled our outstanding rise in textile and lawn production. TDAP is committed to export enhancement and has played a strong role in connecting fashion houses with international buyers. The collaboration between TEXPO and Fashion Pakistan Week is an excellent opportunity to display Pakistani fashion to a whole array of textile buyers from all over the world, including persons such as Oliver Lapidus, Letz Martin, Beaumenay Joannet, Dubai Design District, Malone Souliers, Mitsubishi Fashion Co, etc."
Also see: 10 trends to look out for at FPW 2015
Wardha Saleem, CEO Fashion Pakistan, added,
"We are really looking forward to this year's Fashion Week as it will mark our partnership with TDAP. Fashion is a burgeoning industry in Pakistan, and adds immense value to our economy. We are excited that with TDAP's association, more than 700 international buyers will be attending FPW S/S2016 along-with influential international fashion figures, making this event a true business and networking opportunity for the participating designers."
The event will be designed and managed by 'CKO Events Architecture', and backstage will be managed by 'Production 021'. 'N-Pro (Nabila)' and 'N-Gents' will serve as the official styling partners for the event. Show direction and choreography will be by the suave Frieha Altaf, of 'Catwalk Event Management and Productions'.
The Fashion council will be announcing the names and schedule of the participating designer/retailers one week prior to the event.
About Urdu1:
URDU1 is a General Entertainment Channel which broadcasts from Dubai, UAE, for the Urdu speaking population across the globe. It is the fastest growing entertainment channel and a top source of premium quality Urdu entertainment, taking entertainment to new heights. The channel is known for its blend of unique and captivating dramas. Famed for its beautiful medley of Turkish plays, URDU1 strives to present the best shows on the face of Pakistan's entertainment industry. Dramas like Ishq-e-Memnu, Fatma Gul, Feriha, Meray Humdum Meray Dost, and Jackson Heights are some stories that highlight the benchmark it has set.
Also see: Urdu1 partners with 'Fashion Pakistan' for 'FPW Winter/Festive 2015'
About Fashion Pakistan:
Fashion Pakistan Council, established in 2007, is the local fashion fraternity's representative body created by the designers, for the designers. One of the primary objectives of the council is to educate, empower, encourage, and promote local fashion designers, both locally and internationally. The current board of directors includes Wardha Saleem (CEO), Sanam Chaudhri (Chairperson), Saniya Maskatiya, Maheen Karim, Mahin Hussain, Nauman Arfeen, and Obaid Shaikh. 'Fashion Pakistan' has a long tradition of holding bi-annual fashion weeks, having pioneered the concept of Fashion Weeks in Pakistan with the very first Fashion Pakistan Week, held in 2010. Since then, the Council has continually looked for new ways to support and bolster Pakistan's growing fashion industry. The council has launched many of the finest designers in the country. Last year, 'FP' was proud to launch the iconic and groundbreaking Maybelline New York Millennial Fashion as a platform for budding young designers to showcase their talents in a first for the country. 'FP' also organizes several 'Fashion Day Out' events throughout the year, with an array of exhibits, trade fairs, and fashion Shows, both locally and internationally. 'Fashion Pakistan' is also a part of the Council of International Fashion Designers, which was created with a vision for co-operation to promote and support Pakistani fashion in the global marketplace.