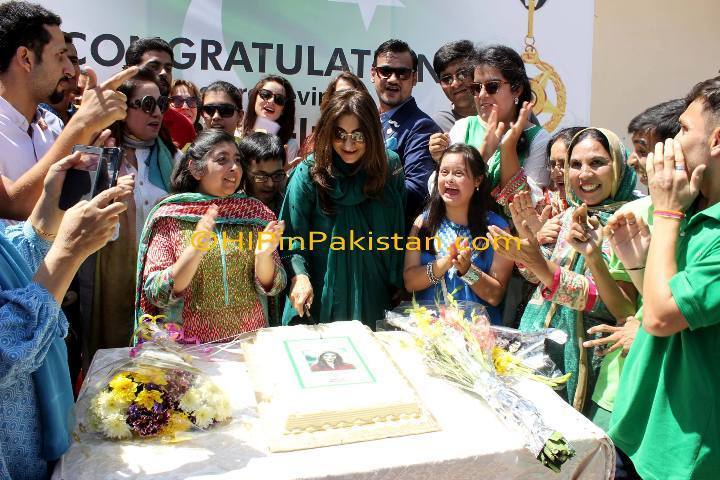 Having dedicated most of her life for the welfare of the disabled, she was the perfect recipient for the award
The chairperson of 'Special Olympics Pakistan', Ms. Ronak Lakhani, was awarded the Sitara-e-Imtiaz by the Government of Pakistan this 23rd March. The Sitara-e-Imtiaz is the third highest ranking award given to a civilian in the country based on his or her extraordinary achievements. Lakhani has selflessly devoted her time and services to help showcase the special talents of the disabled to the world, which earned her this award.
Having dedicated most of her life to this cause, she was a deserving candidate for the award. Lakhani has been the driving force behind 'Special Olympics Pakistan'; helping people with intellectual disabilities become part of the mainstream society through inclusion and 'the power of sports'.
Also read: Sarwat Gilani talks Special Olympics and its importance
In her thank you note, she stated:
"I have been volunteering with SOP since 1990 .I am really honored for being awarded with this Sitara-e-Imtiaz and I am committed to continue my services to take this movement to the next level. This recognition was only possible with the efforts of my passionate team members".
'Special Olympics Pakistan' organizes sports activities and competitions in the country throughout the year for people aged 8 or above. 'SOP' also offers training in Olympics- type sports such as athletics, aquatics, basketball, badminton ,bocce, cycling, football ,powerlifting, table tennis, tennis, and cricket. 'SOP' also offers health screenings and conducts unified sports. 'SOP' has participated in over 18 international games. Some of our key program efforts to build communities include: 'Unified Sports', 'Athlete Leadership Programs', 'Family Engagement', 'Healthy Athletes' and 'Young Athletes'. 'Special Olympics' knows no boundaries. Without regard to gender, race, religion, economic, or education level, 'Special Olympics' has the ability to unite all walks of life.
We at HIP would like to congratulate Ms. Lakhani on her achievement and we hope that she will continue to work for the betterment of our society.
For more information about the 'SOP', visit: https://www.facebook.com/SpecialOlympicsPakistan