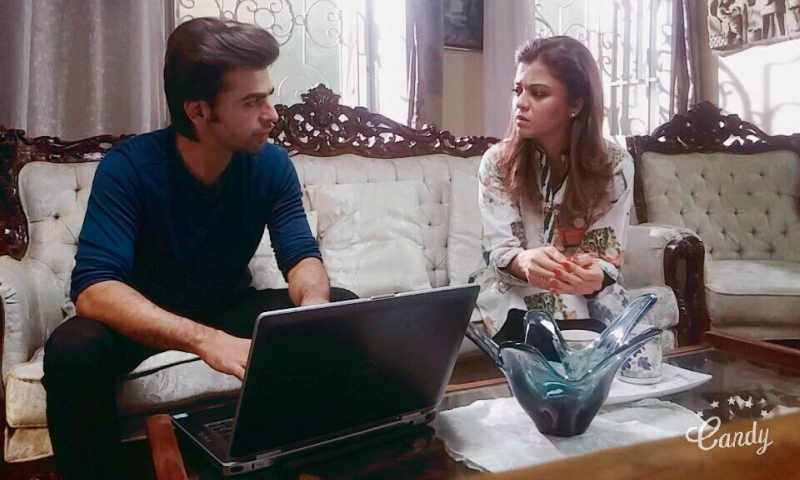 A woman making her own decisions, and fighting for her rights - 'Teri Chah Main' will inspire to empower!

Fahad Mustafa's 'Big Bang Entertainment' is back with yet another impactful and promising serial. After Meri Beti, Rung Laga, and the currently on air, Mera Yaar Milade, this one will be showcasing one of the most harsh realities of our society. A woman making her own decisions and fighting for her rights - Abis Raza's upcoming serial, Teri Chah Main is an empowering play which went on floors earlier this week!
Also Read: Fahad Mustafa's Big Bang Entertainment now producing films
Starring renowned actress Maria Wasti, and rockstar-turned-actor, Farhan Saeed in leading roles, along with the gal about town, Saboor Aly, singer-turned-actor, Fahad Sheikh, and veteran artists, Shakeel and Salman Shahid in prominent roles; Teri Chah Main will trace the events that take place in a widow's life and how the people around her compromise on her rights as a human being.
Also Read: Bollywood Calling Maria Wasti? Not As Yet!
From the sets of this upcoming project, lead actress of the serial, Maria Wasti stops by, speaking to HIP about what this play is set to tackle with:
"Teri Chah Main has a very interesting synopsis. My character is forcefully married to a very elderly guy, and has two grown-up children. So, basically she's someone who never got the right of making her own decisions. And later on the guy who is engaged to her daughter, get's infatuated by her! And that being a taboo in our society, is being portrayed in a realistic light."
Also Read: 10 Pakistani celebs who refuse to age
Adding yet another feather to her heavy cap, the diverse actress further told HIP about the characters and the strong message it will try to convey to the audiences:
"Besides her story, the serial generally deals with unacceptable struggles of the other characters as well. It's all about how one discovers oneself, and what one does with one's life. It's about breaking the norms and realising that even if a woman is llder than a man, she has the right to live her life the way she wants! It's acceptable if an aged man marries a young girl, but when it goes the other way round, it's looked down upon."
Also Read: Farhan Saeed and Iman Ali pair up for 'Koi Rokay Na Mujhe'
Produced by Fahad Mustafa, the drama serial will air on 'ARY Digital', on the Wednesday primetime slot in the coming month.
Also Read: Farhan Saeed sings 'Halka Halka Suroor' for SRK
We wish Wasti, Saeed and everybody associated to the project the best of luck. HIP looks forward to seeing yet another quality project from the team!