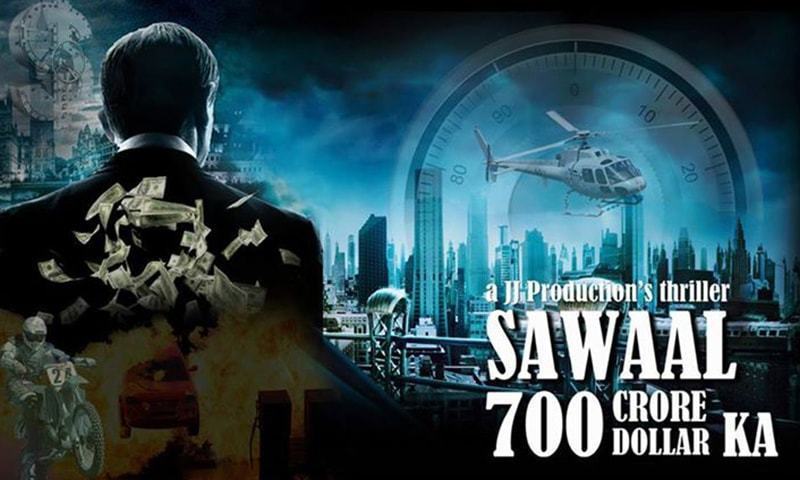 Sawal 700 Crore Dollar Ka is Pakistani cinema's answer to Dabang, Wanted, and Don, but absence of big names like Shah Rukh Khan and Salman Khan means that the story, direction and production quality actually needs to be really strong.
Although the trailer boasts names like Javed Sheikh and Shamoon Abbasi, scenic beauty of Thailand, and helicopter shots; the special effects are quite unnerving (not in a good way).
Directed by Jamshed Jan Muhammed, the film's cast includes Javed Sheikh, Shamoon Abbasi, Ismail Tara, Nayyar Ejaz, Ali Mohiuddin, Qurat Ul Ain, Indian actor Rajpal Yadav, and the veteran film star Ghulam Mohiuddin. The film's official Facebook page describes the genre as thriller, action, comedy, suspense, and heist (sub genre of crime film).
Read: Upcoming Pakistani film to feature Indian actor Rajpal Yadav
Jamshed Jan Productions' Sawal 700 Crore Dollar Ka is an amalgamation of all the genres in the world except romance, so we might not see a hero and a heroine dancing about in meadows. The film does introduce two fresh faces - Ali Mohiudiin and Qurat Ul Ain - so let's see what the two young people would be doing in the film if not featuring in a love story.
Read: In Conversation with Javed Sheikh
The film was shot in Thailand and Sri Lanka.
Read: In pictures: Cast of 'Sawaal 700 crore Dollar ka' having a blast in Thailand
Does the trailer convince us to buy a ticket and watch the film? Unfortunately not.