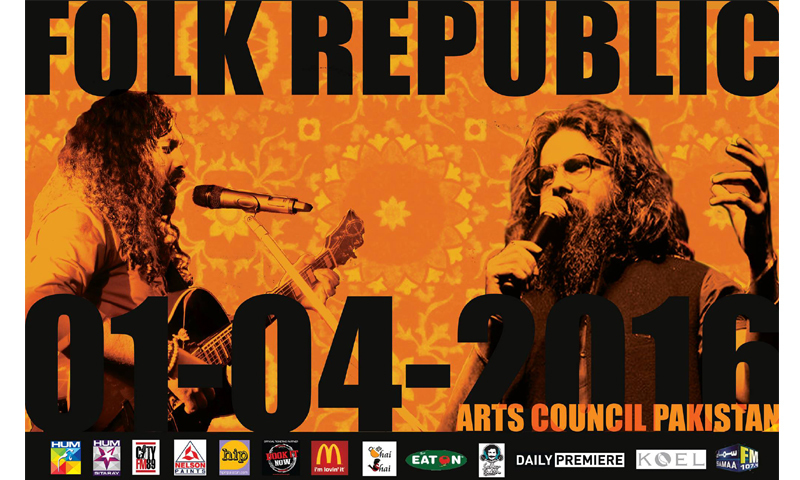 With Asrar and Sounds of Kolachi live in concert, this event promises to be a big hit!

April has never sounded so exciting, with the deadly summer ahead and the even more deadly exams in tow, but this year round it promises to be a whirlwind of events. Quite a few events, plays, shows, collaboration, movies and exciting new stuff is coming out.
MAD HAT is going to host a Folk Republic Festival, showcasing the culture of this part of the world, on the 6th of May at the Arts Council Karachi.
Dreen Baloch, one of the organizers while speaking to HIP, said:
Folk Republic Festival is an initiative to promote Pakistani music, culture and food. It's a vibrant celebration of the spirit of Pakistan and a campaign to help us all look beyond each other's differences and actually celebrate the things that bind us. Our food, our music, and our culture.
While we are mostly interested to the see the collaboration between the Shakar Wandaan and Coke Studio rock star Asrar and the talented Sounds of Kolachi; we're sure that different stalls showcasing and promoting our local culture will add to the festive atmosphere.
This event itself will be a reminder of what our culture is like and Talea Najam one of the organizers said the same:
"Folk Republic Festival is going to be a reminder of our identities and a cerebration of our cultural diversities. We want people to understand that our cultures don't divide us, but bind us."
Unity and togetherness is need of the hour of Pakistan at this time. The feeling of cherishing our culture and heritage is what lacks in our youth at times. In this era, where every one is going haywire to just making their own lives better; it feels good to see some youngsters putting in effort and investing their time to honor our culture.
"It's going to be a festival worth remembering, where musicians, crafters and cooks from different cultures of Pakistan will unite and celebrate their togetherness," said Hira Riaz.
Join the MAD HAT team on 6th May 2016 at the Karachi Arts Council to embrace the feeling of oneness, the feeling of acceptance, and the love towards your fellow Pakistanis. Let there be love. Let there be light. Let music bind us!