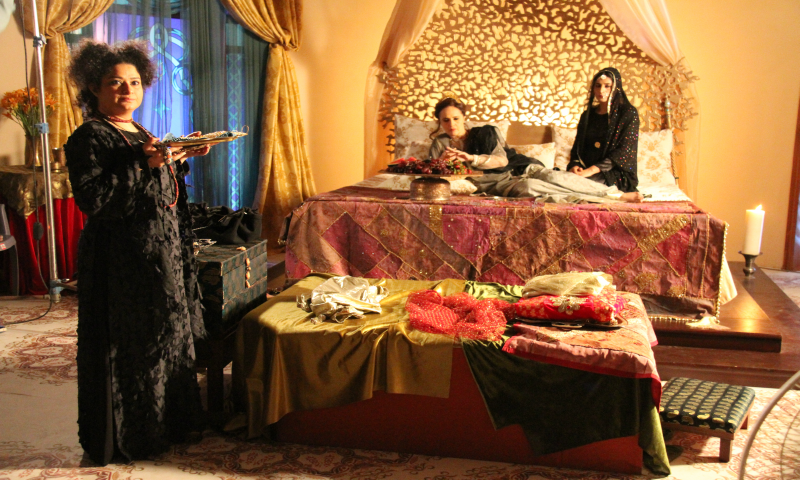 Television and stage veteran Sania Saeed, is one of the most outspoken actresses when it comes to misogynistic depictions of women on television.
Saeed is however ecstatic about her upcoming role in Mor Mahal - the 40 episodic period drama/fantasy serial conceptualized by Imran Aslam, written by legendary poet and writer Sarmad Sehbai, produced by Babar Javed, and directed by Sarmad Sultan Khoosat, soon to be aired on GEO TV.
Also read: Team 'Mor Mahal' speaks to HIP!
"This is the weirdest thing I have ever done!" Saeed enthuses. "I play an oracle!"
An oracle is an entity that parlayed prophecies delivered from a divine source; a type of character that has never been envisioned, let alone portrayed, on Pakistani television.
Pakistani television is riddled with female characters that are shown to be indubitably dependent on the men in their lives. But Saeed gleefully relates that her character in Mor Mahal is not buoyed by such draconian limitations.
"I have no sons, husbands, son-in-laws, or any male relatives who my life revolves around. Thankfully, my character is further unique in that way," says the actress.
Also read: 'Mor Mahal' maintains its extravaganza feel in the teasers!
Saeed's character is also free from any physical or representational barriers. "I tried to bring something new to the table. My voice, my mannerisms- everything is different." Saeed explained.
Also read:
Team 'Mor Mahal' speaks to HIP!
Saeed adds that all actors would get together during acting workshops and would try to conceptualize how they were going to portray their larger-than-life personae.
"My character is so different from the rest because she doesn't look, act, or dress like any of the other women of this world. I had no restrictions on how to portray her. "
Read also: 'Mor Mahal' looks like yet another Sarmad Khoosat masterpiece
Director Sarmad Khoosat, the successful director behind earlier hits Humsafar andManto, says that Mor Mahal is essentially a story of fiercely resilient, powerful women.
"There will be no weeping willows here. Mor Mahal is a 'once-upon-a-time' plot driven story. It has costume, drama, music, glitz, and glamour, and it's still a relatable story because it boils down to human relationships."
Khoosat concluded, adding jokingly, that "MorMahal can be called the hilal erotica of Pakistan."
Also read: 'Mor Mahal' looks like yet another Sarmad Khoosat masterpiece
MorMahal stars rock-star Umair Jaswal in his TV debut as Nawab Asif Jahan, Meesha Shafi as Farrukh Zaad, one of his three scheming wives, and a stellar cast including, Hina Bayat, Fizza Ali , Janan Malik, Ali Saleem, and of course, Sania Saeed.
Set in the fictional state of Jahanabad around 200 years ago in an era fusing Mughal, Greek, Egyptian, and Turkish civilizations, Mor Mahal will be the first Pakistani "fantasy drama" to be televised since Alif Laila and Ainak Wala Jinn almost 25 years ago.
Mor Mahal has also been named as Pakistan's most expensive television series, after GEO TV's Bashar Momin.
Mor Mahal will air on GEO TV in April 2016.