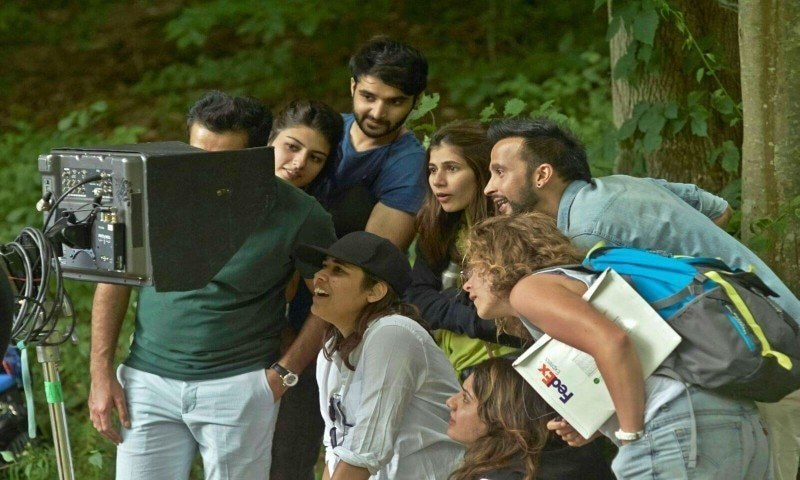 Every actor in the poster features a unique look and it speaks volumes about their character

The poster of ARY Films' Dobara Phir Se yells city life, fun, and interesting stories. Quite a few of them actually. Every character in the poster seems to have an individual story and yet they'll all come together to prove whatever point DPS wants to prove.
The way the characters are dressed or the props they're carrying tell us a bit about their back stories. Let's use her expert analytical skills and try and guess what each character's role in the film.
Read: On the sets of ARY Films' 'Dobara Phir Se'
Ali Kazmi is in this polished suit, but is holding a pan. What does that tell us? It tells us that he's a family man. Adeel Hussain's character is on-the-go and may have just arrived from Pakistan. Hareem Farooq's character seems to be a little protective of the 'llittle boy' (Musa) while Sanam Saeed is a hipster; she has this come-what-may-I'll-stay-happy kind of a vibe around her.
Atiqa Odho is the mother hen. Tooba is the studious, nerdy sort, while Shaz Khan is trying to fit in the mad house, that is the DPS family.
Reda: First look of 'Dobara Phir Se' is on its way and it has us excited!
Directed by Mehreen Jabbar and co produced by Salman Iqbal, Jerjees Seja, and Jabbar herself, Dobara Phir Se went on floor last year. It made good progress instead of hanging in the production stage for ages. And now finally we see the first look.
After Janaan, this film too looks to be fun and god knows we can do more with that element here in Pakistan.