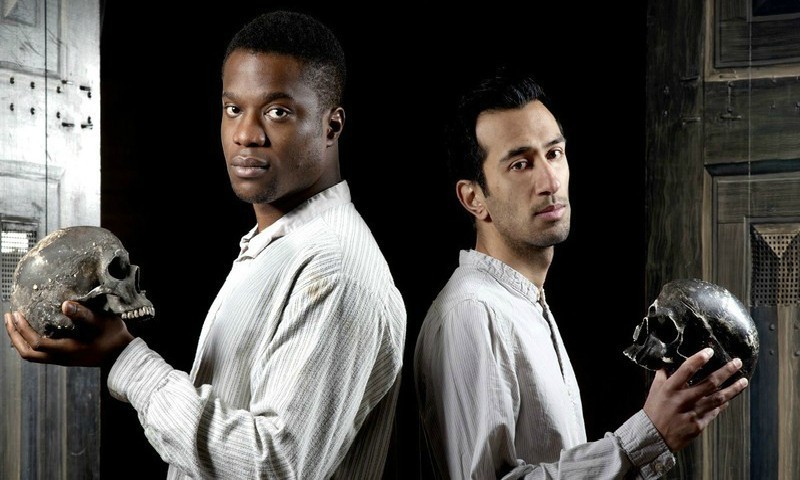 The Shakespeare's Globe performed the play at Kinnaired College, Lahore on Friday after touring Europe, America & Africa

Shakespeare, the Bard of Avon, is the sole owner of Hamlet which has an intrinsic, artistic worth, and has been owned by every era regardless of the readers' (or viewers') nationality and creed. This is the reason why the play has reached every corner of the Earth including Pakistan.
Read: Faran Tahir to play Shakespeare's 'Othello' on stage
A touring company called Shakespeare's Globe recently performed Hamlet at Kinnaired College, Lahore on Friday after touring northern Europe, North, Central and South America, North and East Africa, Australasia, the Pacific Islands, and Asia. After this, they will head on to the Middle East which shows their intention of spreading the classic globally.
The reason of doing this is to pay a tribute to the most eminent playwright and poet of English literature, William Shakespeare on his 450th anniversary.
Hamlet was played by Naeem Hayat whose ancestors belong to Pakistan, but he is actually born in London. He was the protagonist and totally stole the show. He portrayed Hamlet's part brilliantly.
Hamlet's lover Ophelia was performed by Amanda Wilkin and inherits her looks from her Jamaican mother. The best part about this play was that the lead characters (with local looks) were relatable to Lahorites who have been admiring the play for centuries.
Read: Sarwat Gilani's fund raising theater play to kick off from October 1st.
Hamlet is a tragedy of a prince residing in Denmark. His father was killed by uncle Claudius who wanted to usurp the crown and marry his mother Gertrude. Hamlet, while being in the state of complete dejection, responds to the situation with his feigned act of madness to take revenge from his uncle. His madness (which appears as his main tragic flaw or Hamartia) leads him towards his own death at the end of the play.
The audience exploded with emotions, could respond to each and every dialogue delivered by the actors. Hamlet's soliloquies along with the most heart-wrenching, "To be, or not to be, that is the question" was delivered with perfection and immense feel.
Everything including the play setting, background music, props and costumes were handled by the company. The students of Kinnaired could feel the true essence of the play with those power pack performances.
Shakespeare's Globe expressed their views on this very productive and challenging venture:
"In celebration of the 450th anniversary of Shakespeare's birth on April 23, 2014, we have opened our Hamlet, which has gone on a brain-defying, logistics-confounding tour of every country in the world -- yes, all 197 (at the last count). It is part of continuing ambition to promote an open and joyous conversation across languages and borders through the medium of Shakespeare and theater."
Read: KopyKat Productions next venture is a theater play called 'Siachen'
Initiatives like this should be taken and admired, especially when there is a low culture of reading and performing literature. In Pakistan, there are a handful of people who are interested in performing arts and literature studies any way. In order to preserve the tradition of reading literature (Urdu and others) and theater, we need to promote such activities that are helpful in storing a cultural identity.