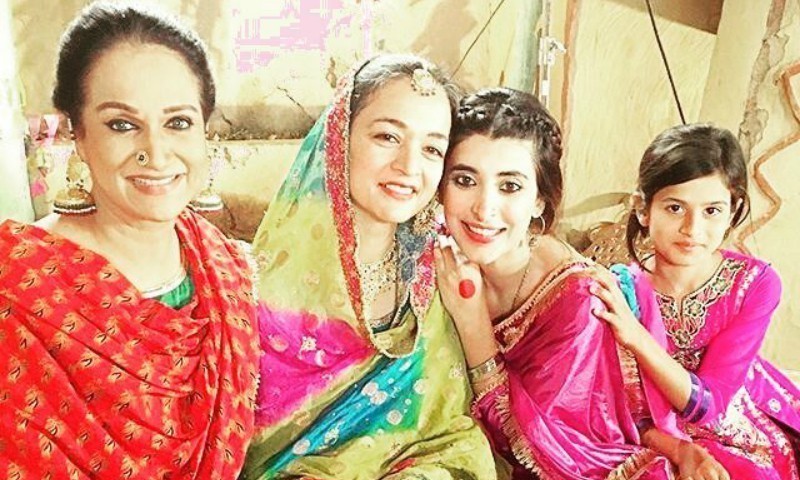 Drama serial, Udaari, will go on air from April 9, at 8pm every Saturday, the writer of the serial, Farhat Ishtiaq announced on Twitter.
Udaari is a joint production between Kashf Foundation and MD Productions and is produced with the support of Government of Canadian. Why is the project backed by so many important organisations? On surface, Udaari looks like a fun serial on the life and sorrows of singers (be it urban or rural setting) in Pakistan, but deep down Udaari tackles a very sensitive topic.
Read: 'Udaari's' teaser doesn't hint towards its sensitive topic
The drama serial wishes to create awareness about child abuse and rape and the best thing about this project is, that it will not only highlight the issue, but also provide a solution. Udaari is directed by Mohammed Ehtasham Uddin and its cast includes Urwa Hocane, Farhan Saeed, Bushra Ansari, Samiya Mumtaz, Ahsan Khan, and Rehan Sheikh.
Let's have a look at it latest teasers. promo featuring Farhan Saeed recently came out and shows the 'other' (urban) side of Udaari.
Then there is a promo featuring Urwa Hocane. The promo tells us that Hocane plays the character of a girl who might be daughter of a singer (Bushra Ansari), but is not allowed to respect her family's profession and neither is she allowed to participate in it actively. And who tells us this? Her fiance.
I always thought Ahsan khan would be paired opposite Urwa Hocane, but turns out his heroine is Samiya Mumtaz. Interesting. Since, khan earlier told us that he plays the antagonist in the serial, I don't have good feeling about this particular track of Udaari.
Udaari has a number of tracks running parallel to each other. Let's see how these tracks intersect each other, create a conflict, and then finally resolve it.