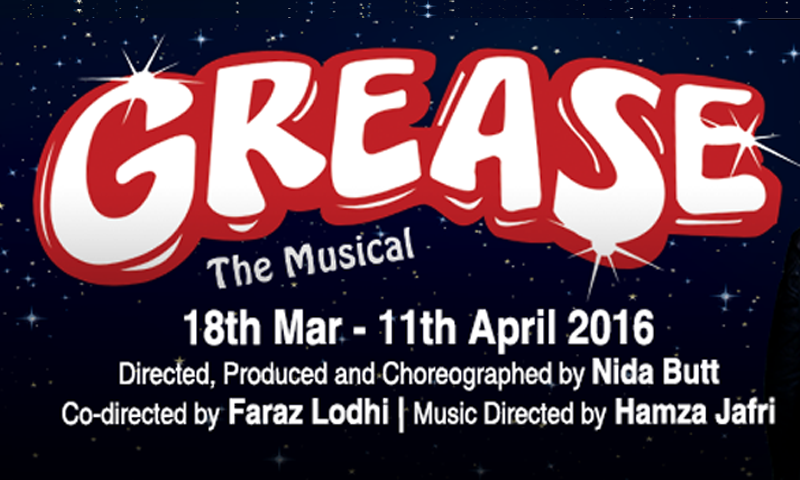 High school drama, music, dreams, and peer pressure -This is what GREASE Is all about

This year, to mark the 10th anniversary of Made for Stage productions, the CEO and Creative Director brought back the 70's Broadway musical, GREASE, and we must agree that this was a very good decision indeed!
It was back in 2014 when the talented Nida Butt brought Grease the Musical to Karachi with Sanam Saeed, Ayesha Omer, Mustafa Changezi, Sara Haider, and Ahmed Ali playing the lead roles. Anyone who is a movie buff will know, and can easily recall, the original movie and the role of Danny Zuko (John Travolta) and Sandy Dumbrowski (Olivia Newton-John). But this show works more along the lines of the Broadway musical, with more solos and powerful performances by the individuals.
However, if you aren't aware of the theme of this musical though, you are in a for a great 2 hour long journey, by the end of which you will want to go back to high school!
But putting this act together was not an easy job. Speaking exclusively to HIP, Nida Butt, the maestro behind this musical, describes how the experience has been:
"It's been a whole lot of fun. Of course, the second time around the creatives are easier as it's all been tried and tested, but with a 90% new cast the teaching process still remains lengthy and back breaking. The production is monster-sized and since we also have 21 songs, the actors needed to be trained for at least 3 months."
What matters most in live performances like these is the seamless execution. From quick costume changes to the changes on the set. We, at times, saw the extra runners being a part of the act and bring in the props and prep up for the next scene without hurting the scene in action.
The story line and the characters:
Just imagine your own high school. There is a group of cool girls and a bunch of cool dudes. There is a simple 'girl who lives next door', who joins in and is trying to adjust to this new environment. The male lead met this girl over the summer and is now trying to be all cool about it so that no one makes fun of him. Put in a bunch-load of emotions, a prom/dance night, a common meet-up spot, and a whole lot of singing and dancing, and you get Grease!

Every character has his/her own story to tell. May it be Frenchy who is dropping out from school, or Rizzo who is the epitome of being a mean girl (she's still a fan favourite!), or maybe Danny who is trying to change himself for the better, or Sandy who is trying to cope up with peer pressure but still doesn't want to give up on being herself. The one friend who is always there for everyone and someone like Jan who only thinks about eating all the time.
When you are adapting a play like this, it's very difficult to keep the audience engaged since everyone knows the story. What becomes more powerful here is the individual acting and performance since everyone is already aware of the story.
So let's focus a bit on the main characters:
Danny Zuko - Played by Ahmed Ali, who reprised his role from the 2014 version of the musical. Danny is the cool guy with an awkward laugh and an amazing style and gelled back hair. He spent his summer with this amazing girl (Sandy) whom he thought he was not going to meet again because they both we going to go to different schools. But destiny had something else in store for him
Sandy: The girl next door whose father wanted her to go to a convent school but she ends up at Rydell High - the same school as Danny's! She is trying to adjust to this new environment where her peers smoke, drink, use abusive language, and cheesy one liners.
Rizzo: She is the leader of 'The Pink Ladies' and known as the girl with a reputation but she doesn't seem to care about it. She is also one of the lead roles of the play
Frenchy: She will remind you of one of those happy friends who are always smiling but are struggling in school in terms of their grades. Frenchy wants to leave high school and go to a beauty school because she wants to be a beautician, however, we will see her struggling there too without her friends.
Marty: One of the protagonists of the play, she highlights herself when she sings "Freddy my love" when the limelight is all on her!
Kenickie: He is the second male lead of the play and is known to be going out with Rizzo. He will be seen throughout the show wearing the T-Birds leather jacket. Like literally, always!!
Jan: Remember that friend who wants to eat all the time! That's Jan for you
The music:
I personally loved the choreography of 'Greased Lightning'. It was powerful, it was appealing, and I felt like wanting to get up and join the guys on stage.
In terms of solos, I had two personal favourites. I loved 'Freddy my love' because it depicted how a PJ party could turn into this mesmerizing Cinderella dream! And well, ofcourse, the Rizzo (Natasha Humera Ejaz) single "There are worst things that I could do". I have been to almost every concert of Natasha's and am a huge fan of her singing. I was super thrilled to see her act as well, because despite the pressure of taking up this role after Sanam Saeed (who was Rizzo in the 2014 version of the show), I think she pulled it off really well with her expressions and affluent accent.
Plus points to the live orchestra who kept the audience engaged throughout and never once did we feel that the performers were out of sync!
Final verdict: Go with your friends and family after a tiring day at work or at school/university and enjoy this play! We all are extremely busy with our little gadgets and smartphones and tablets, trying to catch up on the missed episodes of House of Cards or Gray's Anatomy online, but we can all take out two hours to go and promote the work of people who have put in an effort to bring musical and live theater back on stage. A must watch for me!
10 years of MFS:
On completing 10 years, Nida Butt exclaims:
"Celebrating ten years at 'made for stage productions' is a momentous occasion. The company has grown over the last decade and has mounted an original musical (Karachi the musical) & our first internationally licensed production (Grease). Both are milestones for our company and hopefully the industry at large too. We desperately need a new, bigger , and a technically more sound auditorium than Arts Council, and I hope the next decade 'MFS' will get the opportunity to stage bigger and better shows.'
HIP would like to take a moment and congratulate the whole team of 'Made for Stage productions' for completing their 10 years and we hope that they continue to bring us great shows like Grease in the future.