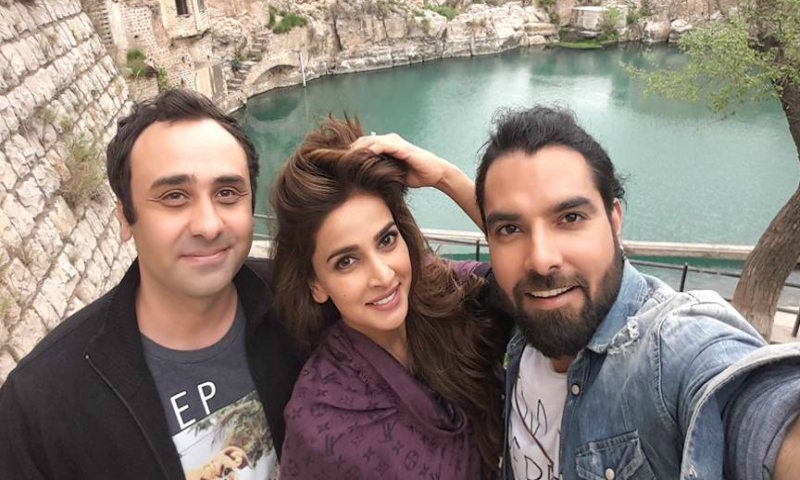 Qamar & Hussain are set for 'Lahore Se Aagey' and Bollywood as well, whereas Rauf tends to work on one film a year!

One of the highest grossing films of all time in Pakistan, Karachi Se Lahore made headlines for its witty dialogues and the gifted emerging actors featuring in it. Seeing how successful the film was, it was only natural for the director and co-writer to continue the story, hence giving birth to a spin-off called Lahore Se Aagey!
As the team of Lahore Se Aagey was in town and had a day off, I went on to have a candid tete-a-tete with its lead pair and director. In conversation with one of the most acclaimed actresses of Pakistan Saba Qamar, the diverse theatre artist-turned-cinema sensation Yasir Hussain, and the visionary Wajahat Rauf, join us as we take you through the journey which has been Lahore Se Aagey!
Also Read: All about 'Lahore Se Aagey'
Firstly, how has your experience been shooting so far?
Yasir Hussain: It has honestly been a great experience, the shoot so far is very smooth and we're falling exactly on schedule.
Saba Qamar: It's been a wonderful experience working with Yasir, whereas Wajahat is my mentor. He taught me how to stand, deliver my dialogues, play the guitar, which I'm still learning (Qamar giggles). Besides that, this is a totally different character for me, so I'm learning a lot from the both of them!
Wajahat Rauf: With good actors on board, a director's work becomes less stressful. It makes me focus more on the frames and shots. And so far all four actors I've worked with have been very cooperative.
What sort of character will we get to see you play?
SQ: The girl I play is called Tara. She's full of life and energy and is very passionate about music. But despite all of that she's incomplete, as she belongs to a broken family. I can't reveal anything else, but you'll have to watch the film to know more! But overall it's a completely new boundary for me, and I'm learning a lot from my team.
YH: I too, have a totally different character, I don't stammer at all (and we all laugh it out).
The first installment featured Ayesha Omar as the main lead; how does it feel to be part of the project now for its sequel?
SQ: Ayesha has her own niche and she did a phenomenal job in Karachi Se Lahore. That said, this film is basically a spin-off and not a sequel. And I'm honestly still awestruck about the fact that I'm part of such an amazing project with such a classy approach. I loved Karachi Se Lahore and signed for this after watching that. And since it's a first for me, I'm excited and nervous at the same time!
Also Read: What's in the Lollywood name? Celebs tell HIP!
What difference have you felt while shooting Manto and now Lahore Se Aagey?
SQ: I'm basically a director's actor. Manto was all Sarmad and LSA is all Wajahat. Playing Madame Noor Jehan gave me a lot of confidence, as she had a very alert personality. I can honestly say that after portraying her, I've learned how to enjoy life. Excluding my input, the grooming of a character is always done by the director, so he would know better about how it needs to be executed. I don't know what the final results will be this time, but I'm having a lot of fun on Lahore Se Aagey so far.
What does the film basically revolve around?
SQ: When Wajahat thought that he is loaded with a lot of money, he started another project (Qamar chuckles). But jokes aside, I can guarantee that the film will be an enjoyable watch - we have a great soundtrack, a brilliant script, and a lot of other elements that will make up for quality time spent at the cinemas!
WR: Me and Yasir, both have contributed in mounting the story, the screenplay, the placement of songs, and the situations that occur. But the dialogues are completely credited to Yasir. This is basically a spin-off, as Saba earlier mentioned. The reason I chose only one character from the first installment is that I wanted to make something different. The film has a lot of cinematic moments as well, which probably won't suit the small screen, but are meant to be presented in cinemas.
Also Read: HIP Picks: 6 actors we are dying to see in Bollywood!
After you complete shooting, what is your current lineup of projects?
YH: Another film called Senti Aur Mental with Yasra Rizvi will go on floors in September. It's a feel-good film, something similar to Zoya Akhter's Dil Dhadakne Do. After that I'm about to sign an Indo-Pak joint venture, where I'll be playing one of the lead characters, so I'm keeping my fingers crossed for everything.
SQ: I won't disclose anything but the fact that I have signed a Bollywood film, and I'll be going to India after completing the shoot of Lahore Se Aagey. Besides that, I did a serial which was set in the 60's called Main Sitara on APlus, which went on air recently. And another serial based on the life of a supermodel called Besharam will start airing soon on ARY as well.
Also Read: Atiqa Odho, Saba Qamar, and Fia Khan gearing up for 'Besharam'
WR: We tend to do one film a year. Besides that, two serials are currently underway, called Naraz and Main Kaisay Kahoon, and two more are in their initial stages.
Being out of city, how do you take care of punctuality and professionalism?
YH: I must say Saba is very punctual and professional. We were shooting in the mountains, so we had no other choice but to be on time (Hussain laughs).
SQ: Once, I was ready even before the makeup artist had arrived at the sets (Qamar laughs). But we have a very small cast, so with only two people in most of the scenes, it's not very tough to manage I believe.
WR: Times are always relaxed while shooting. I've worked with these two and Behroze Sahab and Rubina Sahiba so far, and all of them have been very particular about their schedules. When I used to work on dramas, however, I literally used to wait for hours for the actors to show up, but films have been rewarding that way.
Also Read: Bollywood calling Yasir Hussain?
Back to Bollywood, tell us about your experience of being associated to a project across the border?
YH: As I mentioned earlier I haven't signed the contract yet, but my passport has been submitted for the visa. So, my story is very confusing yet exciting right now (Hussain giggles), but I think the joint-venture I've been offered will definitely be an enjoyable take.
SQ: When I was offered Love Aaj Kal I thought I wasn't prepared for Bollywood. And when I got to know that Deepika was also part of the project I believed that I wouldn't have much scenes, whereas the roles were actually parallel. After watching the film I truly regretted my decision. Then I was offered another film by Imtiaz Ali recently, named Calling Sehmat, which was based on the 1971 war between Pakistan and India. Everything was almost finalised, but when I got the synopsis, the role I was offered happened to be that of a spy.
Also Read: Saba Qamar's wish list included films with SRK and Ranbir
Right now I think we shouldn't be doing issue based films there, especially when such a sensitive topic, which is anti-Pakistan, is being tackled with. Though I must say that I loved Tamasha, and I am a fan of Imtiaz Ali. For now, I've received the script and signed the film I'm doing in Bollywood, I'm going in July and will complete the shoot in one go. It's not a very complicated film, it revolves around a couple, and I'll talk more about it in our next interview.
Do you think there's any sort of pressure on a Pakistani artist when he or she crosses the border?
YH: I think it actually depends on the character. If you're offered the role of a pimp with the title of the film being 'The Pimp', there's no harm in doing that character. But if it's not a lead role, there's no point. One very important thing I've learned from Saba is that an actor should do a film surrounding not more than two characters. Too much complication leads to you losing the track.
SQ: Of course. There's always pressure and a responsibility on our shoulders, I won't be doing a film in Bollywood as 'Saba Qamar', I'll be representing the whole of Pakistan. I'll also be working with one of the Khans (Qamar laughs). Irrfan Khan happens to be my favourite though; I think he's one of the finest actors in India!
WR: Now, a lot of our actors are getting their due respect and place across the border. Fawad Khan for instance is doing a remarkable job, aur Saba bhi dhoom macha ke aayegi. At this stage, however, I'd encourage joint ventures first. So that both countries' films' start releasing on both the sides, and gradually have a solid trade of talent and productions.
Also Read: 'Lahore Se Aagey's' shoot kicks off in Swat!
You did Kambakht, but it unfortunately got shelved. Tell me a bit about what happened?
SQ: Firstly I didn't do Kambakht (Qamar giggles). I'm not sarcastic about this, but Hamza is very passionate and multi-talented. The plot of the film basically traced the lives of two young lads, Sheheryar and Hamza. I just had a very contemporary extended cameo in the film. And there was an item song that I refused to do. Initially Hamza himself forced me, but later on realized that it shouldn't have been part of the film from the very first day, since it's not part of our culture.
As far as its remake is concerned, I think Hamza is a very intelligent filmmaker and actor, and I wish him all the best!
When a script is offered, what attracts you and makes you sign the project?
YH: The only thing I look into is if whether the guy I'm offered stammers (We all laugh it out). But on a serious note, comedy projects are mostly what are coming my way at the moment, so I'd like to try venturing into something new and different now.
SQ: For me, it all depends upon the role I've been offered. My character must have some substance in it. Right now, I really want to play a girl similar to Saif Ali Khan's character in Omkara, I just want to try something different every time. I'm an artist who can't stick to the same genre for long!
WR: Whatever projects I've been offered so far, I've rejected, since I'd only do lead roles (Rauf chuckles). But as far as directing is concerned, I haven't directed a lot of serials, so television productions goes side by side, I'm now focusing on doing films.
How do you keep yourselves fit?
YH: Like Saba, I try my best to avoid rice and wheat and have a high protein intake. Shooting in the mountains is very tough, so that also helped us maintain our fitness levels.
SQ: I exercise and do yoga every now and then, but after the shoot of Lahore Se Aagey started, I've lost five kilograms in ten days (saying this in a mood of celebration), since we were shooting in a mountainous area. Besides that, as Yasir said, I avoid rice and wheat.
WR: I hit the gym usually when I'm in Karachi, but shoots and food there doesn't help much (Rauf laughs). Apart from that, I try my best to take diet sodas instead of regular.
On the ending note, what is your message for all the readers?
YH: I'd just say that whatever message on any show you are watching inspires you, start following it (Hussain laughs)!
SQ: It's very important to believe and respect your people and artists. If we don't respect our own, people from outside won't respect us either. Besides that I'd just like to say that encouraging or discouraging someone on a professional level is acceptable, but we shouldn't carry a negative energy and point out people on their personal decisions! We don't have any right to do so. I'd also like to request everybody to appreciate others with an open heart.
WR: I'd just say that watch all the Pakistani films that come out. Whether you like that particular genre or the actors in it or not. And after watching, give us your opinion on what you want to watch! For a growing industry, support is everything.
---
I literally had the time of my life having this chat with the team, and seeing their amazing chemistry makes me sure that Lahore Se Aagey will be the film of the year!