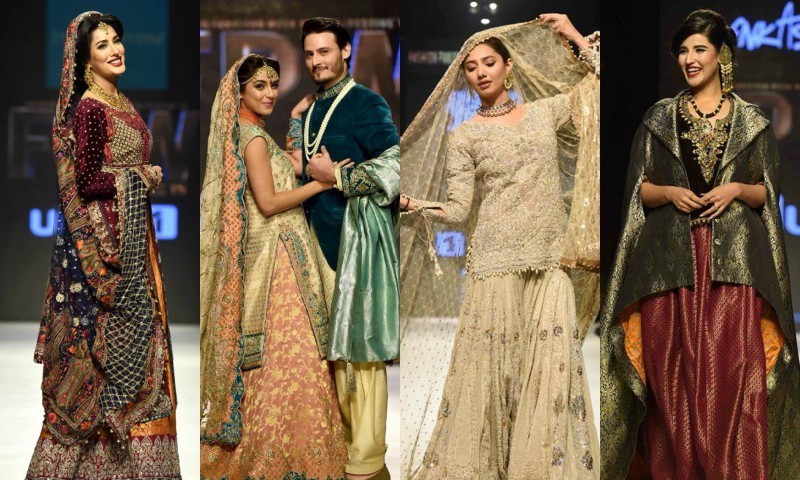 Day one of Fashion Pakistan Week 2016 is upon us with a certain air of mystery about it.

The fashion week frenzy is back. Pearl Continental is jam packed with models, designers, fashionistas, and journalists, but this year there is a twist. Nobody really knows which designers are showcasing or when they are presenting. Yes, so there is a certain air of mystery surrounding this edition of Fashion Pakistan Week (FPW).
Read: Live updates from FPW15 Day One: Red Carpet to Ramp!
Let's see what the designers have in store for us this Spring season. Let the live updates begin!
---
7:45 pm
---
The guests, or shall we say the organizers, have started to arrive on the red carpet.
And we managed to get hold of the line up.
Deepak Perwani will start the show, followed by the CEO of FPW, Wardha Saleem. Next up will be the retail lawn brand, Lala textiles, and then the ramp will belong to the rising talent.
Kayseria will also be spreading their magic on day one. A plethora of renowned designers (Sanam Chaudhri, Nida Tapal, Obaid Sheikh, and Maheen Karim) will feature in 'FP Trend Show'. Finally, the day will end on the very fun Gulabo.
---
8:00 pm
---
Activity on the red carpet has increased as stylists, designers, and the choreographer for FPW (Frieha Altaf) arrive in all their glory.
---
8:30 pm
---
Sarwat Gillani rocked Deepak Perwani's mid length culottes, with a monochrome over-lapping shirt, like a boss. Ayesha Omer joined Feeha Jamshed's Bob Squad will all the poise and panache it requires. While Sofia Khan aka Fia rocks it in Deepak Perwani.
And this happened a few moments later.
Tribune Edit's Momina Sibtain decided to play it edgy in a sheer ralli dress by Kamiar Rokni.
---
8:45 pm
---
The ramp is set, and I'm guessing the show is about to begin. Meanwhile let's have a look at what's happening on the red carpet.
---
9:00 pm
---
Deepak Perwani takes center stage and thanks his partners (TDAP and Urdu 1) for their support.
Okay, so it's been 15 minutes of watching Urdu 1's up coming plays, FPW's line up and N Pro's looks. It's getting a bit boring here, honestly.
Read: Live updates from FPW15 Day two: Red Carpet to Ramp!
---
9:15 pm
---
Still, no luck. Yawn.
Wait a second...I can here the announcer! Based on the current political scenario and the dire situation of Karachi, Deppak Perwani's latest collection is the return of his quirky label D-Philosophy. This collection is an ode to our city, Karachi. I love it already!
"Fix Karachi, fix it" is the tagline of the collection called 'Fix It'.
Okay, so Dubai's skyline has appeared as the backdrop. I think we're supposed to assume it's Karachi - the "city of lights". Ohh, now it's raining...no, not on the ramp; it's raining in the screen behind.
---
9:30 pm
---
Deepak Perwani's 'Fix it'
The collection starts with ethereal whites coupled with slits, ruffles, and shalwars. The lights are on and so are the colors. First up is a white shirt stating 'Fix it' paired with a pale yellow palazzo while male models sport black quirky blazers. The printing, however, is a tad dull in my opinion.
Next up, are stripes – in different forms from waves, straight, to diagonal, you name it - and I'm loving them.
Let's have it for the showstoppers, Sarwat Gillani and Sikander Rizvi.
---
9:45 pm
---
Wardha Saleem
Showcased at the recently held London Fashion Week, Wardha Saleem's collection is a fusion between traditional embroidery and modern cuts, the announcer said. The collection features exclusive hand painted bags made in collaboration with Jafferjees.
Saleem's collection pays tribute to strong Pakistani women willing to live life on her own terms.
The collection is pre-dominantly black with little bursts of colors and prints.
---
10:00 pm
---
Lala Textiles
Lala Textiles sticks to pastel shades and floral prints which is perfect for the Spring/Summer season, but the cuts aren't out of the box, so not really impressed. The head pieces, however, are pretty cool.
The shalwars and capes are so last season.
Ayeza Khan arrives on stage to spice things up.
---
10:15 pm
---
Bank Alfalah Rising Talent Show
Up next is Bank Alfalah's Rising Talent show comes next.
Syeda Urnia, a young designer, took layering to another level.
Shanza Jamil's collection inspired by Zaha Hadid's architecture was monochrome and edgy. Jamil's aim is to bring fashion to the masses.
Next up was Nida Sohail and she, for me, was pick of the designers in this section.
In the end, came Uzair Sardar with his design innovation.
Kayseria's luxury pret
Kayseria's collection promises to feature, "finest silks with delicate hand crafted embellishments, all set to become heirlooms for generations to come!"
Well, that's one tall claim.
---
10:45 pm
---
They weren't exactly being boastful when they said their collection was inspired by Delhi's royals. It certainly was 'inspired', but did it do hem justice? I don't think so.
The accessories were on-point, especially the pearl naths and the dupattas with the golden frill, but the silhouette, color palette, and the embroidery was bland.
Fashion Pakistan Trend Show
It's time for Fashion Pakistan's Trend Show and are we excited or what.
This session features names like Maheen Karim, Obaid Sheikh, Sanam Chaudhri, and Nida Tapal of design house, Delphi.
Maheen Karim's collection reminded us of her collection tempo Di Fiesta and featured wildlife prints and ruffles.
Aari, zardozi, and thread work are highlights of Obaid Sheikh's work. His collection promises to be traditional yet modern.
---
11:00 pm
---
Celebrating local artisans with global appeal and using hand weaving techniques; Delhpi brings to us the best of both worlds. The silhouettes are slimmer. The lengths are longer. And the colors subtle. In short, it in stark contrast with Obaid Sheikh's Rangeelo maaro dholna collection.
Sanam Chaudhri concludes the Fashion Pakistan Trend show with her edgy collection featuring dramatic slits and over-lapping skirts coupled with monochrome patterns.
---
11:15 pm
---
'I Am Karachi' by Gulabo
Gulabo is here with its 'I am Karachi' collection and Ayesha Omer opens the show with a funky dhoti shalwar, red heels, and the devil-may-care attitude.
While it the collection isn't as colourful as its predecessors; it certainly beholds the identity of Karachi. The 'Khatra' shirts and flowy silhouettes yelled Summer. I do wish the colours were a bit bright though.
And what's with that white-polished hair and black lips? Does it symbolize Karachi's law and order situation. I'm not sure.
---
11:30 pm
---
And day one of Fashion Pakistan Week 2016 comes to an end!
Verdict
Let's ask ourselves a few questions which, I feel, will sum up day one of FPW.
Did we get to see new trends?
Sadly, no.
Were there any 'OMG moments'?
Umm, no.
Will I be printing photos of any of these collections and taking to my darzi for chaapa?
I don't think so. Okay, maybe a few from Deepak Perwani's collection and the 'Gulabo shalwar'
That takes us to our last questions, what was the highlight of day one of FPW?
Deepak Perwani's quirky, fun, and colorful collection. Yes, Perwani also showcased year-old cuts, culottes and asymmetrical shirts, but at least the collection was fun and one felt like going to his store and buying the stuff.
That's all folks for today. See you tomorrow, same time, same place, but with a different set of designers.