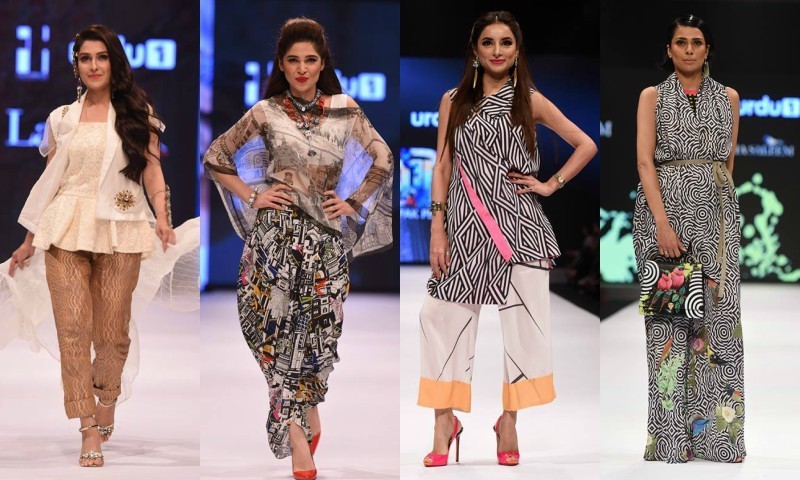 Here's to hoping that day two has some innovation and creativity in store for us

The madness has begun!
Let's get down to red carpet updates because believe it or not people have started arriving. Today, we might get done earlier.
---
7:45 pm
---
Areeba Habib in a sporty chic look, moments before she gets engulfed by the backstage frenzy.
The CEO of FPW, Wardha Saleem, wears her won creation fresh off the ramp. In love with her front bangs.
Tapu Javeri arrives with his weapon of choice; his camera.
Maheen Karim keeps it simple and chic with a black off-shoulder shirt and gold metallic belt.
---
8:00 pm
---
Simply love Sarah Gandapur's, fashion journalist and designer, voluminous blow dry. It adds the right amount of drama to an otherwise simple look.
Amna Baber enjoys a Magnum before the show begins.
Maheen Khan's Gulabo stole the show yesterday and here she is basking in the afterglow of a successful show.
---
8:30 pm
---
The show still hasn't started and it looks like we won't be done before 12. While we wait, let's have a look at the line up for today. The show will be opened by Zaheer Abbas, followed by Jafferjees, Gul Ahmed, Amir Adnan, Huma Adnan, Nauman Arfeen, Zainab Salman, and Ayesha Hashwani.
---
8:45 pm
---
I can hear the national anthem which means the show is finally about to begin guys!
---
9:00 pm
---
Zaheer Abbas with Basic
His latest capsule collection called Basic is based on pure cotton,away from bling and glam. It celebrates the humble white shirt in not so humble way. I like the sound of it.
And I like the look of it too. A tad too simple, but he did warn us by saying Basic celebrated the crisp, cotton, white shirt.
Top knots, reflective sun glasses and flowy white shirts; Abbas's collection yells sunny beaches, and clear blue, cool waves.
There are so many ways to wear a plain white shirt. You can pair it with colorful culottes, scarf, or wear it as it is with metallic accessories to keep the pureness intact.
That little performance by Humaima Malick reminded me of the good old days when we used to prance about on Sound of music' songs.
---
9:15 pm
---
Jafferjees
It's time for Jafferjees guys!
So much leather-y goodness on show tonight as the brand stays true to its philosophy. The brand plays with different shades of tan and keeps it simple. The clothes, by Wardha Saleem, complimented the show conceptualized by Nubain Ali.
And Cybil Chaudhry ends the show on a high in a Wardha Saleem sari.
Gul Ahmed
It's time to add some colour to the ramp with Gul Ahmed.
According to the announcer, the eclectic collection by Gul Ahmed confidently encapsulates a wide variety of colours. The collection combines traditional chunari with modern cuts. The flowy kaftaans add exclusivity to an elegant wardrobe.
It was only yesterday that I was reading women where that using pompoms and fabric for jewelry was quite a 'thing' these days. And here I am witnessing pompom earrings and shoes at Gul Ahmed's showcase.
It's not like this kind of jewelry hasn't been done before. Fnk Asia has been making statement jewelry out of fabric, beads, and pompoms for ages now, but do we ever wear it except for fashion weeks?
Ooh, love the short jacket Rubya Chaudhry is sporting. And the pompom shoes.
---
9:45 pm
---
Amir Adnan
Amir Adnan's collection is pretty refreshing.
He has used the layering technique for menswear as well. Also, it's not about your usual heavily embellished sherwanis; this collection is pretty cool and if you're a fashion savvy man then you can carry these cool kurtas in daily wear, given you don't work in a boring multinational or a bank.
Adnan used a muted colour palette which is what makes the collection wearable.
Azfar Rehman stops the show in a tweed jacket and is all smiles.
Huma Adnan with Organic Modernity
"When the world is ruled by machines….we need to immerse ourselves into techniques. It is all about things that touch the heart," the presented explained Adnan's collection.
Her collection makes use of earthy tones and consists mostly of long dresses, perfect for a day out at the beach, but the colors belong tot hat of a 'desert party'.
Sonya Hussain looks lovely in that blue shirt paired with a flowy skirt and the gypsy belt.
---
10: 00 pm
---
Carpe Diem by Nauman Arfeen
Nauman Arfeen plays with natural fabrics in his Spring/Summer collection.
"Handmade camel hued bags add strength and checkered accessories add balance to the whole collection."
The collection is for one who flies solo and has the strongest wings.
Kids open the day for Nuaman Arfeen and their go-getter attitude surely brought a smile to everyone's face.
Next up is Amin Gulgee with his..ummm…quirky moves.
The cute kids with spikes and glasses are back! They totally stole the show.
---
10:15 pm
---
Moon Struck by Zainab Salman
Salman's collection is Inspired by Midsummer Night's Dream and is pre dominantly sheer organza with meticulous swarovski embellishment paired with beautiful prints.
Salman's collection is elegant and perfect for those evening cocktail parties. Does it offer something different to the table? Not really.
---
10:30 pm
---
Oriental blossom by Ayesha F. Hashwani
Hashwani's Spring/Summer collection is inspired by the Chinese culture. It features rich 3D embroideries and digitized prints. This is the collection where old culture collides with modern sensibilities. Expect to see some robes, dresses, and clenched waists.
Ayesha F. Hashwani stays true to her identity as the collection featured her signature intricate embroidery, and slim silhouettes (even if they're layered).
---
10:45 pm
---
Annnd it's a wrap!
Verdict
Time to giver our verdict and that is "What will I write in my trend report at the end of the fashion week?"
I seriously have no idea!
The dhoti shalwars, digitized prints, clenched waists, culottes, fringes; all these things have been there for the past one year if not more. If I'm not wrong, fashion shows are held to introduce new trends to the audience. Designers have the liberty to go all out and be bizarre and creative.
Yes, they need to sell their clothes too, but that's what their showrooms are for. I'm not suggesting them to go crazy and wear bird cages as head gears (some one did that last year I guess), but at least display some innovation because all this monotony is killing all of us.