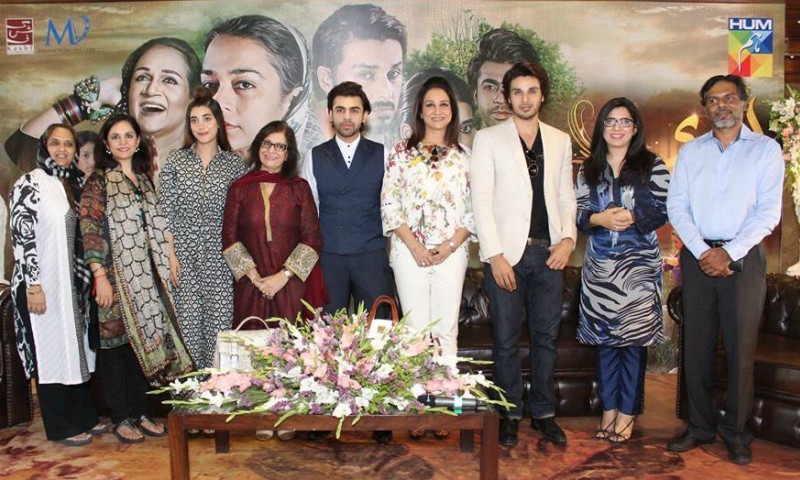 "Udaari doesn't show women as victims, it shows them as transformation agents," Roshanay Zafar of Kashf Foundation said.

The cast and crew of HUM Tv's upcoming serial, Udaari, gathered at the brightly lit Sky Banquet Hall in Karachi to tell the world about their drama serial, but more importantly to highlight the very important issue of child sexual abuse.
Directed by Mohammed Ehtashamuddin, Udaari is one powerful project by 'MD Productions' and the Kashf Foundation. Both these parties earlier came together for Rehaai – a drama serial that was based on child marriage. That play (directed by Mehreen Jabbar) was termed too dark and heavy.
Sultana Siddiqui
The CEO of HUM Network, Sultana Siddiqui, started the press conference assuring that while Udaari highlights a very important topic, we've tried to keep it light.
"We've put in obvious effort to Keep Udaari light," the chairman assured. She then went on to explain how Kashf Foundation approached HUM TV for this.
"Udaari ko urte huai dekh kar bohat khushi horahi hai. It has been our mission, since the beginning, to highlight such issues. It's sad that people from the industry are afraid to pick issues like child sexual abuse or child marriages. Roshanay [from Kashf Foundation] came to me one day and said, 'logon ko meri baat samajh nahi arahi' and then we came up with this joint production."
She further added that while Kashf Foundation has grown leaps and bounds – from a 15 member community to helping over 17 lac women – on their own, we decided to collaborate with them because television is a very powerful tool.
"There are people out there who can't read or write, but they can be reached through television and can learn how to become empowered economically. Once women are economically sound then they won't have to put up with the tyranny," Sultana Siddiqui explained as she highlighted the importance of women being economically sound.
Roshanay Zafar
Next came Roshanay Zafar from Kashf Foundation who started her speech with the English metaphor 'Violence begets violence'.
"Udaari is a very special project for all of us. We need to understand that women and children are the first and foremost targets of violence. If we want change in our society then all the stakeholders need to come together and work for it."
Zafar further added that the foundation realized media is indeed the strongest tool to communicate with the audience.
She also gave the good news that the government has finally passed the law which criminalizes child sexual abuse, but that law only applies to children who're of age 14 or below. "Children who're above 14 may be considered to be participants of the act."
Roshanay Zafar then moved towards Udaari and compared it with Rehaai.
"Also, this time we tried to keep things light. We've amalgamated education with entertainment and we're thankful to government of Canada for funding this project."
Muhammed Ehtashamuddin
The director, shared that "jab hum kisi social issue per kaam karte hain tou ek ajeeb si energy ajati hai."
He revealed Udaari's plot a bit. In the beginning, we'll see a family living happily and comfortably in their small town. Eventually something will happen which will disturb their lives. How these people cope with the issue is what Udaari is all about.
"Momina, Sultana and Roshanay wanted to do this. They came to me and I said Labaik. We need to realize that child sexual abuse is a very serious issue. Around 5000 cases were reported in Pakistan in 2015 alone; and what's worse is that 97% of these children were killed after the act."
Hence, it is important that we, the audience, support and encourage our industry to highlight such issues so that they don't shy away from important scripts in future just for the sake of ratings. Let's give them eyeballs, then maybe we'll see more meaningful television.
The promo
We were also shown some clips of the upcoming serial. While quite a few teasers are up on HUM TV's Facebook page, there were two promos which haven't yet been released online.
One was a light-hearted one where we see Farhan Saeed's interacting with Urwa Hocane (Meera) who has apparently moved from her village to this big city to sing and make some money. He's seen training her and in short, having a good time. The promo was in stark contrast with the previous one where he shouts, "Awaaz achi hai. Awaaz achi hai. Achaar daloon mein awaaz ka?"
The other promo was bone-chilling to say the least. There were screams, a child trying to run away from her harasser (Ahsan Khan), and the general feeling of foreboding and dread. The audience was certainly stunned after the promo.
Ahsan Khan
As we tried to digest what we had just seen, Ahsan Khan (who plays the antagonist in Udaari – was called to the podium.
Khan admitted that it had been difficult for him to say yes to such a character.
Read: Ahsan Khan to play the antagonist in Farhat Ishtiaq's 'Udaari'
And Momina Duraid seconded him when she came to speak,
"Ahsan Khan has this, sweet, chocolate boy image. When I showed him the script, he was like 'will I be able to play this character?' And I told him that research tells us that people who these heinous acts are known to be of very sweet disposition. Aap kabhi imagine nahi kar sakte ke aap ke bachay un logon ke saath unsafe honge aur wohi log aise nikalte hain."
Coming back to what Ahsan Khan had to say. He insisted that one mustn't say that issue-based dramas are only for women.
"Working for women is like working for the society because it is women who shape the society. I can proudly say that Udaari is different from other plays."
Khan also shared the story of his maid's daughter who faced sexual abuse, but her mother thought she was possessed. Anyway, this moving episode in Khan's own personal life compelled him to say yes to this role.
Bushra Ansari
Veteran actress, Bushra Ansari, lightened the mood considerably with her anecdotes.
"We've sugar coated a very strong topic. And apart from this issue, Udaari also highlights another issue. Hum bari asaani se kisi ko miraasi bol dete hain. Meeras is basically heritage, but we end up using this word [referring to Meeraasi] with a very wrong connotation and this hurts the feelings of those people who're blessed with the talent of singing and doing music."
Ansari further spoke about the script written by Farhat Ishtiaq, "She has tackled the issue intelligently."
Farhan Saeed & Urwa Hocane
Farhan Saeed and Urwa Hocane expressed their pleasure at being part of Udaari. After stressing that we need to address important issues, Saeed added jokingly to Ahsan Khan, "I don't know how you did this role! Itna koi dar laggay mujhe aisa role karte huai. Hats off to you!"
Urwa Hocane, in the question and answer session held later, shared how challenging it was for her to play Meera,
"This character was quite out of the box. All my roles previously have been close to Urwa, but I had to work really hard for Meera. She is very different from the real me."
Momina Duraid
The woman pivotal to this script, shared how it all came together. Bushra Ansari said earlier that Duraid had worked closely with Farhat Ishtiaq on the script.
"I had almost given up this field a few years back because I felt I was stuck in a rut and wasn't giving anything back to the society. My husband then came to me and said at least you have a feeling that you could be doing something for the society. There are many people out there who don't care. They just care about the rating. So I decided that for every 10 projects that I do, I'll do one for myself. Rehaai was one such project and now Udaari is here. I hope that the audience connects with Udaari," Momina Duraid shared.
Read: 'Udaari's' teaser doesn't hint towards its sensitive topic
The floor was then opened to questions.
Is Udaari about women empowerment?
Roshanay Zafar said,
"Yes, you can say that because we haven't shown women as victims. We've shown them as transformation agents. We aim to change a lot of things through Udaari."
Momina Duraid added to her explanation,
"The drama serial is about women empowerment. We go a step ahead and all our characters will give a message that once you are empowered then you should work to change the society."
She further added,
"Bushra and Urwa's characters are very important in this regard. Their characters, once they become empowered, don't forget their roots and return to Samiya Mumtaz when she needs them."
Read: 'Udaari' replaces 'Gul-e-Rana' on Hum TV
Why doesn't our government fund such projects and why do we have to look to other governments for support?
Sultana Siddiqui agreed wholeheartedly that our government should come forward and help highlight important issues.
"There is always hope. Let's hope that one day they do come forward and support us. Since we have now entered films; we feel that government should support us in that field too."
In addition to the cast that was present at the event – Ahsan Khan, Bushra Ansari, Farhan Saeed, and Urwa Hocane, Haris Waheed, and Said e Hassan – Udaari includes talented actors such as Samiya Mumtaz, Rehan Sheikh, Laila Zuberi, and Behroze Sabzwari.
Udaari will go on-air on Sunday, April 10 at 8 pm and all I can say in the end is that let's support this project and encourage the industry to produce projects that benefit the society.