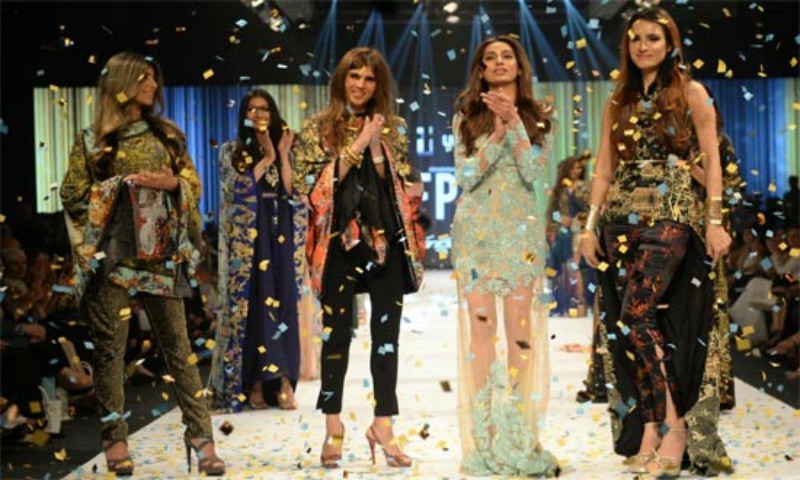 This extravagant evening with a number of designers and mesmerizing beauty is all set to cast a magic on Day 3 FPW '16

Last night at the FPW '16 Day 2, we witnessed several fashion industry giants showcasing on the ramp in Karachi, with an impressive and pompous line up. However, they couldn't nail it to make a fashion statement that would define the Pakistan Fashion Industry space in a true sense. We hope tonight is the night when the designers will be setting a bar for the up-coming generation of designers and for the world of fashion as a whole!
For live updates, stay tuned to HIP in Pakistan's Official Website, Instagram, Snapchat and Twitter accounts.
FPW '16 Day 3 line up includes:
Sonya Battla
Generation
Al Karam
Natasha Kamal
Nida Azwer
Zainab Chottani
Aamna Aqeel
and Shamaeel Ansari
HIP in Pakistan presents you the red carpet happenings live from the venue...
Areeba Habib comes in a white dhotti salwar and a drape-like top. She is carrying it with style and posing to the cameras with amazing attitude.
It seems that the loose is on the loose. Here comes Nabila in the house everyone!
Tehmina Khalid flaunting her florals and graceful look like always.
Zhalay Sarhadi in a vivid Maheem Karim ensemble, strikes the FPW red carpet along with Tabish Khoja of Nabila Salon.
And the diva in a beautiful attire comes at the red carpet of FPW '16.
Model Hira Shah and Parisheh James in their uber chic style.
The CEO of FPW, Wardah Saleem looks all hip in her chiffon-s.
Short hair don't care... Fia Khan says the same.
Mantahaa Maqsood catches attention at the FPW red carpet event happening now.
We hope Zainab Chottani and Shameel Ansari are going to blow us away with their designer collection tonight at the FPW 2016.
Fayezah Ansari as she gives an intimate glimpse.
Superchic like always! Ladies and gentlemen, here we get Syra shehroz's ultimate style.
The face behind Gulabo, Maheen Khan.
That was all from the red carpet of FPW '16. Let's head on to the main hall where the show is ready to kick off with all its vivacious energy.
So the hall is jam-packed while people are settling down and hoping for some jaw-dropping moments on the ramp.
Sonya Battla's Identity with Superman drapes for her expression of feelings
First up we have Sonya Battla, whose collection is based on exploration of feelings. There is a study of texture as a medium of expression in Battla's collection.
The designs feature white, with a bizarre yet appealing feel.
Fish scales, fur, superman drapes and feathery texture... this is what Sonya Battla has come up with. She narrates the idea of expression in a true sense with her ultimate classy clothing line up.
Asad-ul Haq as Sonya Battla's show-stopper for tonight.
Generation
Generation by Khadija Rehman presents the celebration of movement and form through her designs.
Cottons, tissues, velvets have been put up on show.
Pastels with an interesting use of teal and pink has been incorporated. This looks simply amazing and easy on eyes.
The use of ropes. pompom stoles and dhotti salwars make it more appealing and chic.
Al-Karam with its minimal designs and summery feels
Al-Karam displays bohemian and glitch motivation. It presents the message of our deeply rooted traditional values.
Silk, leather belts and sequined pants had made it quite attractive. But the overall look was a bit boring too.
However, some blues were phenomenal!
Syra Shehroz adds a wow factor to the brand's very nominal designs.
Natasha Kamal's Luxe Exotica
It is a celebration of summers with bold blues and exotic animal prints.
Kamal brings back the 60's feel in her designs. The beach-y feel, head bands and shades make it entrancing.
Bank Al-Falah's Rising Talent Award
After Kamal's outshow of designs, CEO of FPW Wardah Saleem and bank Al-Falah's Ali Mustansar are here to present the Rising Talent award to the young generation working in the field of fashion.
These young designers are from Indus Valley school of art and Asian Institute of fashion.
The award has been given to Uzair Sardar after whom last year's winner Hassan Riaz is also called upon the stage for an award of recognition.
Nida Azwer with her luxury pret line up, Kirigano
The designer has translated her creativity on fabric through cut work and sheer designs.
Material like organza, silk and tissue have been used with leather cut work and experimental hand work.
Zainab Chottani's Cowboy Cobalt
A mix of denim, organza and silk with digital prints.
Chottani has tried to show New York skyline with eastern twist.
Behold people!! Because we have Eman Ali in Zainab Chottani's uber chic and glamorous look. So far the best show-stopper for tonight who knows how to strike the right attitude on the ramp.
Amna Aqeel with her dazzling pret collection
The play of harem pants, relaxing boggy pants, tights and dhottis is presented with an amalgamation of yellow that shines with white and pink flirting with stripes of black and white.
Charles and Keith's very trendy shoes made the collection appealing.
Mantaha Maqsood featured as a show-stopper for Amna Aqeel.
Beautiful and cool cuts, with appropriate accessories with fringed ends made the line up ravishing.
Time to finale with Shamaeel Ansari's luxury pret-line, Yogure
Ansari's luxury pret celebrates the Japanese magical time, Yogure that translates 'what is' into 'what it can be'. The time has peace and tranquility that have been tried to incorporate in the designs.
The show is opened by Atiya Khan in a beige attire with frills and floral-s.
The line up features exciting silhouettes with loose organic forms. The sheer fabric has incidental prettiness.
However, the risque detailing was an attempt of over doing the clothes at their best.
And here we have the very elegant and enchanting, Zhalay Sarhadi as Shamaeel Ansari's show-stopper for tonight.
Shamaeel Ansari, all smiles with her amazing show stealers Zhalay Sarhadi and Atiya Khan.
And it's a wrap!! That's all for today, we hope that you had a great read of all the FPW '16 updates.
Today's final verdict
Today we gathered up some most phenomenal pieces by the talent designers but at the same time some creations looked a little boring and overdone.
The three day event has presented a low scale portrayal of fashion in terms of people's expectations. The silhouettes were sometimes old, repetitive and beyond any sense. Apart from the over-all looks, if we go deep down the details, we come across several not-so-impressive stuff. But few of the designers like Nida Azwer, Amna Aqeel, Generations from day 3, Zainab Salman from day 2 and Gulabo from day 1 were quite catchy.