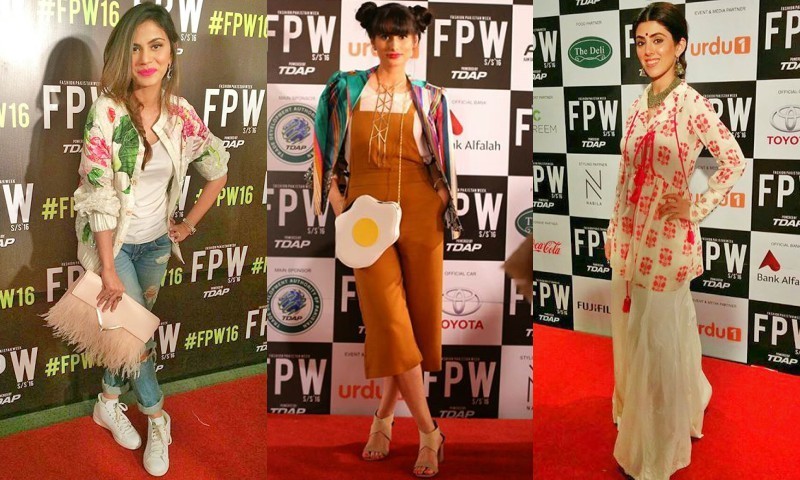 Relatively speaking, Generation and Sana Safinaz (even though it was their old collection) ruled the red carpet

Either we have gotten used to it, or red carpets don't have the charm they used to have. The designs are same old. The poses are same old (I'm sure they can do the pout-and-arm-on-waist- move even in their sleep). The designers are same old. Even that wall with all the sponsors is a blast from the past. There is one change though. The celebrity quotient has decreased significantly.
But...but let's not get all grumpy cat on our Fashion weeks. At least we have an outlet that enables designers to showcase their collections to the fashion merchandisers; so from business point of view, fashion weeks are quite feasible.
Read: Live updates from FPW'16 Day One: Red Carpet to Ramp
Well it certainly wasn't feasible for me to go through a gazillion Fashion Pakistan Week 2016 albums and choose the ten best red carpet looks, but I did it, only for you guys.
Here we go then.
Ayesha Omer in Generation
The age old retail brand pleasantly surprised everyone with their A Dot That Went For A Walk collection. Omer was seen wearing a white creation from Generation and she styled it perfectly with a braided pony tail ( a little more volume would've added a bit of a drama to the entire look), chunky bangles and neutral peep toes. I just wish she had done away with the necklace though.
Parishe James goes ethnic
I just love the LBD with the ethnic white embroidery. The embroidery could've been stopped before it reached her waist, but overall James carries it off well with her messy hair and traditional jhumkas. The highlight of the look are those shoes!
Although I may never dare to wear such OTT shoes; they sync-in with the entire look effortlessly and Parishe James ends up looking chic, despite all the embroidery and silvery bits.
Read: Live updates from FPW'16 Day Two: Red Carpet to Ramp
Marya Javed in Generation
Javed, from a A Wardrobe Affair, looked quite the eastern beauty in a Generation anarkali, traditional choker, jhumkas, and that bindi. We're often told 'less is more', but in this case It is great that Javed didn't shy away from wearing lots of jewelry. The simple red and white cotton dress was asking for it and I'm glad she listened, and consequently rocked the red carpet.
Natasia Khalid in Elan
This journo makes it to our 'Best Dressed Red Carpet' list every. single. time. This time she paired Elan's dress from their Sauvage collection with a plain, black midi skirt and looked fab. She stuck to minimal accessories and a simple braided hairdo because let's face it, the top itself is too colorful and busy.
Aamina Sheikh in Mahgul
Aamina Sheikh appeared out of nowhere on the red carpet and owned the read carpet on day one of FPW in this Mahgul creation. From her hairstyle, makeup, to accessories (by Zohra Rahman); everything was on point. I never believed a blunt fringe could look good on anyone except Zooey Deschanel, but Sheikh proved me wrong. The bangs complete the look.
Read: FPW '16 Day 3 Live: And the style pronto continues...
Natasia Khalid in Sana Safinaz
And she's back. Just look at the ensemble and tell me how could she not have made it to the list again? The bomber jacket from Sana Safina's Sugar Rush collection is a statement piece, and Khalid styled it to perfection with ripped jeans and white sneakers. Th sports luxe look is quite the thing nowadays.
Sana Hafeez Sheikh in Sana Safinaz
The designer house's Sugar Rush collection is quite a hit with bright colors, bold stripes paired with floral designs. Sana Hafeez Sheikh paired a multi layered top with matching cigarette pants and looked effortlessly chic.
Alizeh Pasha in Zainab Chottani
Inspired by your regular jeans; the very rugged and raw collection of Zainab Chottani was a compensation for our sore eyes. Alizeh Pasha wore Chottani's to the red carpet on day three and cleverly paired it with a statement necklace and a belt (maybe the belt was part of the top).
Sarah Lalani
Fashion Editor and owner of The Connoisseurs, Sarah Lalani was the only one who went all out. From her hairstyle, he sling bag, to her statement jacket by Sania Maskatiya, to the Forever 21 jumper; Lalani nailed the edgy look.
I wish the fashion week had hosted more true fashionistas like her.
Haiya Bokhari in The House of Kamiar Rokni
The other edgy girl in the vicinity was Haiya Bokhari from The Weekend Magazine. She wore this exquisite dress by the House of Kamiar Rokni and paired it with burgundy lips to complete the look. Bokhari could've done something else with her hair though, but we love everything about this look from her button down shirt to the shiny golden heels.
---
Looking at the list, we can safely say that the journalists are at the top of their game at Fashion Weeks. They tend to experiment, unlike our celebrities and models who (mostly) like to play it safe. Relatively speaking, Generation and Sana Safinaz (even though it was their old collection) ruled the red carpet.