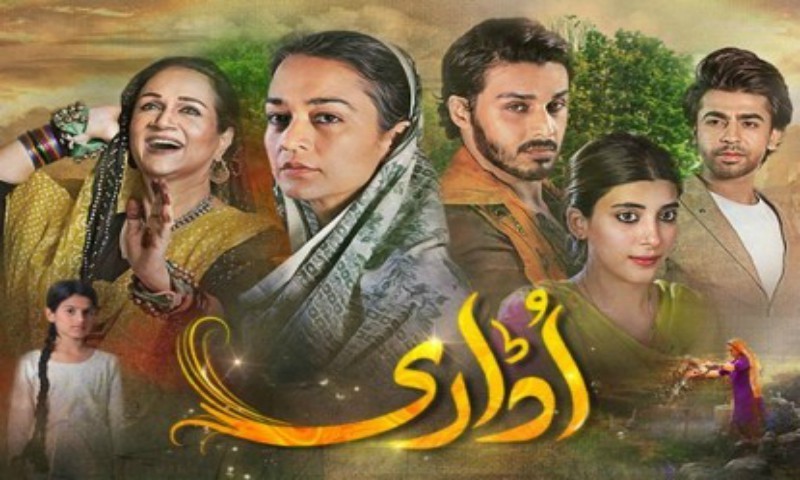 The long awaited drama serial, Udaari, gave an astounding opening this week with its larger than life first episode. After watching the serial, one is blown away by the phenomenal acting and superb characterization in this drama.
Read: 'Udaari' replaces 'Gul-e-Rana' on Hum TV
Udaari opens up with a rural imagery where people are poor but have big hearts. They know how to live happily with less resources and high dignity. But at the same time, Udaari also portrays people of upper class and depicts their life aspirations.
The drama features Sajda (Sumiya Mumtaz) in the leading cast, who is a widow and has a daughter named Zaibo. She works as a cook for a rich household and is facing a financial crisis. Her husband's best friend, Imtiaz (Ahsan Khan), loves Zaibo and takes good care of her. He lives in Dubai and comes to visit Sajda and Zaibo often to help them. Sajda, however, doesn't like Imtiaz to do them favours and thinks that people in the neighborhood will take this the wrong way. Imtiaz is a kindhearted man who is also married but is without a child; this is the reason why he loves Zaibo to the core of his heart.
On the other hand, Sajda's neighbor Sheedan (Bushra Ansari) and her husband Majid (Rehan Sheikh) are doing well. They make their living through singing and dancing in weddings and parties. They belong to a mirasi family (as they call it). Sheedan and Majid have two children, Meeran (Urwa Hocane) and Jaazeh, who is quite younger than Meeran. Meeran is involved with Ilyas (Haris Waheed and Sajda's nephew in the serial), who continuously asks her to stop singing and dancing in the parties, otherwise his family will not accept her. According to Ilyas, being a mirasi is wrong and he wouldn't want his future wife to be one. Meeran often refuses her mother to go in the weddings with the family because it is against her prestige and the family's prestige as a whole. But Sheedan ends up scolding her.
The story takes another turn when the serial moves towards the city life, where Arsh (Farhan Saeed) is a student and has made a small band with his friends. They have signed up for a music competition through which they wish to get prominence in the music space. All of them share a common goal and belong to middle or upper class families.
The serial ends with a wedding sequence where Sheedan is dancing merrily and asks Meeran and Jaazeh to collect the money thrown by the people on the floor.
Read: 'Udaari' is as much for males as it is for females: Ahsan Khan
Udaari has a very impressive opening with flamboyant characters and their dull sides of life. Every actor is immersed into the feel of his and her role, and gives a magnificent performance. All of them have acquired Punjabi accents with so much ease and grace that it will make you think as if they are not just characters, but are real people from an actual rural setting. The scene when Bushra Ansari enters and starts singing Alif Allah Chambay Di Booti was mind blowing, with Rehan Sheikh who added more charisma on the screen. We all know that Ansari has always nailed it whenever she has acquired a certain character. But this time, she has worked wonders as a pure mirasan.
Samiya Mumtaz like always, does justice to her role. With her character in Udaari, she actually looks like a mentally deceased woman who is caught up by her ill-fate. Ahsan Khan has pulled off an epic role of Imtiaz, who knows how far he has to go and what his body language and gestures should be like. Surprisingly, Urwa, who has always appeared in minimal roles, has done a brilliant job as Meeran. Her accent, expressions, and her take over situations is commendable. Farhan Saeed was also good on his part. Layla Zuberi came for a short time but she also did well with other small characters who have played their parts nicely.
As far as the direction is concerned, Ehtasham-ud-din has performed a brilliant work. The shots are taken beautifully with appropriate angles and camera movements.
The best part about Udaari is its characterization of each actor, for which the writer Farhat Ishtiaq should be applauded. The only flaw which I found in Udaari's first episode was the sound recording and characters' lip-sync. In most of the sequences (especially when Imtiaz drops Zaibo at her school), the recording is not done properly and it seems that the voice over is coming from the studios in an echoed form. Moreover, since the story includes a mirasi family, lip-sync in the songs can not be missed. Whenever Urwa and Bushra Ansari were singing something, their lips couldn't match the lyrics.
Read: Ahsan Khan to play the antagonist in Farhat Ishtiaq's 'Udaari'
We hope in the later episodes the drama will not have any technical faults as Udaari is not meant to lack behind in these areas since its story and direction have already created high expectations among its viewers.