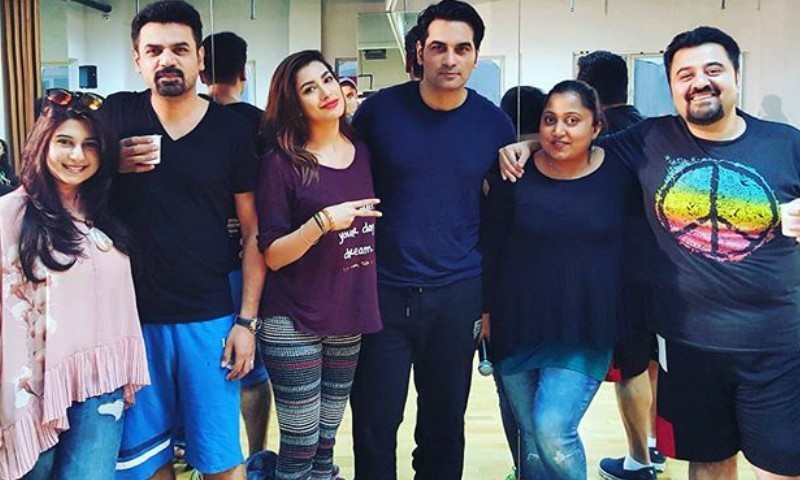 From (almost) the entire cats of JPNA to Fahad Mustafa and Faysal Qureshi; celebrities reach Dubai in large numbers

After many delays, postponements, and near deaths (of hyper sensitive fans), the ARY Film Awards are finally happening. And naturally celebrities are reaching the venue in large numbers to just hang out in Dubai because they have nothing better to do, right?
Wrong. They're there for rehearsals. A post by ARY Fim Awards' Instagram account gives us an insight into who all will be performing at the event.
From what we've gathered, by stalking Ary Film Awards hashtag and celebrities' social media accounts, is that Humayun Saeed, Ahmed Ali Butt, Vasay Chauhdry, Mehwish Hayat, Sohai Ali Abro, Fahad Mustafa, and Sanam Chaudhry have already reached Dubai. Basically, almost the entire cats of Jawani Phir Nahi Aani - a film that broke all the records on box office - is chilling in Dubai with the host of the evening, Fahad Mustafa.
Here is the proof .
Read: The nominees for the ARY Film awards are out!
Fahad Mustafa and CEO of ARY Digital Network spotted doing some shoe shopping?
Read: Fahad Mustafa to host 'ARY Film Awards' in Dubai March 10th
Ahmed Ali Butt and Vasay Chaudhry are probably discussing how to harass the celebrities sitting in the audience with their digs.
The meetings continue.
The director of JPNA and the popular serial Dil Lagi was also spotted. I bet he's preparing his victory speech for the Best Director Award.
The list keeps on growing as Samina humayun saeed, Sana Shahnawaz, Sohai Ali Abro, and Humayun Saeed join Chauhdry and Butt...in the elevator.
And as we know "baray baray deson mein aisi choti chot baatein hoti rehti hain"; another heart throb, Atif Aslam, also decided to drop by.
Read: HIP Asks: How authentic are ARY Film Awards?
Mehwish Hayat tells us where the rehearsals are taking place. (FYI, if you're in Dubai then go stalk the Knowledge Village)
And Hayat tells this lot something we don't know. Now we're burning with curiosity what that little mobile screen holds that has intrigued so many grown men and women.
Sanam Chaudhry took these cute photos before flying to Dubai because selfies pre and post flight are absolutely necessary.
It looks like Zille Studio will be handling the photography for the evening.
Wait a second, talented actor and Salaam Zindagi's host, Faysal Qureshi, has also entered the mix.
Needles to say, the selfies continue to come in, i large numbers.
We can see, that even simple dinners are a star-studded affair these days.
And how can we not have some goofiness going around.
In another news, Fawad Khan will alo be present at the event that celebrates Pakistan's cinema.
---
The award ceremony will take place in Madinat Jumeirah on April 16, 2016. If you're interested to attend the event then head to this site right about now.