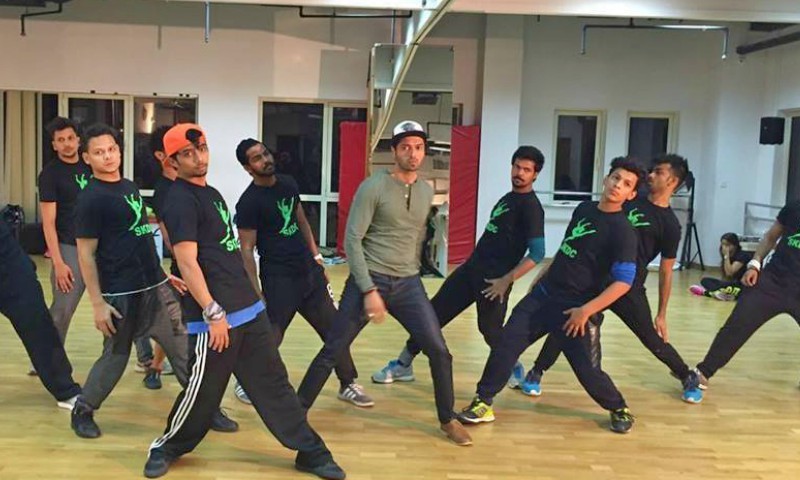 Excited to know who all will be performing at the mega event?

Earlier, we told you that who's who of industry have reached Dubai ahead of the ARY Film Awards which will be held on April 16, 2016. Dance performances are an integral part of award ceremonies. I personally watch awards just for the performances and I'm sure many of you out there are smiling coyly, raising your hands and saying "me too".
Today, we'll tell you who's going to be setting the stage on fire at Pakistan's only Film awards.
Read: Celebs throng Dubai for ARY Film Awards
Ahmed Ali Butt and Vasay Chaudhry
They were spotted practicing to the songs of Jawani Phir Nahi Aani as Mehwish, one of the many heroines of that film, cheered them on.
But not before Ahmed Ali Butt learned the moves alone from the woman herself, Shabeena Khan.
Khan was the choreographer for Fair & Lovely Ka Jalwa and has films like Prem Ratan Dhan Payo and Dolly ki Doli to her credit.
Mehwish Hayat
As you all know by now that Hayat was sitting there while Chaudhry and Butt's rehearsal. Well, she wasn't actually there to just cheer them, she'll be performing as well. We've seen her perform at almost all Hum Awards and we know what a great dancer she is.
Humayun Saeed
You can expect this handsome hunk (yes, he has regained this spot after Dil Lagi) to dance his heart out on JPNA's title track along with Ahmed Ali Butt, and Vasay Chaudhry.
From what we've seen, their rehearsals sound super fun.
But it looks like they got serious after all and learned their steps to perfection.
Fahad Mustafa
Yes, Mustafa will not only host the show, but will also dance his heart out. If you saw the first Hum Awards then you know that this boy can surely dance.
All that banging the chest and fist pumps tell us he's dancing on an action-packed number with pretty strong moves.
Read: Fahad Mustafa to host 'ARY Film Awards' in Dubai March 10th
Faysal Qureshi and Sanam Chaudhry
We do't know which song they'll be performing on, but it's a party song for sure. Just look at their energy on the dance floor.
Earlier, we spotted Chaudhry dong the Shakar Wanda move, so is that what the duo is rehearsing to?
Who'll perform with who?
Now that we know who is performing, it is imperative to know who's performing with whom. This picture here reveals a thousand secrets.
By now, we all know Sanam Chaudhry is performing with Faysal Qureshi while Fahad Mustafa is spotted in the mirror (his back to be precise) behind Sumbul Iqbal, so may be Iqbal will alo appear on stage somewhere along the night. Film star Noor, in my opinion, will give a solo performance as usual. Model Sofia Khan was also spotted at the rehearsals and you won't be able to contain your excitement when we share the next video.
Aren't their dance moves to die for? I'm eagerly looking forward to this sequence.
Read: ARY Film Awards postponed to April 16
The most pertinent question is, where is Sohai Ali Abro and why isn't she practicing? She's an amazing dancer and I was really looking forward to her performance. Let's hope AFA's management is keeping Abro's performance under wraps and we'll be surprised out of our wits when we see her perform on April 16.
Update: We were wondering where Abro was and now we've received this photograph of Sohai Ali Abro, Sanam Chaudhry, and Mathira having a chat with Shabeena Khan. But Abro is just sitting there behind the desk and we don't see her shaking her leg. What's cooking girls?