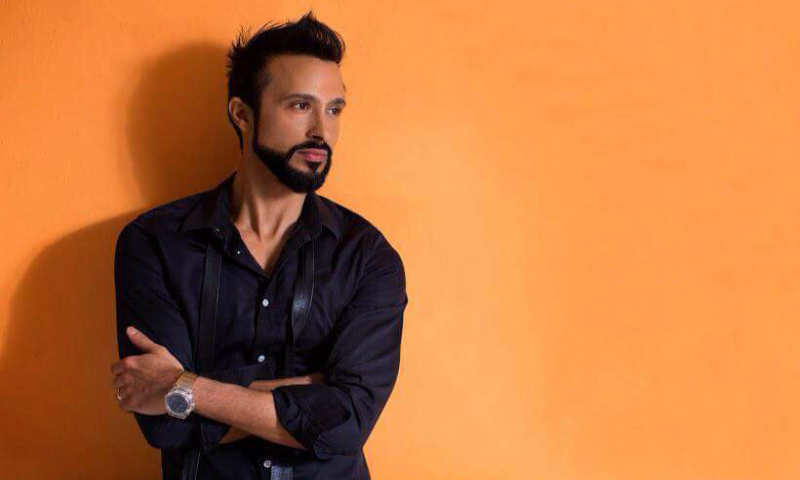 The actor has five projects under his belt and is looking into several local films

Son of veteran artists Rahat and Sahira Kazmi, this young and passionate actor has talent running through his blood. Venturing into direction, production, theatre, modelling, and television, Ali Kazmi has finally settled down with some pretty intriguing acting assignments. In a short conversation with HIP, Kazmi reveals all that he's up to!
Dobara Phir Say!
Also Read: And we present to you the first look of 'Dobara Phir Se!
Yes! Kazmi will be seen playing a prominent character in one of the most anticipated Pakistani films of the year. The actor previously worked with the director Mehreen Jabbar, on her much acclaimed show Jackson Heights, and won a great deal of applaud for performing his villainous role to perfection. Upon asking about the project and the first look posters we can't get enough of, Kazmi said that he looks forward to a lot more in the future and that he's pretty excited for this big film!
"The first look posters are nothing. I was expecting them to reveal something far more exciting and intriguing. But yes, Dobara Phir Say is definitely a rollercoaster ride. It has emotions, romance, and is a very light-hearted film overall. I wanted to do something in Pakistan, and this was 'the' project I was looking for. I play opposite to Sanam Saeed. I won't be able to reveal a lot, but it's definitely going to be a fun take." Kazmi added.
The film not only stars Saeed and Kazmi, but has an ensemble cast of Hareem Farooq, Adeel Hussain, Tooba Siddiqui, Shaz Khan, Atiqa Odho, and Musa Ahmad Khan. Slated for an Eid-Ul-Fitar release, we can't wait to see what amazement awaits us!
Taken - The TV Series!
How can we ever forget Bryan Mills' brave and courageous adventures of fighting for what's right in the Taken trilogy. But have you ever thought about how it all came to be? Renowned Canadian channel 'NBC' is currently producing a television series by the same name, but the series will be a prequel to the films.
And interestingly enough, Ali Kazmi will be seen playing the lead (positive) role in the play. Speaking to us more about it, here is what the actor had to say:
"I've previously had supporting roles or extended cameos in plays here (Canada), but I'll now be playing one of the most important roles in the series. Named Marzoki, I'll be seen in all the episodes, and the best part is that I've got my own chair! Which, in the west, is considered to be something very high and mighty."
He further revealed that the series has a stellar cast of renowned film and television artists. Vikings and Everest fame Clive Standen will be seen playing the lead whereas Crank's Jose Pablo Cantillo, and The Dark Knight fame Monique Gabriela Curnen will be seen in supporting roles. Shooting currently underway, the series will star airing later this year.
Sedare!
Veteran visual effects artist and cinematographer Adnan Ahmed's directional venture, Sedare is definitely one of the most promising films to come out this year. Commenting upon the delay the film has seen and what expectations must be kept, Kazmi commented;
"Due to the amazing work that the director has been doing here in Canada, he hasn't gotten time to complete his own project as yet. But yes, Sedare is Pakistan's first sci-fi genre film. It'll probably see a release towards the end of this year, and I look forward to it."
Also Read: Ali Kazmi is back on television in HUM TV's 'Sehra Main Safar'
The main lead will be played by Canada's heartthrob, Robbin Dunne, whereas gifted artists from Pakistan, such as Juggan Kazim, Salman Shahid, Aamir Qureshi, Deepak Perwani, and Kazmi, will be seen as prominent characters.
The Breadwinner!
Also Read: Ali Kazmi to do a voice over for a film by Brad Pitt and Angelina Jolie
One of the most brilliant decisions of Ali Kazmi's life was to sign The Breadwinner. An emotional animated rollercoaster ride, the story follows the journey of a headstrong Afghani girl, who disguises herself as a boy in order to provide her family with the basic necessities of life.
Speaking about the project, Kazmi wishes to keep his lips sealed until he's given a green light signal. For now, however, he seems to be gearing up for the extravaganza.
"The film will see the daylight sometime next year, so for now I'm keeping things under wraps. But I'd like to say that I'm really excited to be working with such amazing people in it." added Kazmi.
One of the producers of the film happens to be the Hollywood diva, Angelina Jolie! Also, the likes of Kane Mahon and Kanza Feris will be contributing their voices to one of the leading characters in the film. Based on one of America's bestselling novels by the same name, the film is currently in its filming status.
Shivay!
Also Read: HIP's Rapid Fire round with Ali Kazmi
Having worked with several Indian actors in his internationally acclaimed films Beeba Boys and Sardar Ji (including Randeep Hooda, Deepa Mehta, Diljit Dosanjh etc), the actor will finally be making his Bollywood debut in Ajay Devgan's home production and directional venture, Shivay. When asked about the delay of his shoot and its release, after a bit hesitation, Kazmi opened up about why the production is taking so long.
"The first spell has been shot within India, but there are some issues regarding the shoot here (in Canada) and Russia. I play a small part in it, the character is called Major Khan. But it's Ajay Devgan's upcoming drama thriller blockbuster, so I hope that all goes well." said Kazmi
The film will also stars Devgan himself, along with international actors, Robert Masser and Erika Kaar. Slated for an October 2016 release, we look forward to seeing Major Khan in action!
Also Read: Ali Kazmi's Bollywood film 'Sardaarji' to release this summer
For Ali Kazmi, what matters most is the quality of work (which he is surely not short of at the moment), and listening to what his heart tells him to do.
On a farewell note, he further revealed that he is speaking to several acclaimed and seasoned Pakistani filmmakers for more promising work here. For now, here's a cheers to Kazmi for making the country proud for all that he's done so far, and for all that he will be doing in the future!