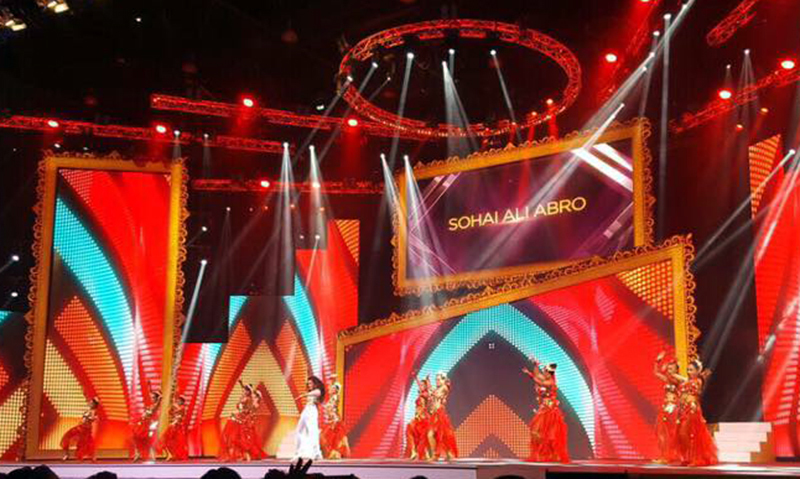 'Jawani Phir Nahi Aani' was the fore-runner while 'Manto' was the critics' favourite

Dubai's Madinat Jumeirah was the place to be last night as stars milled about in their designer gowns and Pakistan's film industry reached yet another high. ARY Film Awards is the only dedicated award ceremony that recognizes and appreciates the efforts of film makers in Pakistan and it is the first time that any Pakistani film awards were held at an international venue.
Read: Celebs throng Dubai for ARY Film Awards
Naturally everyone was super excited. Dance practices began a week prior to the event and celebrities thronged the city a day before the mega event. Now, let's have a look at what went on in the ceremony itself.
Read: Update: What to expect from ARY Film Awards
Jeeto Pakistan Jeeto's host Fahad Mustafa and well known anchor person/journalist, Sana Bucha hosted the event.
JPNA and Moor share technical awards
The eve started off with technical awards where Moor and Jawani Phir Nahi Aani led the way. Rizwan AQ won the Best Editing and Victor Craft won the Best Action award for Jawani Phir Nahi Aani while Farhan Hafeez won the Best Cinematography award for Moor. Best Special Effect Visuals award was given to Shakir, Danish and Fatima for Moor.
Best Choreographer, Make-up & Wardrobe award goes to...
If you've seen Sohai Ali Abro's moves in Fair & lovely ka Jalwa then you'll definitely agree that Shabina Khan deserved the Best Choreographer award for JPNA.
It is important to reward the people who make our stars look so gorgeous on the unforgiving silver screen. The stalwart of the industry NABILA won the Best Make-up award for JPNA while Best Costume award was bagged by Jazaib Qamar and Munib Nawaz, again for JPNA.
Time for story-telling
Then came the meaty part of the awards. It was time to award the brains behind the films. We are talking about the writers who build an entirely different world from the tip of their pen (or from their keyboard). JPNA clean swept this category as Vasay Chaudhry won the Best Story, Best Dialogues and Best Screenplay awards.
Which film had the best soul?
It is a well known fact that music is food for soul, so let's see which film had the best fed soul.
Best Music Award again went to Jawani Phir Nahi Aani which was a tad surprising as I feel Strings had done a pretty good job with Moor's soundtracks. However, Strings did win the award for Best Background Score award for Moor.
Sara Raza went on to win the Best Singer (Female) award, leaving behind Sana Zulfiqar for JPNA, Meesha Sahfi for Manto, and Ghazal Ali for Jalaibee, and Sara Haider for Dekh Magar Pyar Se.
The very talented Rahat Fateh Ali Khan won the Best Singer award for Halla Gulla. He was competing against Mika Singh (JPNA), Umair Jaswal (Jalaibee), Nabeel Shaukat (Wrong No.), Ali Sethi (Manto), and Asrar (Wrong No.).
Best actors and film
Soon enough it was time to award the fore-runners (actors) of are industry. Ahmed Ali Butt won the best actor in the comic role quite fittingly. He was facing a very tough competition from the likes of Bushra Ansari (for JPNA), Yasir Hussain (for Karachi Se Lahore), Danish Nawaz (for Wrong No.), and Ismail Tara (Halla Gulla).
Best Actor in a Negative Role was bagged by the budding actor Ayaz Samoo for Moor. This one was predictable because Islamil Tara (in JPNA), Shafqat Cheema (in Wrong No.), and Rashid Naz (in Karachi Se Lahore) were more comic than evil. Akbar Subhani in Manto, however, was negative, but not enough to bag an award.
Best Actor in Supporting Role went to Hamza Ali Abbasi for JPNA while its female counterpart was given to Ayesha Khan for the same film.
Best Star Debut Male and Female awards were given to Danish Taimoor (for Jalaibee) and Ayesha Omer (for Karachi Se Lahore) respectively.
In my opinion, Sarwat Gillani (for JPNA) and Yasir Hussain (Karachi Se Lahore) would've been a better option but then again these were viewer's choice awards so the winners were selected by you guys only.
The Best Film award, as expected, went to Salman Iqbal, Jerjees Seja, and the team of Six Sigma Plus for the film that broke records: Jawani Phir Nahi Aani. Moor, Karachi Se Lahore, and Wrong No., didn't stand a chance against the block buster film.
The most important awards of the evening went to Humayun Saeed (Best Actor viewer's choice award) and Sohai Ali Abro (Best actress viewer's choice award) for her "MA MA"; I mean JPNA.
The Jury Awards
Prior to the award ceremony, a question arose on AFA's authenticity when MD Films decided to not allow Bin Roye to be part of the award ceremony. Geo Films, however, didn't have any such doubts and their films, Moor and Manto, made it to the final cut.
It turns out, Geo Films made the right decision because the Jury awards clearly belonged to Manto. Sania Saeed and Sarmad Khoosat won the Best Actor Female and Male awards respectively; and the film also won the Best Independent Film Award by the critics.
The Best Director and the Best Film award were given to Jawani Phir Nahi Aani and understandably so as the film had managed to pull a lot of crowd.
Special Awards
Apart from the regular awards; there were a few special awards presented to industry veterans the young generation who's on their way tot he top. A Special Appreciation award was given to Waheed Murad and this award was collected by his son Adil Murad.
How can you have Fawad Khan and not present him with an award? Well, he was presented the International Film Icon and deservedly so.
Mahira Khan also clinched a special award called the Spice Listeners' Choice Award. Khan was a bit dazed when she came on stage. Looks like she was as surprised by the award as we were.
Lifetime Achievement award went to the man without whom Pakistani films seem quite incomplete; Javed Sheikh.
How could Pakistan's only film awards forget to appreciate our first ever animated film, Teen Bahadur. Sharmeen Obaid Chinoy received a special award as token of appreciation.
The laugh out loud awards
Or simply known as the Humour Awards were one of the highlights of the show. They did have an uncanny resemblance to the Na-real awards from the Filmfare Awards 2008, but who doesn't enjoy a good laugh. Here is a list of who won what:
Gohar Rasheed won the Inshallah Hamza Ali Abbasi award and I honestly don't understand why. These two have nothing in common except for the fact that they are childhood friends.
Behroz Sabzwari won the Kash m=Main Javed Sheikh award, maybe because of his relationship with the veteran film actor?
Read: The nominees for the ARY Film awards are out!
Buy one get one free award went to Aijaz Aslam and Faysal Qureshi; and this one was on-point and actually made sense.
Urwa Hocane won the Wannabe Arabi award because of her Arabic sounding name. If you guys don't know, then Hocane's full name is Urwa Tul Wusqa Hocane.
This one was hilarious! Wait for it, Hamza Ali Abbasi won the Qandeel Baloch award because of his Facebook status updates that seem to be as attention seeking as Baloch's videos.
The Wife time achievement award was a dig at Humayun Saeed and his wife who's known to be a stickler for rules.
---
In all, the AFA 2016 was a night to remember, especially because of its sizzling performances (which we'll talk about in another post, promise) and we can't wait to see the whole ceremony up close on our television screens.