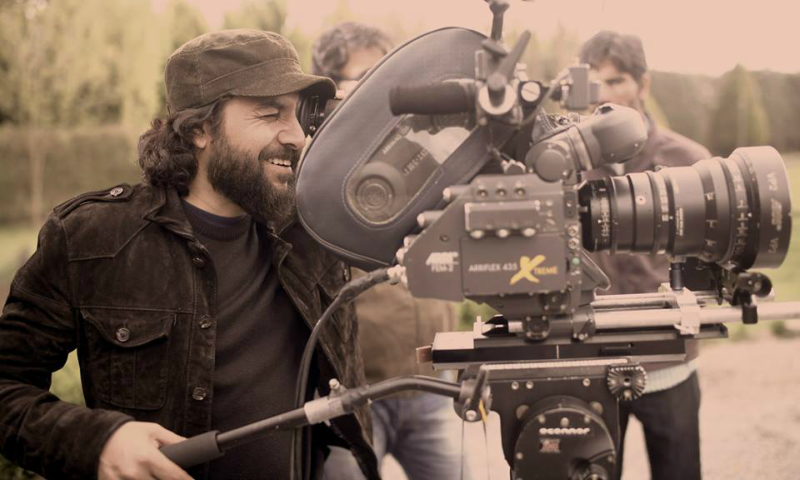 The filmmaker is working on two more movies, including a joint-venture with an Indian production house.

Associated to the television industry for over a decade now, this renowned director and producer decided to steer the wheel into another direction when he decided to shoot for his debut film Hijrat. That too, going through immense delays, is finally seeing the daylight tomorrow in cinemas throughout Pakistan.
Also Read: Farouq Mengal's 'Hijrat' to release on 22nd April, 2016
The film stars models-turned-actors, Rabia Butt, Asad Zaman, and Rubab Ali in leading roles, whereas veteran and seasoned artists Ayub Khosa, Nadeem, Jamal Shah, and Noman Ejaz will be seen in supporting characters. Speaking of the film, its delay, and what's next, Farouq Mengal gets candid and personal with HIP!
Also Read: 'Hijrat' is releasing on January 21st, confirms Farooq Mengal
What is your current lineup of projects?
Well, Hijrat is finally releasing. I've been running a production house for a while now, so I'm producing plays side by side as well. Besides that, I'm working on the pre-production of my next movie, Rabta. And above all, I've signed a film across the border with Sasha Agha; it's titled Malsi.
How was your experience with Hijrat and what has been the reason behind its delay?
Hijrat is my first venture, and it's literally like a baby to me; so the experience was tremendous, and obviously it takes time to nourish your brainchild. But honestly, I was shooting on 35mm, which nobody is doing nowadays. Everyone in Pakistan has moved to digital format, but I wanted to preserve the old tradition and romance that the film portrays. Hence, it ended up being delayed.
Also Read: Music Launch of 'Hijrat'
Tell us a bit about how you started your journey as a director?
I started off as an assistant at PTV Quetta. Soon after I started working on drama serials. Hawa Ki Dastak was my first ever venture, a serial directed and produced by myself. The passion and fervour just became my life over the period of time, which now defines me.
Also Read: Sana Fukher to do an item number in the upcoming movie 'Hijrat'
What is Hijrat all about?
Hijrat is basically a love saga that not only deals with commitment, but also with the realities of our society that the audience can relate to. The idea was with me for ages, I was just looking for the right time to start working on it. To know more about it, you'll have to go and watch the movie yourself!
Also Read: Is Hijrat's official trailer worth the wait?
Tell us a bit about what genres you tend to venture with in the future?
Well working on romance or love stories is my forte. My collaborative project with Sasha Agha in India, Malsi is also a dramatic film. Rabta is again a love saga, and I'll be announcing the cast pretty soon, and we will be going on floors shortly.
While casting for a project, what do you look for in an actor?
I can honestly say, that the passion and truthfulness towards work is what actually defines the chemistry between the actor and the director. Being a good performer or being charismatic are superficial aspects that only help till an extent. As long as the actor takes up the ownership of the project, the execution is all up to the director.
I've been highly fortunate to have worked with the best of actors, and gather cherish-worthy experiences every time I work with anybody.
Also Read: HIP Talk: Asad Zaman on 'Zeher-e-Ishq', 'Hijrat,' and 'Rab Razi'
Who do you look up to, and why?
Gulzar Sahab, David lean, and James Cameron. These fine gentlemen have taught me to dream, and dream of being who I am today!
What would be your message to all the readers on the ending note?
Live and let live!
Also Read: Hijrat's official trailer will release on December 18