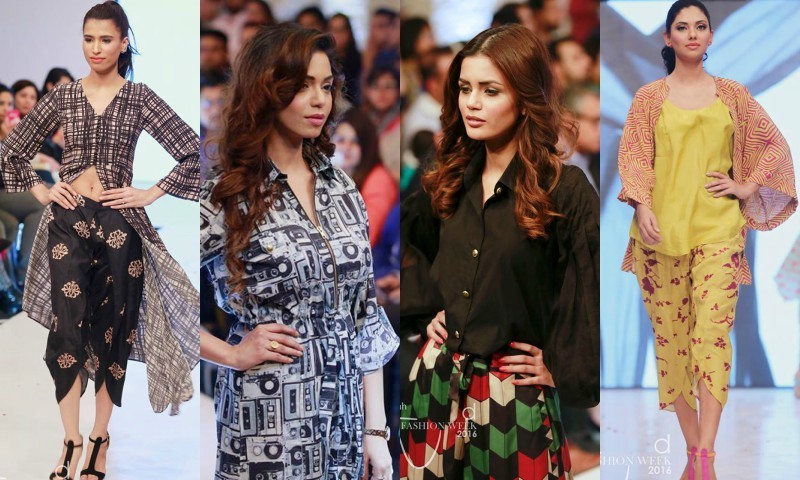 The bets part is that you can shop these looks from the comfort of your home at this very moment!

A one of a kind event in Pakistan, Daraz Fashion Week, was held yesterday in Karachi which means that you can shop fresh off the ramp clothes from their site right about now. How cool is that!
The bouquet of designers included renowned designers like Feeha Jamshed, Deepak Perwani, Tena Durrani, Zara Shajahan, retail brand Generation, and budding bran Jeem by Hamza Bokhari.
Read: Daraz Fashion Week is set to revolutionize the fashion show trend!
In a bid to help you out, we've chosen these 10 dresses that you must, must add to your cart. And I suggest you do that fast before the stock runs out.
Let's start with Tena Durrani and her easy breezy summer collection. Her collection was full of pieces that I'd readily grab off the rack. First up is this cape paired with midi tulip shalwar (if that's a term). The look is so effortlessly chic. Wait moment while I go add it to my cart here.
Next up is this black print-on-print ensemble. Durrani pairs a long dress with a slit in the middle, with floral harem pants and totally steals the show. You can wear the dress as it is with a red lipstick and a natural blow out, or you can dress it up with a chunky silver choker and a braided up do.
Zara Shajahan kept things Summer-ready and her pieces are perfect for a day out in this sweltering heat. My personal favourite is this asymmetrical top paired with breathable flared pants. (You can even pair this top with the very much in vogue dhoti/tulip shalwar). Get the top here.
Generation, once again stole the show with their intrinsic prints and airy silhouettes. My favourite, however was, this feminine, breezy power suit worn by Rubya Chaudhry. You should totally get it for your next office meeting because who said you can't go a little feminine in official boring meet ups?
Or you can even wear it to GTs and make a statement. Add a top knot, gold hoops , and conquer the world. Shop the look here.
Generation's tribal prints (or as they like to call it Chintz collection) was quite impressive. Especially the shalwar suit above paired with a plan tulip shalwar joins comfort with elegance.
This Organza cape with multi-layered culottes by Hamza Bokhari is whimsical and will add oodles of glamour to your look without putting any added effort in accessories or styling. Shop the look here.
If you though we had forgotten men then don't worry, Deepak Perwani's otherwise meh collection featured this pretty classic look for all the boys out there.
Coming to my favourite designer, Feeha Jamshed; although her collection wasn't as flamboyant as her Bob Squad range, the jumpsuits, blouses, and printed pants were much love. I've chosen these two looks from her showcase.
---
I won't take up much of your time because i know your fingers are itching to click on Daraz.pk. All I'll say is, happy shopping!