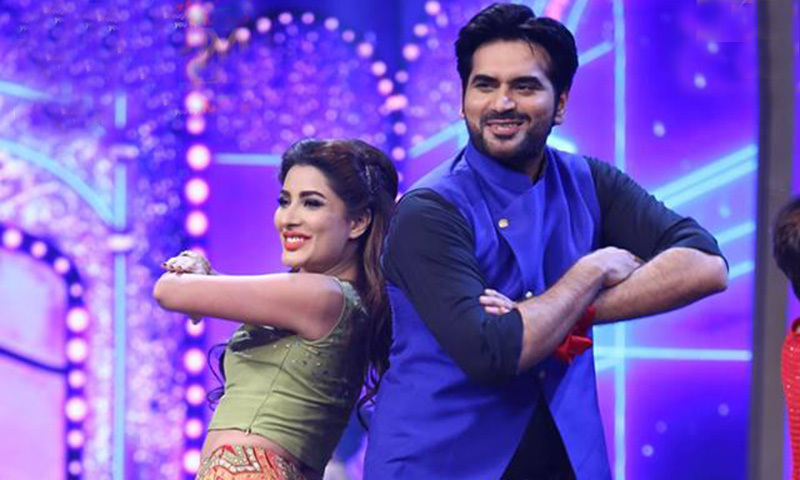 'Alvida' was close behind while 'Mohabbat Agg Si' also bagged a few awards

Karachi was the epicenter of entertainment tonight and celebrities flew in from all over Pakistan for the fourth Hum Awards. Case in point are these three friends who came all the way from Islamabad and guess what? All of them won awards in their respective categories.
The night started off on a fun note as child hood buddies, Hamza Ali Abbasi and Ayesha Khan took to stage. The red carpet was hosted by Rubya Chaudhry in an ethereal gown sari while performances by Mawra Hocane, Urwa Hocane, Mehwish Hayat, Humayun Saeed, Noor, Sohai Ali Abro, and Ahsan Khan made the night all the more interesting.
The set back, however, was that they performed on Indian songs (expect for Hayat and Saeed). But let's focus on winners for now, so here you go.
Read: All you need to know about 4th Hum Awards
Best Actor in Comic Role
Ahmed Ali Butt received the award and deservedly so for Mr. Shamim.
Best Model - Male & Female
Sunita Marshall looked absolutely gorgeous as she received the award and Shehzad Noor was dapper as ever as he received the Best Male Model popular award.
Life time Achievement Awards
Sultana Siddiqui presented this award to the legendary actor, Nadeem Baig.
Excellence in Film Award
Hum Network decided to pick one film each from the three big film houses of Pakistan. Geo Films' Manto, ARY Films' Jawani Phir Nahi Aani, and Hum Films' Bin Roye received the award from the CEO of Hum Network.
Recognition Award - Films
This category had innumerable nominees (think all teh actors and actresses that have done films in the last year) and surprisingly a number of winners.
Mahira Khan and Sania Saeed received the award in the female category for Bin Roye and Manto respectively, while there were three winners on the men's side. Sarmad Khoosat bagged the award for Manto. Humayun Saeed for Bin Roye and JPNA.
Best Music Video and Single Popular
Yasir Jaswal won the Best Music Video Award for Sajna while Uzair Jaswal received the Best Music Single award for the same song.
The other videos and singles in this category were Bewafaayian by Aisha Linnea and Shahbaz Shigri, Pardesia by Haroon Habib and Ghafar Mohiudin, Aik Tha Badshah by Mandana Zaidi and Daniel Sanchez Lopez, and Kooch by Adnan Kandhar.
Best Original Sound track
Shani Arshad bagged it for Diyar-e-Dil. That OST gives me goosebumps, so Hyder deserved the recognition. The nominees in the category were 'Ishaq Bin Jiya Na Jaey' from Mohabbat Aag Si (music By Raheel Fayyaz), 'Karb' from Karb (Music by Sahir Ali Bagga), and 'Alvida' from Alvida (music by Sahir Ali Bagga).
Best Tele Film
Angelic Production received the award for Tamasha.
Best Actor Soap - Male & Female
Resham won the award for Ishq Ibadat in the female category and looked quite chic in that white suit and minimal make up. The male recipient was Sohail Sameer for Sartaj Mera to Raaj Mera.
Best Soap
Ishq Ibadat won its second award of the night as it was termed the Best Soap too.
New Sensation TV - Male & Female
Feroze Khan won the award and a kiss from his sister Humaima Malick while Iqra Aziz was termed the New Female Sensation for television.
Best Actor in Negative Role
Everyone hated Rameez in Alvida so it was pretty inevitable that Zahid Ahmed will bag this award.
Best Writer
"No one does romance like Farhat Ishtiaq," Umera Ahmed had once told Momina Duraid when she was looking for a light romantic script (read Humsafar). It turns out Ahmed was quite right as Ishtiaq won the Best Writer Award for Diyar-e-Dil.
Best Director
We all know who must've gotten this award because watching Diyar-e-Dil was an almost therapeutic experience. The location, angles, and the acting made it a very easy watch which is quite rare in this day and age when you can't help but notice editing glitches or bad acting. FYI, Haseeb Hassan won the award.
Most Impactful Character Award
Any guesses? Abid Ali won this award fair and square for his amazing portrayal of Agha Jan in Diyar-e-Dil.
Best Supporting Actor - Male & Female
Diyar-e-Dil ruled this category as Behroze Sabzwari and Ali Rehman Khan, both, received the award for DeD in the male category.
Sarah Khan received the award for Mohabbat Agg Si. Khan did a great job in Alvida too, so this didn't come as a surprise.
Best On-screen Couple Award - Popular & Jury
Surprisingly, Sanam Jung and Imran Abbas won the popular award. And here were thinking that Maya Ali and Osman Ali Butt will clean sweep this category.
This announcement stirred a social media war between 'Osmayans' and Imran Abbas-Sanam Jung fans, but it died a quick death as Osman Khalid Butt and Maya Ali received the jury award for the Best On-screen couple.
Best Drama Serial Popular & Jury
Which drama serial do you think was 'talk of the town' last year? of course Diyar-e-Dil. Hence, Momina Duraid received the award proudly. And not once, but twice as the jury award for Best Drama Serial also went to DeD.
Best Actor Popular - Male & Female
The female category had two winners as the audience couldn't decide whether they liked Maya Ali in Diyar-e-Dil more or Sanam Jung in Alvida. Both these young stars received the award and their fans were quite happy. They were up against Saba Qamar (Sangat), Naveen Waqar (Mol), Iffat Omer (Mohabbat Agg Si), and Yumna Zaidi (Jugnoo).
Osman Khalid Butt was the sole recipient in the male category, leaving behind Imran Abbas (Alvida), Mikaal Zulfiqar (DeD), Faysal Qureshi (Mol), and Adnan Siddiqui (Karb).
Best Actor Jury - Male & Female
This one came as no surprise as Iffat Omer received the award for Mohabbat Agg Si and Mikaal Zulfiqar's portrayal of a young-to-old character won over the jury. Zulfiqar has won this award second time in a row, the only difference is that last year he won the popular award and this time the jury awarded him.