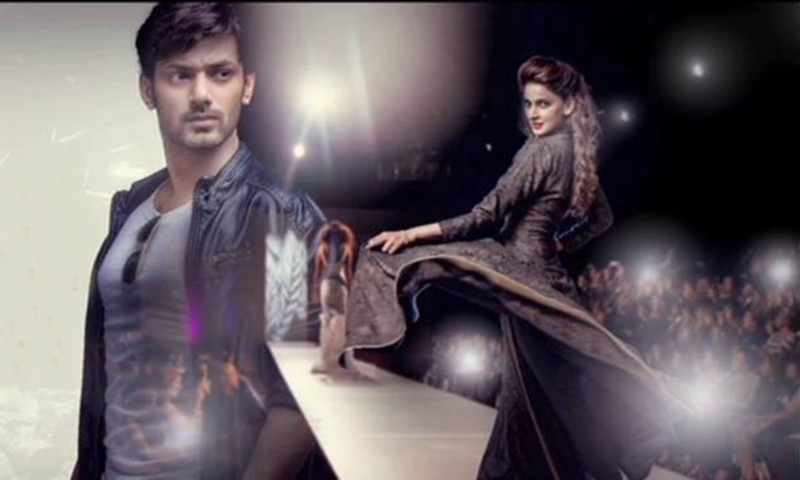 Makers of 'Gul-e-Rana' present 'Besharam' & once you get past the very 'literal' name, you might want to watch it

ARY Digital's upcoming drama serial, Besharam, is being marketed as the 'next big thing' by the makers of Gul-e-Rana and while it'll definitely attract the masses, it might not attract reviewers because believe me, Gul-e-Rana's blatant misogyny was too much to digest.
In case you are not aware of the makers of Gul-e-Rana then they comprise of Farooq Rind as the director, Humayun Saeed and Shahzad Nasib are the producers under their production banner Six Sigma Plus, and the serial is written by Sarwat Nazeer .
Coming back to Besharam, we dissect the promos and tell you why you should watch it.
Read: Atiqa Odho, Saba Qamar, and Fia Khan gearing up for "Besharam"
Refreshing topic
The three promos aired so far look fresh, intense and action packed. They make you sit up and take notice of what is happening. While we've seen drama serials on actors and models (case in point is Ishq Junoon Deewangi and Man-o-Salwa), but Besharam seems to be on a larger scale featuring fashion shows and TV shows.
Also, it shows interaction between a model and a politician, and that I think hasn't been done before.
Different treatment
The promos look like they belong to a tele film so I'm expecting that the drama serial itself will also be a visual treat. So far, what we have seen in the promos is that Zahid Ahmad is interested in Saba Qamar. How much, or in what way are they together, we don't know as yet.
It is interesting to get to know about Saba Qamar's character through Zahid Ahmed as his voice over describes her as moody, emotional, and right fully questions who on earth would marry a girl like her?
The girl's no bechari
We need to show strong women on screen. I loved that even when she's berating herself saying, that no matter what she does she will always be a besharam model, she says that with a lot of confidence and attitude.
The ambiguity
I do have Saba Qamar's character sorted in my mind, but I am a bit confused about Zahid Ahmed's role. In one promo he looks like this sober and conservative sort, but in the final promo we see him getting in to a fight and chasing a guy on the street so he is not all seedha saadha.
There are guns involved too which gives it a good twist and raises the excitement level a bit more. Atiqa Odho looks quite fierce and so do Rehan Sheikh and Faisal Rehman. In one scene, we also see Rehan Sheikh holding a gun. This indicates that he may be head of some gang and maybe Zahid Ahmad works for him.
It features actual fashion shows
At least the promos suggest so. In one promo we see is Qamar all dolled up and ready to walk the ramp, as late Nusrat Fateh Ali Khan's hit number, Afreen Afreen, is playing in the background. This scene is shot so well that the excitement reaches the audience.
The whole ambiance created by that one song is beautiful. This promo reminded me of the movie Fashion, but only for a few seconds. I totally forgot about it as soon as I saw Zahid Ahmed walking, quite fiercely, towards Qamar only to drag her off it. A very inappropriate behaviour, but well-shot nonetheless.
Qamar's response again shows that she is not going to be a helpless girl whose going to say, "Jee, whatever you say", instead she stands up and says I will do whatever I please.
---
These are my predictions; now let's see how correct they are. Overall the promos are brilliant and the story seems like a different, unpredictable one with many ups and downs.
I love the fact that Six Sigma likes to experiment with different stories. They don't just stick to run of the mill stuff. If we have a look at whatever is on air at the moment from them then we can easily deduce that each show is different form the other; be it Guzaarish , Dil Lagi or even Gul-e-Rana.
Farooq Rind's direction looks sleek and I'm sure with such a team behind this play it will not at all disappoint. Saba Qamar and Zahid Ahmad look good as a couple on screen and I feel Besharam shouldn't be missed.